Ripple consolidating with caps at 40 cents
After Kava and Switch, Stefan Thomas' AMA may drive XRP prices
Coil is a blogging platform monetize content, rewarding creators with XRP or USD. It is a creation of Stefan Thomas, a former employee of Ripple. In an AMA session, the community is waiting for gems that will probably spur participation, driving XRP above 40 cents.
Ripple Price Analysis
Fundamentals
Stefan Thomas, the former Ripple Chief Technical Officer (CTO) and creator of the InterLedger Protocol, will hold an ask-me-anything (AMA) session on May 30th.  Hosted in Reddit, it will be interesting to hear what the founder of Coil has to say about their plans. The AMA will be a few days after Kava labs announced the launch of Switch.
"Switch sidesteps the problems of traditional DEXs by employing a novel solution: streaming micropayments, which work by moving little bits of value piece-by-piece until a complete payment or trade is complete."
While at it, David Walsh, a Senior Web Developer and Software Engineer at Mozilla, is testing Coil. The revelation is five years after he created an account. It is understandable. David is an educator and regularly blogs.
On the other hand, Coil's ambition is to reward content creators, launching their beta platform in early May. The blogging platform includes an optional $5 monthly subscription that pays content creators as subscribers browse.
Candlestick Arrangements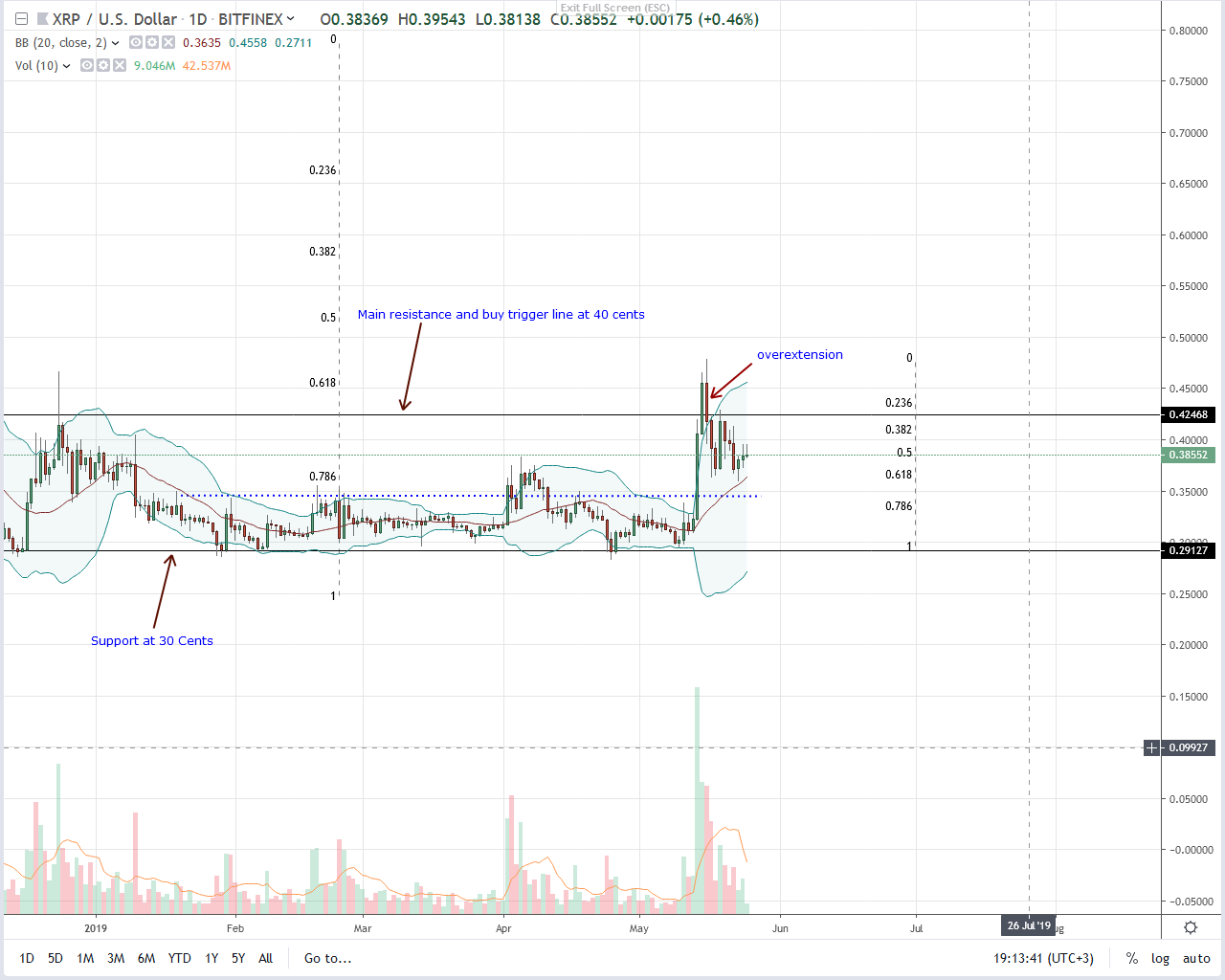 At the time of writing, XRP is changing hands at 38 cents. It is constant against the USD and held within a broader 10 cents trading range. Although traders expect higher highs in line with recent candlestick alignment and trend set by Sep 2018 bull bar, XRP is under pressure.
Liquidation pressure stems from fundamental factors as well as price action. Note that buyers are yet to clear the 40 cents mark with this being the sixth month. All the same, it is likely that a breakout above 40 cents (or below 30 cents) shall spur participation.
If there is a surge, odds are XRP will rally to Dec 2018 highs of around 50 cents. That will be the primer for 80 cents especially if the breakout bar registers a spike in participation. Nonetheless, before that, aggressive traders should be accumulation on dips with safety nets below 34 cents, our minor support line.
Technical Indicators
Although May 14th and 15th bars are conspicuous, May 19th bull bar is where XRP/USD price action is consolidating in. It has average volumes of 56 million. Nonetheless, it is wide-ranging and bullish.
Therefore, for trend continuation, any bull bar signaling continuation of buy trend and closing above 40 cents must be propelled with trading volumes above 56 million.
Chart courtesy of Trading View. Image Courtesy of Shutterstock