After rallying over 100% from March's capitulation lows, analysts are expecting a retracement in Ethereum, Bitcoin, and other top cryptocurrencies. They cite simple technical factors showing this market has lost the bullish momentum it had just 10 days ago.
This bearish outlook, however, hasn't stopped investors with deep pockets from accumulating
Deep Pockets Are Accumulating Ethereum & ERC-20 Tokens
According to data shared by blockchain analytics firm Santiment, the top holders of a swath of cryptocurrencies — Ethereum, Maker, Basic Attention Token, Enjin, Ren, and Kyber Network — have all been accumulating their respective currencies over the past month.
"What has the #1 respective top holder done with their holdings for several key crypto assets over the past few weeks? Short answer: ACCUMULATING," the firm wrote in reference to the chart below.

As a pertinent side note, data suggests that whales are also increasing their allocations to Bitcoin, making the theme of accumulation a crypto-wide trend.
Altcoins Poised to Drop, Analysts Say
Whales may be rushing to accumulate Ethereum and other leading altcoins, but analysts are currently charting a retracement for the altcoin asset class as a whole.
Josh Olszewicz, a crypto analyst at Brave New Coin, observed on May 15th that Bitcoin's dominance chart printed a textbook signal of strength: a golden cross.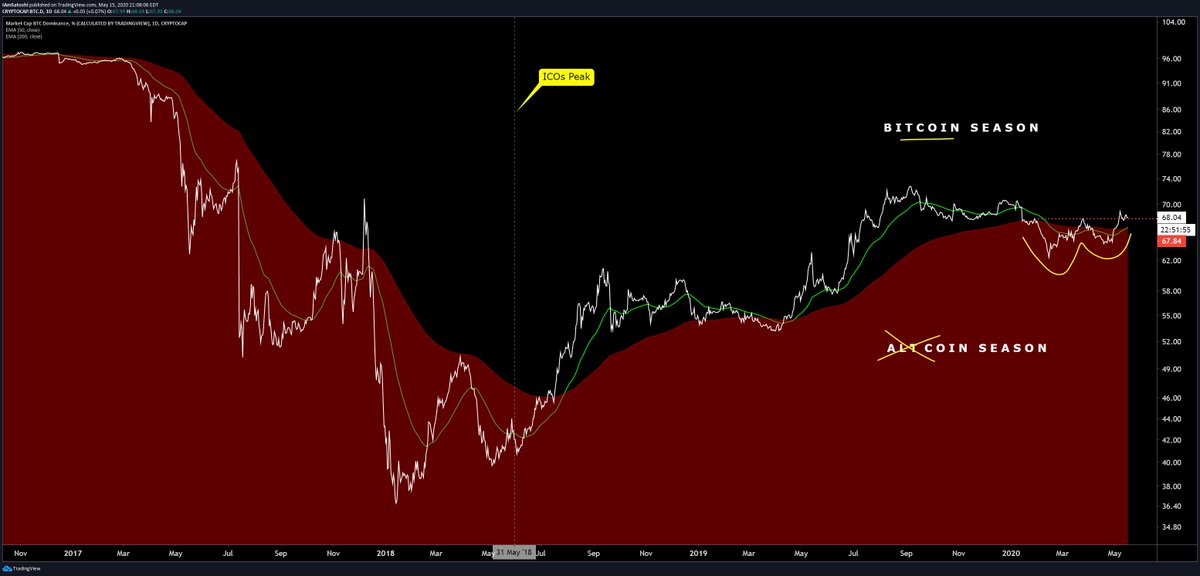 As can be seen in the above chart, previous golden crosses on Bitcoin's dominance chart preceded massive rallies in Bitcoin against altcoins, suggesting the same is likely to happen again.
This outlook was echoed by the lead technical analyst at the crypto research firm Blockfyre. He said that the altcoin market "looks like it could capitulate soon," adding that it "seems like the worst is yet to come."
The analyst attributed this sentiment to a number of trends: 1) Bitcoin's dominance chart looks like it is going to rip higher, 2) the halving will centralize crypto wealth in BTC, and 3) there remain many cryptocurrencies that still hold millions of dollars of value despite "red flags" in the underlying technology.
Featured Image from Unsplash