Ethereum and the aggregated cryptocurrency market saw a sharp overnight decline that came about after Bitcoin lost the support that had been established at $7,000. This plunge has caused ETH to underperform BTC and many other altcoins, with its bulls currently attempting to establish support.
Presently, Ethereum is pushing up against a massive buy wall on trading platform Bitfinex, with the magnitude of bids around the crypto's current region possibly being enough to support it from seeing further losses.
This potentially bullish sign is further bolstered by the sheer number of traders who are currently long on ETH, with the overnight decline leading a significant number of long orders get filled.
Ethereum's Decline Slowed by a Bitfinex Whale; Will It See a Sharp Rebound?
Earlier this week Ethereum – like most other cryptocurrencies – saw some bullish price action that allowed its price to rally from lows of $140 to highs of $175.
This movement marked an extension of the momentum that was first incurred on March 12th when ETH rallied after moving into the sub-$100 territory.
In the near-term, the reaction to the support Ethereum has established around $160 will offer insight into its current strength, with a sharp break below this level potentially being a grave sign.
This may not happen, however, as one – or multiple – massive investors on Bitfinex have established an immense wall of buy orders within the upper-$150 and lower-$160 regions.
Su Zhu, the CEO and founder of Three Arrows Capital, spoke about this buy wall in a recent tweet, explaining that the buyers have absorbed over 200,000 Ethereum and still have another 50,000 bids remaining on the orderbook.
"Large ETH buy wall on bfx here, 200k ether filled and another 50k remaining in the order book," he noted.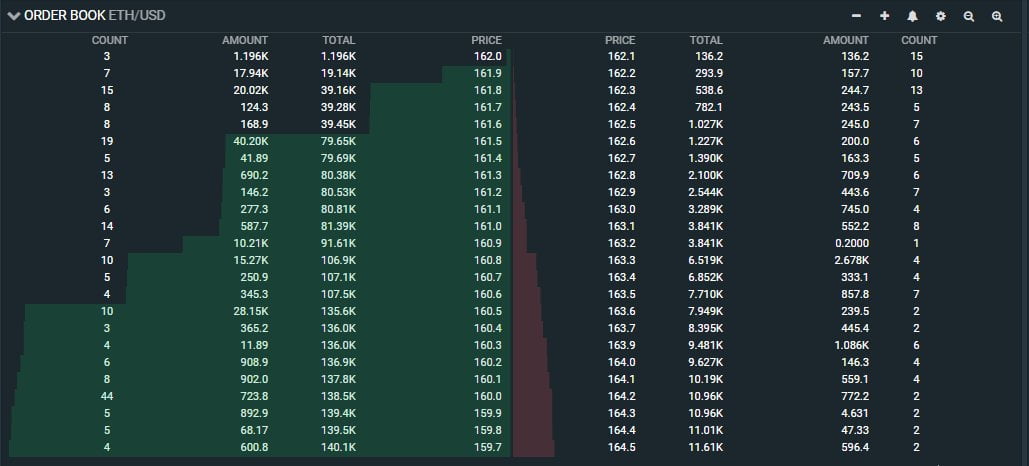 Traders Flip Overwhelmingly Long Despite ETH Weakness
Although Ethereum has shown some signs of weakness throughout the past several hours, traders are optimistic that it will soon see some further upside.
One popular crypto trader on Twitter noted in a tweet that 1.8% of the total circulating Ethereum supply is margin long on Bitfinex – a number that grew significantly throughout the course of the recent price decline.
"1.975 million ETH (1.8% of total circulating supply) is now marginlong on Bitfinex. Just Bitfinex. +250k just got filled over the last 4 hours."
The immense buying pressure catalyzed by this massive decline certainly seems to point to some underlying strength amongst Ethereum buyers.
This bullishness is further enhanced by the number of traders entering long positions, with this suggesting that large investors and retail traders both believe upside is imminent.
Featured image from Shutterstock.