At long last, Bitcoin has finally broken past $10,000. On Saturday night, the cryptocurrency surged into the five-digit region for the first time in months, having trended higher for all of the past week.
Over the past few hours, BTC has found itself trying to stabilize above $10,000, pushing as high as $10,200 as late buyers stepped in.
While the bullish momentum has paused for the time being, analysts say that Bitcoin's upcoming weekly close is likely to be a precursor to an even greater move higher in the coming weeks.
Bitcoin Preparing For 15% Jump From Here: Here's Why
In the recent edition of the Decentrader newsletter, author and cryptocurrency trader Filb Filb drew attention to the $9,550 level for Bitcoin by posting the below chart, which shows that this price point has always been an inflection point for the market.
More specifically, when prices passed above $9,550, the leading crypto asset gained even more strength, and when prices failed to break this level, rallies quickly turned into bearish reversals.
With this in mind, he wrote that if Bitcoin can close the weekly candle above $9,550, which BTC is currently far above, it could "make its way to $11,500 quickly." This would represent a 15% rally from current levels over the next few weeks.
Others Expect Upside Too
Filb Filb isn't the only one expecting more upside from here.
Per previous reports from NewsBTC, analyst Ambroid recently noted in a chart that Bitcoin's price structure since November 2019 is eerily reminiscent of that of late-2018 to early-2019; both periods had a multi-week consolidation in a tight range, a strong breakout, a three-week consolidation, before another thrust higher.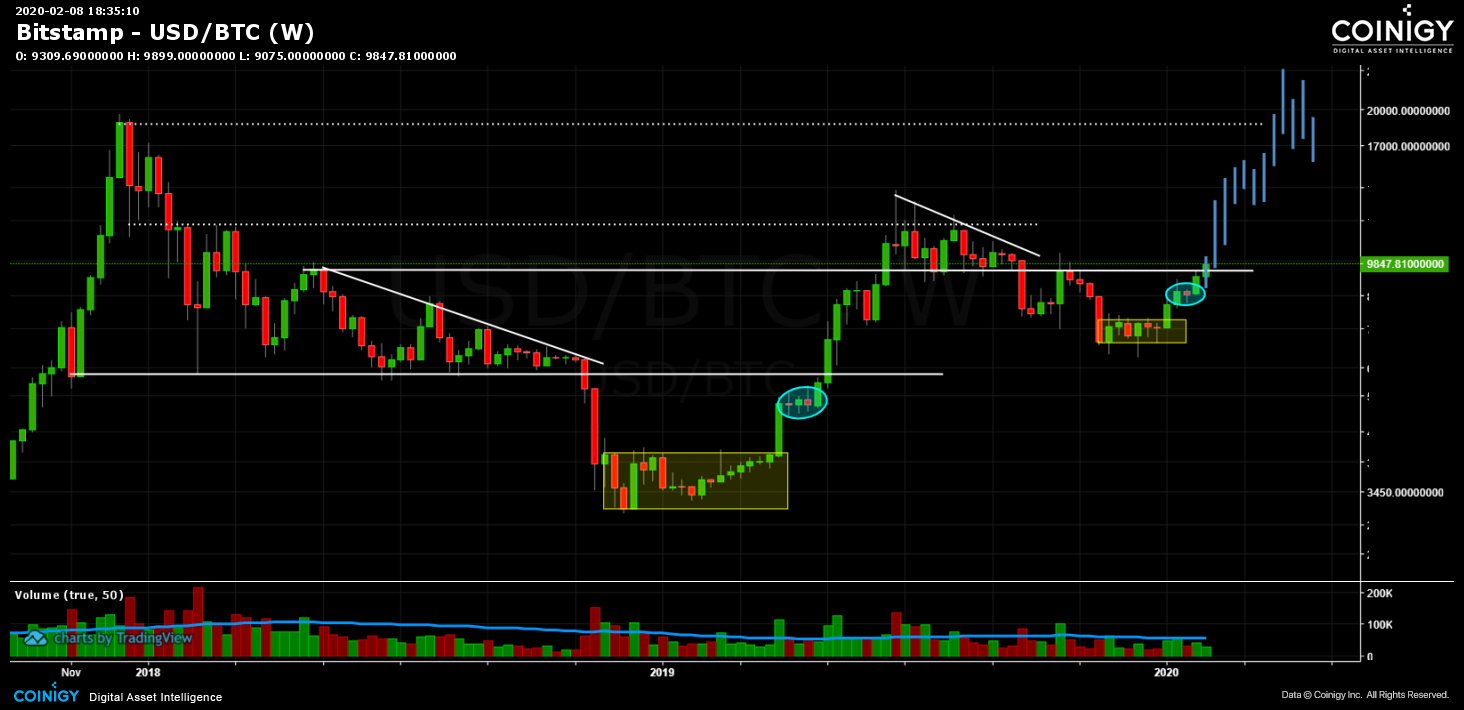 Ambroid depicted that if Bitcoin completes this seeming bottoming fractal, the price of the cryptocurrency could trade well past $20,000 around the time of May this year, which would line up with the block reward reduction or "halving." 
There's also a sentiment from popular trader Cantering Clark. He on Saturday posted a tweet in which he stated that it's becoming increasingly hard not to think that if $10,000 "gets popped" that a move to $14,000 "is a breeze with the amount of FOMO we could see.
Featured Image from Shutterstock