The number of cryptocurrencies that have entered the market since the days of Bitcoin is now probably at an all-time high. As more and more cryptos gain a foothold in the market, and the number of users continues to rise, the need for wallets to store and manage them has also increased. In this scenario, we decided to throw a few questions at Solomon Brown, who is the Head of PR at Freewallet — a company known for its hosted wallet software that supports a wide range of cryptocurrencies. In this interview, Mr. Brown talks about their product, how it is different from the rest and also on the current situation in the crypto market.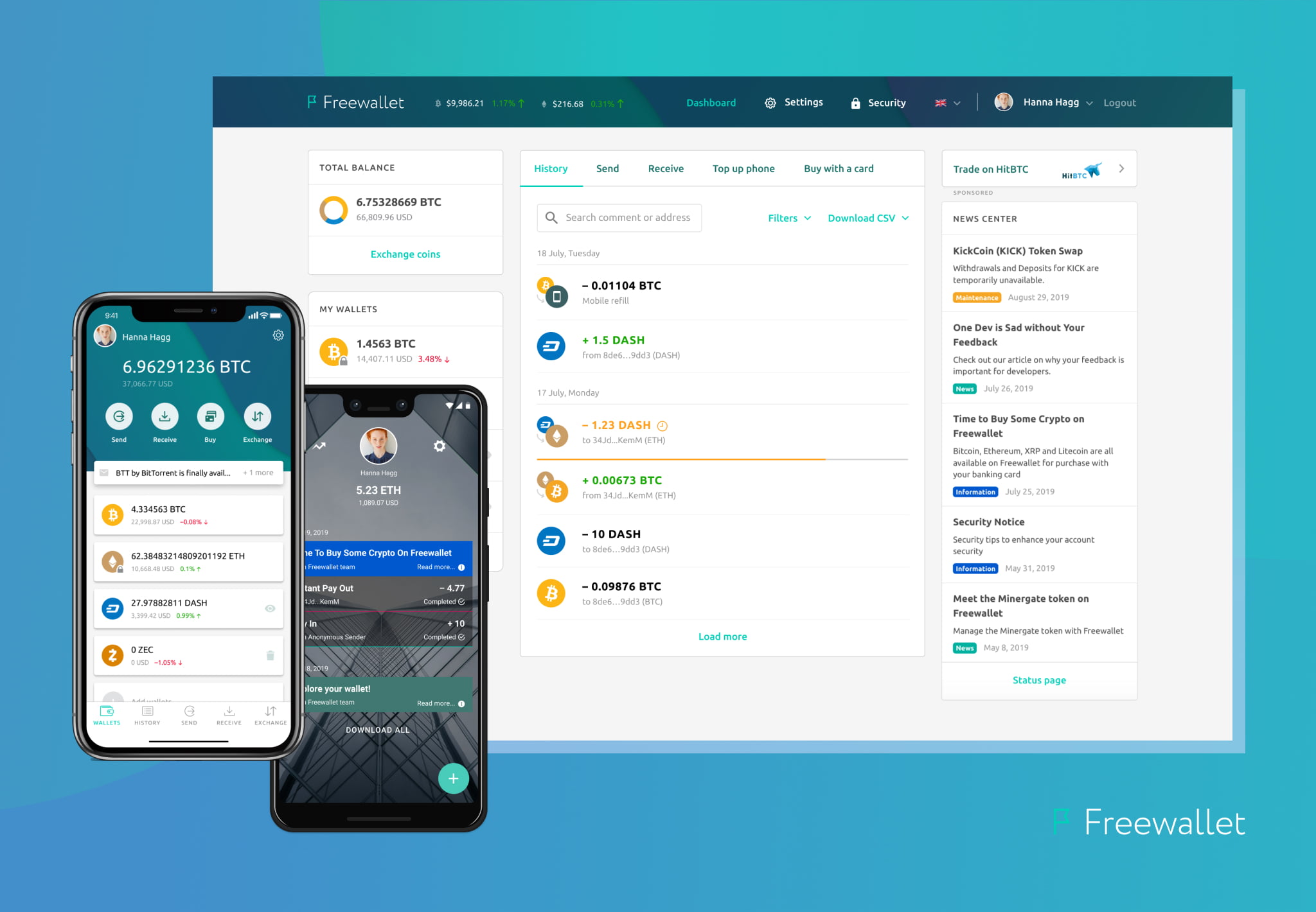 Q: Freewallet has been a well-known name in the cryptocurrency community. However, as we all know the community continues to grow each day, and for those who are new, can you please tell them about your offerings?
A: In essence, we offer a simple product that can be used by anyone looking to buy, store and exchange cryptocurrency. One of the things that have made our platform appealing to people is that it opens doors to the crypto space for people that don't necessarily come from a technical background. The voyage of discovery starts with Freewallet — it doesn't matter how much you know about crypto when you get on board. Freewallet is a great tool for people looking to get a handle on this new and exciting industry, all you need is a Facebook account, email or phone number and some curiosity, and we will take care of the rest.
The way that we have been able to do this is by making the app as user-friendly as possible. Freewallet works like a regular banking app, with an intuitive design that guides you through its functionality. Breaking down that functionality, we offer hosted wallets that have comprehensive security and an exhaustive list of cryptocurrencies for our users to work with. We are really like a one-stop-shop for crypto.
Q: As we all know, there are many wallet providers in the market. How does Freewallet differentiate itself from the rest? Why should one choose Freewallet over other applications?
A: The straightforward simplicity of our apps has definitely given us a leg up. And once people enter through our doors, they tend to stick around to enjoy instant fee-free transactions we offer within the Freewallet ecosystem along with the other perks that come with using Freewallet.
We're among the top 5 wallet platforms on the market in terms of the number of currencies we support, and, beyond that, we've got 23 standalone wallets for individual currencies. So, I think what makes us a good choice, versus the other wallets out there, is that whatever it is that you're looking for, we've got your bases covered.
Q: Tell us more about the various features integrated into the Freewallet service. Are there any plans to include new features and extend support for newer cryptocurrencies?
A: Our wallets come with a built-in exchange, which is not something that all wallet systems can bring to the table. This exchange is key to the simplicity of the wallet because it ensures that users don't have to leave their wallets to exchange coins and tokens and it saves people a lot of time and energy.
A feature that we have developed somewhat recently is our "Buy with card" option which allows users to buy cryptocurrency with credit and debit cards directly in the app and on our site without having to register. Right now, we've got Bitcoin, Litecoin, Bitcoin Cash, Ripple and Ethereum and, looking ahead, we've got Binance Coin, Monero, Stellar and four other currencies on deck. We are excited about the expansion of this feature as it stands to make things even easier for our users.
Q: In terms of security, what is Freewallet doing to ensure all accounts and respective funds are safe?
A: When talking about our security, it is important to remember that we, as noted before, offer hosted wallets. Now, hosted wallets often get a bad rap, but it's not really warranted. The truth is that hosted wallets and non-hosted wallets each have their own strengths. For what we are trying to do, hosted wallets are essential.
The advantages of hosted wallets are particularly felt by newcomers. The majority of Freewallet funds are held in secure cold storage and users have the option of enabling 2-FA on their accounts. We've also got fingerprint and face id access and multi-sig transactions to really put everything under lock and key. Furthermore, as a hosted wallet, Freewallet is often capable of reversing user mistakes and returning access to accounts for users that have lost it.
When it's all up to the user, as it is with non-hosted wallets, if you lose access to the account, that's it; it's gone. With Freewallet, we can get your account back for you, whether that means you lost your phone, means of access, whatever. Beyond that, if you make a mistake sending a regular transaction on the blockchain that is an irreversible mistake. On the other hand if you make a transaction to the Freewallet ecosystem or an internal one, and, say, you forget to specify the payment ID or you send the funds to the wrong blockchain by mistake, sometimes we can get in there and reverse it. So, the way we like to think about it is that with Freewallet you get industry-leading security features and, on top of that, you get wiggle room and, when you're just starting out, some wiggle room can make all the difference.
Q: How does someone new to cryptocurrencies sign up on Freewallet and start using the wallet service?
A: All you need is an email address, Facebook account, Gmail or mobile number to get started. You can get started on our site or in the App Store / Google Play. Then the interface will take you through it. It's as simple as that.
Not long ago Freewallet was featured in a show on Netflix. The show is called The OA, and there is an episode involving cryptocurrency where a character is seen using Freewallet Ethereum Wallet. Now, the kicker is that the character using our app is someone's grandmother. We all thought that was pretty funny, but also telling. Since then our unofficial motto has become, "Freewallet, so easy your grandma can use it."
Q: Also, you have two different wallet products – The regular Freewallet application and Freewallet Lite. How do they differ from each other and how does one decide which is the best option for them?

A: Freewallet Lite was designed to be the only non-hosted Freewallet wallet. This means that our Lite wallet is completely in the hands of our users. Lite is an experiment of ours. After experiencing some success with the hosted format, we wanted to branch out and try our hand at a non-hosted wallet. For the time being, Freewallet Lite is in beta and unavailable to users as we experiment with it and determine how we want to develop it further.
Q: Any new developments in terms of market partnerships and collaborations? What does the future hold for Freewallet, especially at the time when the community and governments are at their wit's end figuring out ways to overcome the challenges posed by cryptocurrencies, market and the regulations.
A: Well, as a matter of fact, there are a number of things that have been happening in the marketing sphere that have come about organically. I mentioned the Netflix thing before, and that has led to some other companies contacting us and looking to hear more about us and our story. On our end, we are always looking to forge partnerships with media outlets and different blockchain projects that we believe in. Currently, one of the goals on the agenda is expanding our community by branching out into foreign language markets.
Outside of that, we have partnerships with some other companies in this space, like Blockchain Cuties, which you may have noticed on the homepage. We are interested in anything that can add more to the community and our platform. We've been putting a lot of effort into our blog and trying to enliven our community and we've also been working on a few interviews with big figures from the crypto sphere. For example, you can check out our recent interview with TRON founder Justin Sun. We were very happy to be able to share his insight with our community.
When it comes to the regulatory atmosphere, of course we are following all developments closely. Freewallet is an international company so it can be challenging trying to meet all the requirements that users from different places all over the globe are subjected to. But we are doing our best to accommodate everyone while acting in accordance with international laws. We wish that there was an international standard that we could all adhere to, but at the moment, it is a bit of a challenge.
Q: Would you wish to share some words about the Freewallet team?
A: Yeah, we are like family. We have all grown a lot together in conjunction with the growth of the platform. Structurally, the team is decentralized, with about a hundred employees all around the world. We pride ourselves on the quality of help we give to our community, so if you're having any trouble or you are curious about anything, by all means reach out to us. We are available 24/7 at our support center and are super active on social media, so get in touch!
Q: Anything else you would like to add?
A: On behalf of the team, I'd like to express our gratitude to our users for their continued support. Our philosophy when we got started was that we wanted to create a skeleton key to the crypto world that could be used by anyone willing to give it a try. Some time has passed, and we continue working to achieve this goal.
Our vision of the future of cryptocurrency is democratic; we want everyone to be able to take part. So, in that respect, we are something like ambassadors of adoption, in that we open the gates for non-techies to enjoy the advantages of crypto and we are always trying to include more people. We have a long history of development already, and there is no slowing down at this point. There are always new features to add and, as our user base is constantly growing, we seek to accommodate them in ways we sometimes can't really anticipate. But this is the challenge we welcome the most and are thankful for the opportunity.
Know more about Freewallet at – https://freewallet.org/