If you are interested in modern-age gambling (both online and offline), casino games, and the budding cryptocurrencies then this review is for you!
About The Biggest Online Casino, CryptoGames:
CryptoGames is a time-changing online gambling website that is currently offering 8 exclusively made casino games. These are the games you will find there!
Dice, Blackjack, Slot, Roulette, Video Poker, Plinko, Minesweeper, and Lottery.
With a vision to help potential gamblers to find their callings in the fruitful gambling industry, the team behind CryptoGames has added sublime elements into the casino. When it comes to creativity in customer service, CryptoGames comes without an end. The casino diligently aims to provide its users with an opportunity to be a part of safe and responsible online gambling with the best service out there. Their inclusion of cryptocurrencies has taken the concept of online gambling to a new level. Every element the casino adds in itself is for achieving the highest rank in the market. And we must say, they have successfully become the leading digital entertainment company as they have wished. Over the years, they have met all market demands and gamblers' list of expectations by offering top-class security, lightning-fast money exchange, extraordinary gambling policies to its users.
The casino's website is being administrated by MuchGaming B.V., a Curacao-based private (limited liability) company. CryptoGames currently holds an international eGaming license under the legislation of Curacao.
Introduction to CryptoGames' Showstopping Game, Video Poker!
Video Poker is (as Wikipedia defines and we quote) a popular casino game based on Five-Card draw Poker. The game is played on a computerized console that is similar in size to a slot machine. The online version of the game does not come with a visual of a slot machine. Instead, Video Poker at CryptoGames is built with an outlook of cards laid on a table. Simply put, as you enter the page of the game, you will find yourself with a virtual table with 5 cards on top. The visual effect of a "Deal" taking place, is as realistic as an actual "Deal" at a card game.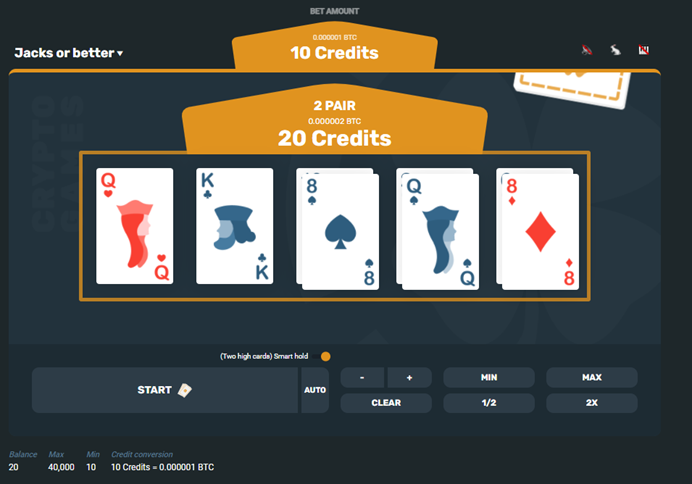 To bring a unique version of Video Poker, CryptoGames has curated 3 different variants of the game. Needless to say, all of them are easily understandable and Highly entertaining to play! So, if you are a Poker Fan, you are bound to love all three versions of the game!
The three versions are known as :
Tens of Better,
Jacks or Better,
Bonus Poker.
All players can switch between the versions using the mode toggle located in the top left corner of the game's field.
How do You Play the Game?
First, Register!
CryptoGames has the most uncomplicated Registration process in the entire world of the internet. We assume you must have been accustomed to "Provide Email Address and At Least 5 of Your Personal Information" for "Easy Sign-Ups" till now, but not anymore! Cause CryptoGames has created a sign-up system where you need to provide only one piece of information! A unique Username! Just imagine how much more convenient can it get?! By creating a username for yourself, you will be able to enter the website right away and explore all the features (Like PlayMoney) before you gradually set up your account. So, before you think of anything else, Go, Register!
Know the Rules!
It is no rocket science that before you dive into a game, it is essential to know the game's rules for better chances of winning! Now, if you are familiar with the rules of Poker, you will understand Video Poker quite easily.
The objective of the Game: 
Players must earn a winning hand at the end of each game. For every match, players will be given 5 cards from which they must try to achieve the strongest Hand possible. At CryptoGames, you are given a chance to keep any of your desired cards from the deal. You are also provided with an opportunity to exchange your cards to form the strongest hand possible with the cards. You are also given a chance to keep the desired cards in your Hand and exchange the undesired ones for making a better poker hand.
Know the Rankings of Your Poker Hands: (Lowest to Highest)
High Card: When the result of the deal ends with cards forming no series, they are called 'high cards'.
One pair:When there are two cards of the same numerical value, and the other three cards are individual and have no significance.
Two pairs:When there are two pairs of cards of similar numerical value and the other one is an insignificant card.
Three of a kind:When the ending Hand has three cards with a similar numerical value, but the rest of the (two) cards have no significance.
Straight:The Hand has five cards that possibly belong to any suit but are in a numerical series.
Flush: All of theending five cards belong to the same suit.
Full house:The Hand has three cards of the same rank and the rest two of different matching ranks.
Four of a Kind: Four cards carrying the same numerical value with one side card (aka kicker).
Straight Flush: Ending Hand hasfive cards in numerical order, all belonging to a common suit.
Use The Smart Hold in Times of Confusion: 
When you are playing a casino game for the first time or even if you are a frequent/experienced player, sometimes it is normal to feel hesitation in placing a bet. CryptoGames has brought a highly useful feature known as "The Smart Hold" to aid your occasional confusion. The feature lets you optimize your odds by holding on to auto-selected cards for you. However, we cannot deny that you may have better chances at scoring an advantageous hand if you choose to play manually without relying on the smart hold. Therefore, it is recommended that you practice hard with your PlayMoney before jumping into the game and use the smart hold only when necessary! Since the casino cannot be held responsible for any lost bets after using the smart hold feature. We have listed a small table showing a few examples of how smart hold works for specific situations. Smart hold gives priority to "hands" from the table that are on top. (Note that we have not included all events in the table. For further information, check out the casino's website and the game's page!)
Hand
Discard Cards

 

Royal or straight flush

Four of a kind

Four-card royal

Full house, flush, or straight

Three of a kind

Four-card straight flush (open-ended or with a gap)

Two pairs

High pair (Jacks/Tens or better)

Three-card royal

Four-card flush

Low pair (Tens/Nines or lower)

Four-card straight (open-ended)

Two-card royal (two suited cards jacks/tens or higher)

Three-card straight flush (open-ended or with gaps)

0

1

1

0

2

1

1

3

2

1

3

1

3

2
Use the Payout Table to Guess Your Rewards!
Along with the instructions to play the game, the casino also made sure to add a complete guide to their payout tables to help the players guess their reward amounts. This allows them to be motivated to aim for better gameplay and strategies. The payout table can be found by clicking on the "Rewards" tab on the game interface!
In Video Poker, Royal Flush is the highest paying Hand. However, the chances of getting a "Four of a Kind" Hand from a deal is 0.24%. Meaning out of 40,390 hands, only 1 can be a royal flush. But this should not stop you from hoping! Right?
Trust in the Provably Fair Gambling Technology to Generate an Unfiltered Result for you! 
Provably Fair gambling technology makes it impossible for a player or casino to cheat and get favorable results. So, while playing Video Poker at CryptoGames, you will not need to worry about your results. For they will always be fair and accurate.
GET, SET, DEAL!
Video Poker is undoubtedly a game of patience and analytical skills. But it is also a game that you can quickly master with a basic knowledge of the probability of forming hands. And to make it even easier, CryptoGames has already provided you with the most convenient feature, PlayMoney! Therefore, we see no more excuse for you to delay your experience of playing the best strategic casino game online! So, open your browser today, and as CryptoGames' catchphrase says, "Catch the Winning Spirit" with Video Poker!!