The NFT market has taken a bit of a beating in 2022. It's not surprising, given that investors are being much more careful with how they are allocating their capital. Consequently, engagement levels on platforms like Sorare have dropped significantly – to the lowest levels since 2021, in fact.
In a time like this, it wouldn't be wrong to think that most investors will be holding off on buying NFTs. There is one project that is ignoring all of the aforementioned trends and actually growing in exposure and investment. This project is Silks, a unique P2E game that could become the best sports fantasy crypto game.
Why Silks is Charging to the Top of Fantasy Sports Crypto Games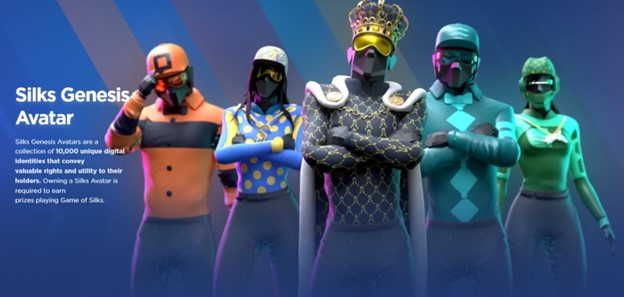 You'll need a Silks Avatar to participate in the ecosystem.
P2E games take on many shapes and forms, but the world of thoroughbred horseracing is not a very common one. That is what Silks does but it goes one step further by making its game mirror the actual developments in horseracing. When a racehorse in real life wins, it is reflected in the game, netting players rewards.
The rewards come in the form of NFTs, and these can be won through in-game activities. The latter includes buying, breeding, trading, and racing horses. As for the NFTs, the project provides many and they each have their uses. Users can buy Silks NFTs of Avatars, Horses, Stables, and Land.
Two worth discussing in detail here are Silks Avatars and Horses. Avatars are important because they are your ticket into the Silks ecosystem. They are digital jockeys and also offer benefits like a lifetime mint pass for the annual Genesis Yearling Sale, exclusive experiences, giveaways, and IRL events.
The Silks Avatars sale is still happening. You might want to get your hands on them quickly though because over 65% have already been sold. The collection has become so popular that it reached the top 10 sports NFTs on OpenSea. The potential of the platform has made it clear to collectors that Silks could become the best sports fantasy crypto game.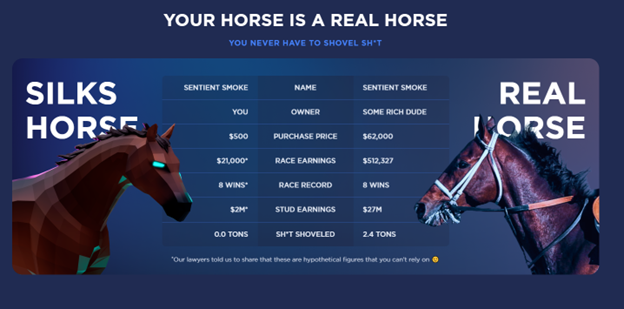 A quick look at how Silks reflects real racehorses.
Silks Horses are also important because these are the bread and butter of how you will earn in the game. These are also among the most popular NFT collections on OpenSea right now, so it is also worth checking out.
⏰ The Time Has Come ⏰
The Silks Team is happy to announce that the Genesis Yearling Reveal will commence on Thursday, October 27th. pic.twitter.com/nmESsqXzQf

— Game of Silks (@gameofsilks) October 19, 2022
Other notable features include the ability to stake in the Community Horse Farms to earn rewards. The game also lets you build Horse Farms on Silks Land in exchange for a fixed fee and a share of the rewards generated by Silks Horses.
Silks Set to Dominate Fantasy Sports Crypto Games
The fantasy sports crypto games niche is about to take off with the arrival of Silks. The game, even before its metaverse launches later in Q4 2022, is already causing a stir in the market. There may not be a chance to get in at such low prices, so it's worth checking out if you see the potential in it to be the best fantasy sports crypto game.
Disclaimer: This is a paid release. The statements, views and opinions expressed in this column are solely those of the content provider and do not necessarily represent those of NewsBTC. NewsBTC does not guarantee the accuracy or timeliness of information available in such content. Do your research and invest at your own risk.