One of the best ways that new projects raise funds in the decentralized market for visions is through Initial Token Offering (ITO).
The Ravendex Labs has announced the release of its decentralized exchange which private sale will commence on October 5, 2021. Prospective investors can view the platform's demo here.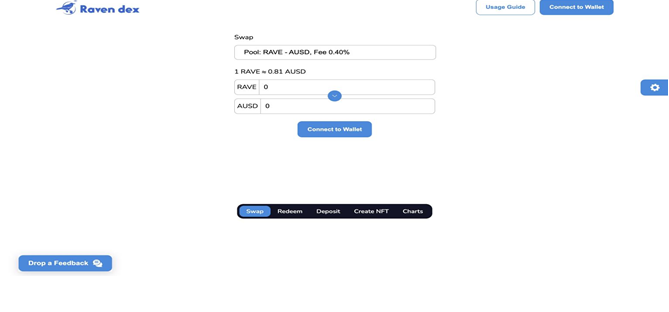 The Ravendex team also expressed its desire to support Cardano ADA users with incentives such as price feed transactions, asset price displays, and wallets. To increase DeFi's accessibility to crypto enthusiasts, the project offers low-fee secure transactions too.
With the Ravendex fully launched, its users can swap their Cardano tokens for profits for a fee while liquidity provides will receive a reward for contributing their digital assets to the liquidity pool.
The team explained further that $RAVE is a Cardano native token on the Cardano Network with a total supply of 1 billion tokens.  As a token holder, you will have the privilege of interacting with the Cardano network, staking and endorsing or giving liquidity to Cardano projects.
Private Sales Deadline
The $RAVE token will go on sale on October 5, 2021, through a private sale to early adopters. Interested parties are encouraged to join the link: https://sale.ravendex.io/
100 million $RAVE tokens will be available in the public sale that will come in 5 phases at $0.005 per token while 200,000,000 RAVE tokens will be available at $0.006 in the seed phase. If you wish to join the presale, use this Medium link: https://ravendex.medium.com/rave-private-sale-to-early-adopters-going-live-in-few-hours-b50ba0820dc7.
About Ravendex
Ravendex is a project built on the Cardano blockchain for low-fee seamless cross-border transactions.  The goal is to be a one-stop decentralized finance hub on Cardano by focusing on features that will create values for projects that are built on the ecosystem to enable it to take the ecosystem to another level.
Ravendex hopes to become a fully decentralized autonomous organization, a meeting ground for the Cardano community where they can vote on viable projects.
The Ravendex Cross Chain Exchange and Swap Protocol assure investors of increased liquidity and trading volume in addition to easing cross-chain transactions to make the platform more attractive to both prospective and existing users.
Social links
Twitter: https://twitter.com/Ravendexlabs
Telegram: http://t.me/ravendexlabs
Github: https://github.com/Ravendexlabs
Media contact
Company: Ravendex Labs
Contact Name: Raven
E-mail: [email protected]
Location: Dublin
Website: https://ravendex.io/