Bitcoin and Ethereum have gained popularity.  No matter how new you are in the crypto space you must have heard of these two coins. Because of the success of Bitcoin, cryptocurrency keeps growing in importance in the financial sector. Ethereum's blockchain has been identified to be slow in transactions due to the increasing number of users.
The Market Cap size has been an added advantage to these two giant cryptos. However, other cryptocurrencies such as Cardano (ADA) and Moshnake (MSH) seek to outperform them. While Cardano encourages innovation in the crypto world, Moshnake has a unique intention to welcome recreational activity. By bringing back the old forgotten snake game. However, they both accept the Decentralized Autonomous Organization (DAO) system of governance.
Can Cardano (ADA) Change The World?
Cardona's blockchain plans to upgrade to Vasil. A name after a loved and respected member of the Cardano's ecosystem.  He passed away struggling with pulmonary embolism.
The committee of Cardano's community reveals that the upgrade will increase and considerably expand Cardano's capabilities. The upgrade will come with "new Plutus v2 features", which will allow DApp developers to construct innovative and captivating experiences. The new features also come with diffusion pipelining techniques to enhance throughput and network capacity.
Above the new intended upgrade, Cardano (ADA) remains an Open-source blockchain that houses the Decentralized Autonomous Organization (DAO) system of governance. With this system, members of the community can vote for or against decisions to be taken in the ecosystem.
Though Cardano's price is below $1, investors anticipate that Cardano's value would double in less than a year and could even reach $5 by 2027.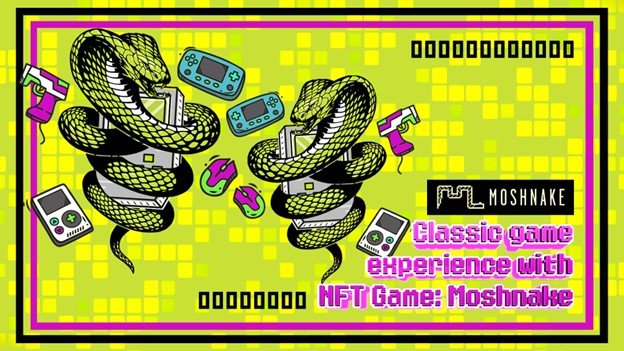 Can Moshnake (MSH) Survive The Competition?
Have you ever felt like having back those old days experiences that seem irreplaceable? One such experience is the Nokia snake game, the first ever-interesting video game on the phone.
The old Nokia Video game has been modified through blockchain technology to have its coin called Moshnake ($MSH) cryptocurrency
Moshnake (MSH) is built on the Binance Smart Chain algorithm and developed to give players an option to play against other players (P vs P) or the environment (P vs E).
However, a player must purchase a Moshnake NFT to play the game. The Moshnake NFT is expected to eat up the Moshnake Eggs to grow and expand as their value increases. Players use  $MSH tokens to make payment for the Moshnake NFT and partake in the in-house voting.
Every Play-to-Earn game can track a sizable number of transactions in a single day. It is anticipated that players will execute several transactions in Moshnake, a fascinating blockchain game modeled on the traditional snake game.
With the high expectations on Moshnake, MSH might turn out to be a must-trade coin just like Bitcoin in the universe.
Bitcoin (BTC) Aims to Yield More Profits for Investors
Although many investors consider the price fluctuations of Bitcoin (BTC) to be normal, volatility can be difficult for individual investors to handle.
The current fall in the price of the giant cryptocurrency, BTC has influenced the financial status of investors greatly. The effects of a bleak economic outlook are still being felt by Bitcoin.
Although the ability of Bitcoin to withstand economic crashes is not guaranteed, BTC survived the covid 19  economic recession and exploded beyond expectations.
Bitcoin (BTC) may be quickly and easily exchanged for cash or other assets, such as gold, with incredibly minimal fees. Bitcoin is a fantastic investment vehicle if you're searching for quick returns due to its high liquidity.

Moshnake
Website: https://moshnake.io
Telegram: https://t.me/MoshnakeOfficial
Twitter: https://twitter.com/moshnakeToken
Disclaimer: This is a paid release. The statements, views and opinions expressed in this column are solely those of the content provider and do not necessarily represent those of NewsBTC. NewsBTC does not guarantee the accuracy or timeliness of information available in such content. Do your research and invest at your own risk.