Liquid Craft, a new project bringing big changes to the NFT and Liquor investment worlds, has announced a launch date for their first mint of collectible, liquor-backed NFTs for Oct 29th at 12 PM PST.
The limited-edition series called Dragons and Bourbon will be released by Liquid Craft with a strict supply, each NFT tied to a rare, handcrafted bottle of fine bourbon created by Colorado based distillers at The Heart Distillery.
Liquid Crafts Dragon And Bourbon NFTs
The initial NFT release from Liquid Craft is a series called Dragons and Bourbon and will excite both the collectors of NFTs and the investors of fine wines and liquors. This series is exclusive to Liquid Craft, with each limited edition NFT tied to a rare collectible bottle of liquid art. Each Dragons and Bourbon NFT is a digital representation of individual bottles of handcrafted, small-batch bourbons. Each bottle is handcrafted by the master distillers at The Heart Distillers, a Colorado-based, international award-winning distillery.
The Current Problems Liquid Craft Aims to Solve
The traditional liquor investment market has seen some impressive growth in recent years. The value has skyrocketed, so has the amount of interest. Although this growth has been substantial, getting an average investor to participate is easier said than done. Typically liquor investing involves the trade of physical products, with the logistics needed to undertake the buying and selling being anything but simple. Brokers, auction houses, shipping, and storage, each one a hurdle that creates a significant barrier to entry for would-be investors.
With NFTs, the rapid growth in the last year has been like nothing that has come before it. The digital art pieces are used in a wide variety of use cases, in many different industries. Still, most NFTs traded today are not backed by anything more than sentiment and the current hype surrounding them. A trend that is expected not to last forever.
The Solution is Blockchain
The solution to solve the problems associated with both markets is a simple but effective step. Liquid Craft has identified the issues with two different industries and aims to solve them both by bringing them together in a mutually beneficial partnership. By merging the growing NFT market with a traditional investment option like appreciating fine liquors, Liquid Craft has found a balance between the two where everyone can benefit. NFTs can now be backed by physical assets that not only retain value but, based on the last decade of growth, appreciate.
Liquor Investing Is Now More Accessible To More People
For the aspiring liquor investor, the ability to purchase and invest in the fine liquor market has arguably never been easier; blockchain has removed the need for intermediaries and enabled a new level of simplicity to the space. Collectors can collect the NFTs with the physical product never leaving the supplier until it comes time for redemption. No more storage concerns, brokers, or expensive and potentially risky shipping for each sale.
Liquid Crafts October 29th Launch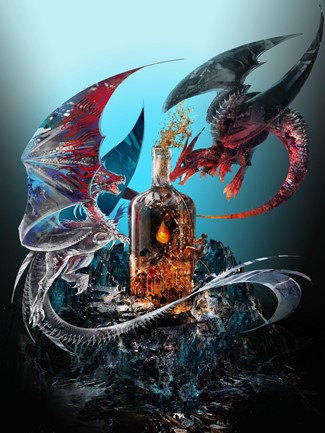 The launch date for Dragons and Bourbon has been announced for Oct 29th at 12 PM PST, the first NFT mint has commenced, and the bottling has been undertaken. Liquid Craft has partnered with Coinpresso – a specialized crypto advertising agency and SEO firm, to help with promotions, and as such, interest has been high. The limited-run is restricted to the small-batch bourbons availability, and it will be on a first-come, first-served basis. There are two tiers of Dragon and Bourbon NFTs available, one on the Ethereum Network and another on the Binance Smart Chain. Both will be available to the general public upon launch.
New Fine Liquor Backed NFT  Marketplace Coming Soon
This is the first run of many NFTs to be released by Liquid Craft, with plans to create a complete marketplace in the coming months. The planned marketplace will include a range of international suppliers onboarding their liquid art creations for sale to a worldwide audience. Liquid Craft is creating something that appeals and enhances two separate and growing markets in one move. Something that is sure to be a welcomed change by many.
Twitter: https://twitter.com/CraftLiquid
Media Contact:
Curtis Ramsay
[email protected]