The crypto world can feel overwhelming at times. New cryptocurrencies, like Moshnake (MSH), appear almost daily in the cryptocurrency market,  and this sometimes makes it difficult for crypto enthusiasts, especially newbies, to decide which ones to buy or ignore.
Fortunately, some standout winners are Binance Coin (BNB) and Kusama (KUS). Both altcoins continue to prove their competitive power and potential in the crypto coin market, leading crypto enthusiasts to add them to their portfolios.
Moshnake (MSH), Binance Coin (BNB), and Kusama (KSM) are all great examples of altcoins with incredible potential for growth in the future. This guide closely examines why each is blowing hot right now.
Binance Coin – An Innovative Blockchain-Based Crypto with Huge Potential
The Binance Coin (BNB) cryptocurrency is native to Binance, the world's most popular and largest crypto exchange platform. Binance Coin (BNB) has many utilities with discounted fees on the Binance (BNB) exchange.
As it is a highly profitable cryptocurrency, crypto enthusiasts are rushing en masse to buy it. One of the benefits of Binance Coin (BNB) that makes it a prime target for crypto users and traders is its staking ability.
As the fourth largest altcoin by market capitalization, per CoinMarketCap, Binance Coin (BNB) is one of the top staking coins, thanks to its innovative delegation approach. Staking Binance Coin (BNB) enables holders to earn 6% to 9% APYs on average and up to 30% depending on transaction fees.
Another reason enthusiasts and traders are buying Binance Coin (BNB) is its support for nonfungible tokens (NFTs). Binance Coin (BNB) gives users access to NFT minting and trading on the BNB Chain, meaning that any Binance Coin (BNB) holder can gain from NFT profitability.
Kusama – Crypto for Radical Innovation
Kusama (KSM) coin is native to Kusama, a decentralized, scalable multichain network providing developers with an innovative and interoperable framework. The Kusama (KSM) network shares almost the same codebase as Polkadot (DOT), a highly successful interoperable blockchain.
Crypto enthusiasts and blockchain developers seeking the best crypto platform to build innovative decentralized solutions and quickly deploy their blockchains are rushing to buy Kusama (KSM). The altcoin has open governance to benefit all holders. Kusama (KSM) also has iteration and low economic barriers.
Kusama (KSM) uses a nominated Proof-of-Stake (NPoS) consensus system, enabling it to perform rapid on-chain upgrades without a fork. Holders can sell, trade, and stake the altcoin for increased earnings.
Moshnak – Futuristic Crypto with Amazing P2E Potential
Moshnake (MSH) is a Binance-based cryptocurrency for Moshnake, a snake-inspired play-to-earn (P2E) gaming ecosystem. Moshnake (MSH) aims to resurrect memories of the mobile classic Snake game, this time breathing life once more into the game using blockchain technology.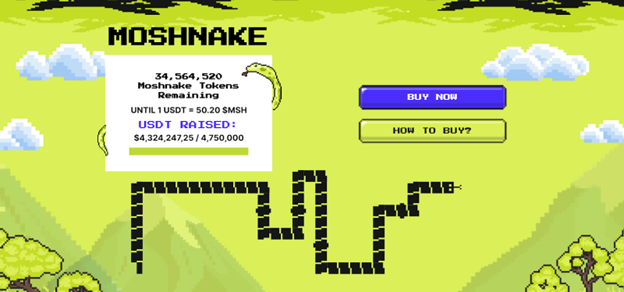 As a new cryptocurrency, Moshnake (MSH) has users' well-being as its top priority. Therefore, Moshnake will drive user happiness and financial well-being. To do this, Moshnake (MSH) will give users access to a blockchain game where they can join other players to have fun and earn passive income.
Holding Moshnake (MSH) means users can buy any of the available snake-themed Moshnake NFTs they must obtain before participating in gameplay. Currently, there are four Moshnake NFTs available: Viper, Cobra, Mamba, and Krait.
To begin earning, snake holders must maneuver and feed their snakes with various in-game NFT items in the game's arena. The more their snakes feed, the bigger they grow; the more they grow, the more in-game NFTs they earn. The Moshnake (MSH) NFT marketplace will enable players to sell or trade their earned NFTs for profit.
The Moshnake (MSH) token presale is on, with many crypto enthusiasts rushing to buy. Tokens are selling out so fast that, at the time of writing, only around 39.99 million Moshnake (MSH) tokens remain out of the initial 200 million presale supply.
While Binance Coin (BNB) and Kusama (KSM) are long and trusted players in the game, Moshnake's (MSH) entry into the cryptocurrency market will signal another opportunity for crypto users to profit from P2E. The new cryptocurrency has what it takes to succeed and compete with the crypto top dogs, making it one altcoin worth adding to your wallet.

For more information on Moshnake (MSK), visit the links below:
Moshnake
Website: https://moshnake.io
Telegram: https://t.me/MoshnakeOfficial
Twitter: https://twitter.com/moshnakeToken
Disclaimer: This is a paid release. The statements, views and opinions expressed in this column are solely those of the content provider and do not necessarily represent those of NewsBTC. NewsBTC does not guarantee the accuracy or timeliness of information available in such content. Do your research and invest at your own risk.