The crypto market has grown in popularity in the last few years, increasing the trading volume for cryptocurrencies. Aave (AAVE) and Uniswap (UNI) have been incredibly helpful for traders. New currencies are developed regularly to meet the changing market dynamics. Dogeliens (DOGET) is also one of the newly developed tokens aiming to provide solutions and entertainment simultaneously. A detailed overview is given below. So, stay tuned.
Uniswap (UNI) – One of the largest crypto exchanges
Uniswap (UNI) is a notable crypto exchange that uses the ETH Smart contract to run its blockchain. It has a governance token, UNI, for transaction fees and discounts on the exchange. The exchange allows traders to buy, sell, or swap crypto tokens compatible with the ERC-20 contract. It is a decentralized platform offering complete control of funds to traders. UNI has an open-source code that any developer can use to create applications. The major problem faced by Dex was liquidity which UNI solved by incentivizing people willing to be liquidity providers for the ecosystem. UNI currently ranks in the top 20 digital currencies with a market capitalization of over $4 billion and rising. It has a maximum supply of 1 bn tokens, and the number of people holding UNI tokens determines its price.
Aave (AAVE) – A Blockchain-based DeFi protocol
Aave (AAVE) is a decentralized platform that incentivizes people to participate in building a particular liquidity pool for exchanges. Other people can use tokens from this pool, but a service fee is to be paid by that individual. AAVE is also an ETH-based protocol launched in 2018. The founder of AAVE was frustrated by the lack of liquidity pools from which anyone can get tokens, including a fee. But for this process, the individuals need to give the platform something as collateral to ensure the payback on time. The reason for its popularity is the very first platform to introduce such an idea. AAVE currently ranks in the top 50 tokens with a market cap of just above $900 million. As of Nov 2022, AAVE is the price between $65 to $70. It claims to have a total supply of 16 million tokens.
Dogeliens (DOGET) – Aiming to become the Pup Master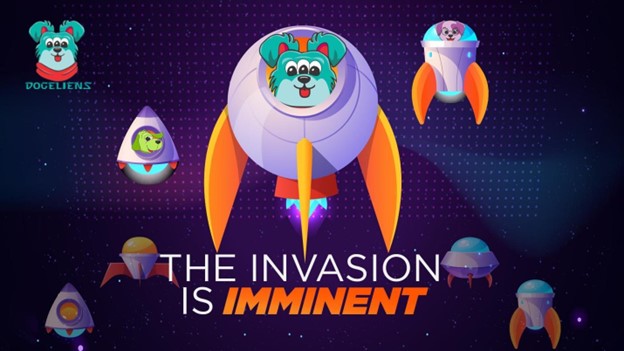 Dogeliens (DOGET) doesn't believe in limits as it aims to outrank the most popular meme coins, DOGE and SHIB. Dogeliens Token (DOGET) wants to create an ecosystem with a mix of Meme coin hype and altcoin use cases. DOGET is the primary currency used by this ecosystem. DOGET follows in the footsteps of leading meme coins and has used the dog theme to add an intergalactic journey. It is bringing a virtual world full of entertainment and education for people. The detailed roadmap of DOGET also includes a Pup store from where the community members can buy merchandise to show support. Also, it has 25 bn tokens based on the BSC platform.
Buy DOGET tokens in Pre-launch to get exciting rewards
With over $80k currently raised in the pre-launch, DOGET is quickly gaining popularity and building a loyal community, steadily moving toward its goals. Visit the Dogeliens Token (DOGET) webiste. Here you'll come across the how to buy button. Just connect your wallet, add the number of tokens you wish to buy, and Boom, the purchase is done.
If DOGET sticks to its roadmap and steadily achieves all the mentioned targets, it will soon be able to outrank many significant tokens, including AAVE and UNI. Make sure you do thorough research before buying this meme coin.
Want to know what DOGET is offering its buyers? If you decide to use BNB for purchasing tokens, don't be surprised to see a 22% reward reflected in your crypto wallet. Also, using USDT for the purchase can prove valuable as a 15% bonus is being given by the project on it.

To learn more about Dogeliens (DOGET), you can visit the following links:
Presale: buy.dogeliens.io
Website: https://dogeliens.io/
Telegram: https://t.me/DogeliensOfficial
Disclaimer: This is a paid release. The statements, views and opinions expressed in this column are solely those of the content provider and do not necessarily represent those of NewsBTC. NewsBTC does not guarantee the accuracy or timeliness of information available in such content. Do your research and invest at your own risk.