Key Highlights:
RoboApe's Presale is taking off
RoboApe could be a real contender against Dogecoin and Shiba Inu
How is the crypto crashing affecting the market?
Financial analysts cannot accurately predict when the crypto crash of 2022 will subside and when a recovery will begin in earnest, but they can safely say that this decline is cryptocurrency's biggest test yet.
In the thirteen years since Bitcoin took the financial world by storm, there have been several outrageous ups and dramatic downs. After all, the cryptocurrency market is nothing if not volatile. However, the latest downturn is the largest slump recorded in its history, and it could take years before the market rebounds. To gauge the position of the market at present, we will look into established tokens and see how they're performing.
Dogecoin (DOGE)
Dogecoin (DOGE) is the 10th biggest cryptocurrency on the market and the biggest meme cryptocurrency. DOGE has a market capitalization of 8.65 billion and a token price of 0.065; both values have fallen 5% in the last twenty-four hours. In the same period, the volume of DOGE tokens traded is 417 million, increasing 7%.
DOGE was named after the "doge" meme that emerged online in the early 2010s. The DOGE logo features a Shiba Inu and was created in jest to mock the speculation surrounding Bitcoin and cryptocurrencies. However, when Dogecoin was released, it was a resounding success.
The DOGE token branched out from Litecoin in 2013. The team behind DOGE created a platform where users could enjoy themselves. Of course, cryptocurrency users responded emphatically. Even Elon Musk, Tesla CEO and the world's richest man tweeted that Dogecoin (DOGE) was his favorite token.
Shiba Inu (SHIB)
Shiba Inu (SHIB) is the second biggest meme token on the market. SHIB ranks at number 15 with a token price of 0.000011 dollars and a market cap of 6.6 billion; both figures have fallen 4.3% in the last day. SHIB tokens traded in twenty-four hours is 316 million, down 6%. The crypto crash has had an impact on all of SHIB's numbers.
SHIB was created anonymously under the pseudonym "Ryoshi" in 2020 and dubbed the "Dogecoin Killer" upon release. The identity of the creator is yet to be uncovered, like Satoshi Nakamoto (originator of Bitcoin). The token became an instant success when it was launched and attracted interest from cryptocurrency users, and personalities like Elon Musk and Vitalik Buterin, whom many assume is the person behind SHIB.
Shiba Inu (SHIB) is an Ethereum-based token that has inspired an array of meme tokens, such as Shiba Fantom, BitShiba, King Shiba, and Captain Shibarrow, among others. It is estimated that there are more than a hundred copies of SHIB.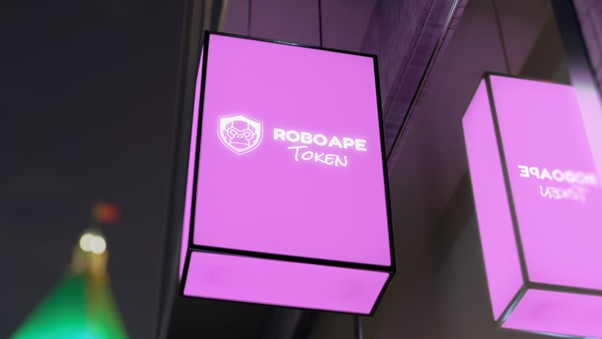 RoboApe (RBA)
The final cryptocurrency we'll discuss is yet another meme token called RoboApe (RBA), an ERC-20 coin based on Ethereum. RBA charges a negligible transaction fee, and a portion of that fee is redistributed to users' wallets.
RoboApe works as a decentralized, community-oriented platform. RBA is a deflationary token, which means part of the fee is removed when the token is burned. The team behind RBA has designed the platform to be competitive and sustainable while enhancing current cryptocurrency protocols.
The makers have eliminated the concept of monetization models and team incentives, which is why team members will not control RBA's governance. RoboApe (RBA) is a community-driven decentralized autonomous organization (DAO), which means token holders have development initiatives, resources, and more at their disposal.
The community-based ecosystem will ensure that RBA functions as an automated and fair platform where users can participate in organizing funding, discussing different perspectives, and maintaining consensus on improvements to the project.
Check out this other article to find out more about RoboApe.
Conclusion
Dogecoin (DOGE) and Shiba Inu (SHIB) have enjoyed remarkable success, which explains why hundreds of meme tokens are available today. RoboApe (RBA) will join a competitive meme token market when it is released, but it has more than enough attributes to succeed.
RoboApe (RBA)
Presale: https://ape.roboapetoken.io/register
Website: https://roboapetoken.io/
Telegram: https://t.me/ROBOAPE_OFFICIAL
Disclaimer: This is a paid release. The statements, views and opinions expressed in this column are solely those of the content provider and do not necessarily represent those of NewsBTC. NewsBTC does not guarantee the accuracy or timeliness of information available in such content. Do your research and invest at your own risk.