IMPT's presale is drawing to a close and the next step for the token is a listing on the major decentralized exchange (DEX) Uniswap – leaving investors less than a week to secure tokens at presale prices.
The token will receive greater exposure than during its presale when it lists, meaning more investor eyes will be focused on this eco-friendly crypto, which is currently in stage 2 of its presale. Stage 1 of the presale valued the coin at $0.018, so early investors are already up by 27%.
The coin is now valued at $0.023 and its presale ends on December 11, 2022. Investors have only a few more days to lock in low prices for IMPT before it potentially explodes on exchanges.
Subsequent listings will be on centralized exchanges LBank and Changelly Pro could see the token further increase, although dates have not yet been confirmed.
Originally set to run for three phases, the developers decided to bring the most eco-friendly cryptocurrency project forward due to the unique utility of the protocol. Any unsold stage 2 tokens will be burnt, while those that were previously allocated for phase 3 will be locked up for the next 12 months.
The project has raised more than $14 million since its launch in early October and that's with limited exposure during an ongoing bear market.
Since IMPT had an explosive presale, its tokens are likely to sell out fast when it's listed on exchanges, making it one of the best new cryptos to invest in.
To avoid buying at higher prices and scrambling to find the coins because of scarcity, investors should get in on this project now.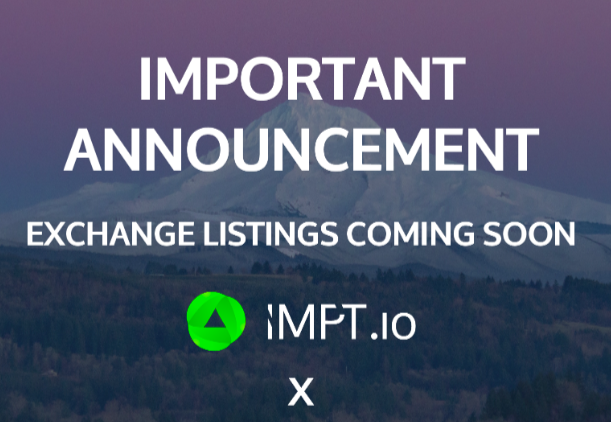 IMPT rewards investors who contribute positively to the environment. Numerous investors have become conscious about investing in ESG projects and IMPT offers a solution for fighting climate change.
IMPT's Ecosystem
This ecosystem has partnered with numerous retailers and corporations concerned about making the planet greener. Some of its partners include Amazon, Macey's, Samsung, Microsoft, Bloomingdale's and Domino's Pizza.
IMPT, which has a doxxed and KYC-verified team, plans to partner with 10,000 retailers that will donate a percentage of their sales to causes concerned about contributing positively to the environment by reducing their carbon footprint.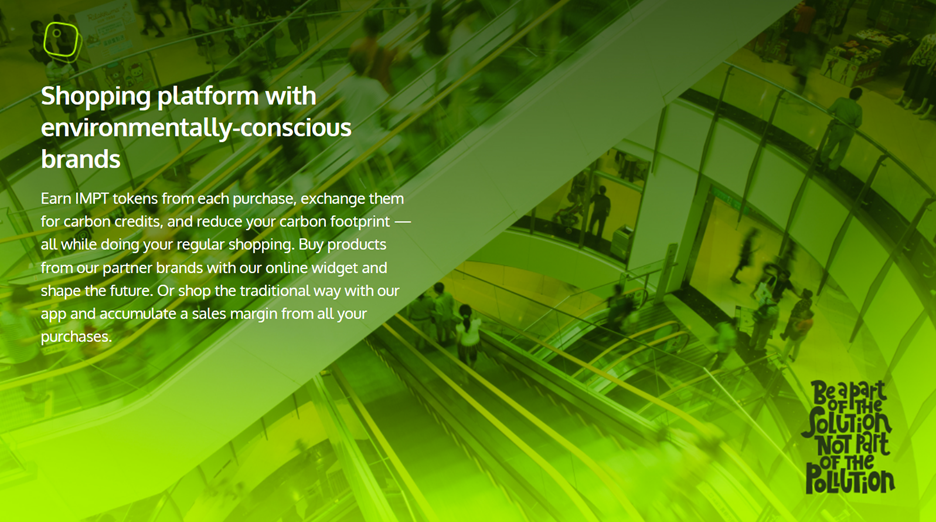 Investors do their part by shopping at those brand stores and in return receive IMPT tokens as rewards.
The platform's web widget and mobile app enable investors to choose a retailer that will make the donation.
Personal Contributions
Using this ecosystem for shopping and donations may be regarded as an indirect contribution to fight climate change, but IMPT has enabled a social feature that allows users to make a direct contribution.
Its social feature works on a points system and tracks every user's impact on the environment, then rewards points to users who have reduced their carbon footprint. IMPT offers higher points to users who retire (burn) their carbon credit to offset their carbon footprint.
Businesses that integrate IMPT's platform into their operations are also rewarded – this enables businesses to provide their customers with an opportunity to do their part in making our planet greener.
Innovative Carbon Credits Trading
Investors can retire their carbon credits on IMPT's marketplace. Keep in mind that physical burning doesn't take place — retiring the coins involves sending them to an address that isolates them from circulation.

When investors retire credits, IMPT rewards them with unique NFTs and ivestors can keep these NFT collectibles as investments and sell them at a future date for profits if their value increases.
IMPT's ecosystem tracks each credit's origin to prevent fraud, utilizing blockchain technology to ensure the project provides a platform devoid of double selling and overcounting.
ESG Investing
Responsible investing has made numerous investors self-conscious about investing in projects that not only offer returns on investment but help the environment and planet in some way.
That's exactly what IMPT's ecosystem offers, and it will be a beneficiary of the environmental, social and governance (ESG) investment expansion – this investment niche is destined to grow into a $30 trillion industry by 2030.
Another financial aspect investors should consider is that the voluntary carbon market is projected to grow from its current $2 billion to $50 billion annually by 2030, according to a report by Bloomberg.
IMPT offers investors an opportunity to obtain returns while improving the environment. And since this project is part of a drastically expanding industry, IMPT investors will benefit as the industry grows.
IMPT's Presale Ends Soon
Many investors believe that IMPT is one best crypto launches to invest in because of its use cases and massive potential to surge during its Uniswap listing on December 14, 2022.
Eco-friendly coins such as IMPT have become extremely popular amongst investors, while Uniswap has more than 4 million users who will be looking to fill up their bags with successful presale coins.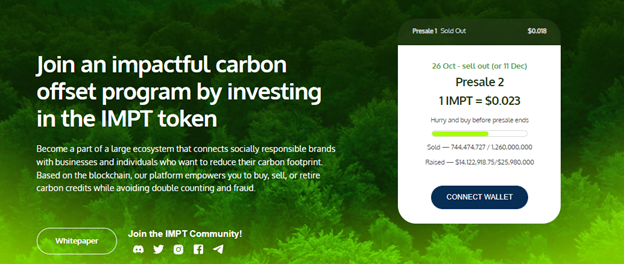 Instead of competing with users on Uniswap, investors have less than a week to lock in IMPT at $0.023. The project is expected to list IMPT tokens at $0.028, meaning those who invest now will already make 22% returns when the coin lists – with much more growth expected.
The potentially big returns will be when the coin pumps on exchanges. LBank and Changelly Pro listings are set to follow Uniswap, but even buying IMPT on Uniswap is probably too late.
How to Buy IMPT Tokens
IMPT has simplified the process of buying IMPT tokens by offering various payment methods. Investors can buy tokens with Ethereum (ETH), Tether (USDT) or with a credit card.

The Transak widget enables investors to use their cards to buy ETH and after the purchase, investors will need to convert their ETH for IMPT. The other option is to buy USDT and then connect a crypto wallet to the website to exchange those tokens for IMPT.
Investors should own at least $30 of ETH to complete a transaction and cover the gas fees. When IMPTs presale ends on December 11, investors can claim their tokens for the following 48 hours before the IEO, with IMPT tokens to begin trading on Uniswap on December 14, 2022.
Missing out on the presale means that investors will subject themselves potentially to a soaring asset that will be highly in demand. Investors know they need to buy low and sell high to earn the highest rewards, yet some fail to act when the asset is priced low, which is now for the IMPT token.
Disclaimer: This is a paid release. The statements, views and opinions expressed in this column are solely those of the content provider and do not necessarily represent those of NewsBTC. NewsBTC does not guarantee the accuracy or timeliness of information available in such content. Do your research and invest at your own risk.