FET coin, a native cryptocurrency of the AI-backed solutions ecosystem Fetch.ai, has been on fire since the beginning of 2023. Though there is no certainty about the failure or success of online financial assets, the recent updates released by Fetch are debunking the bearish market trend myths in the crypto world. 
FET Coin Surge Backed By A Sold Reason
The value of the FET coin, which stood at $0.091 on January 1, 2023, skyrocketed to $0.206 on January 11.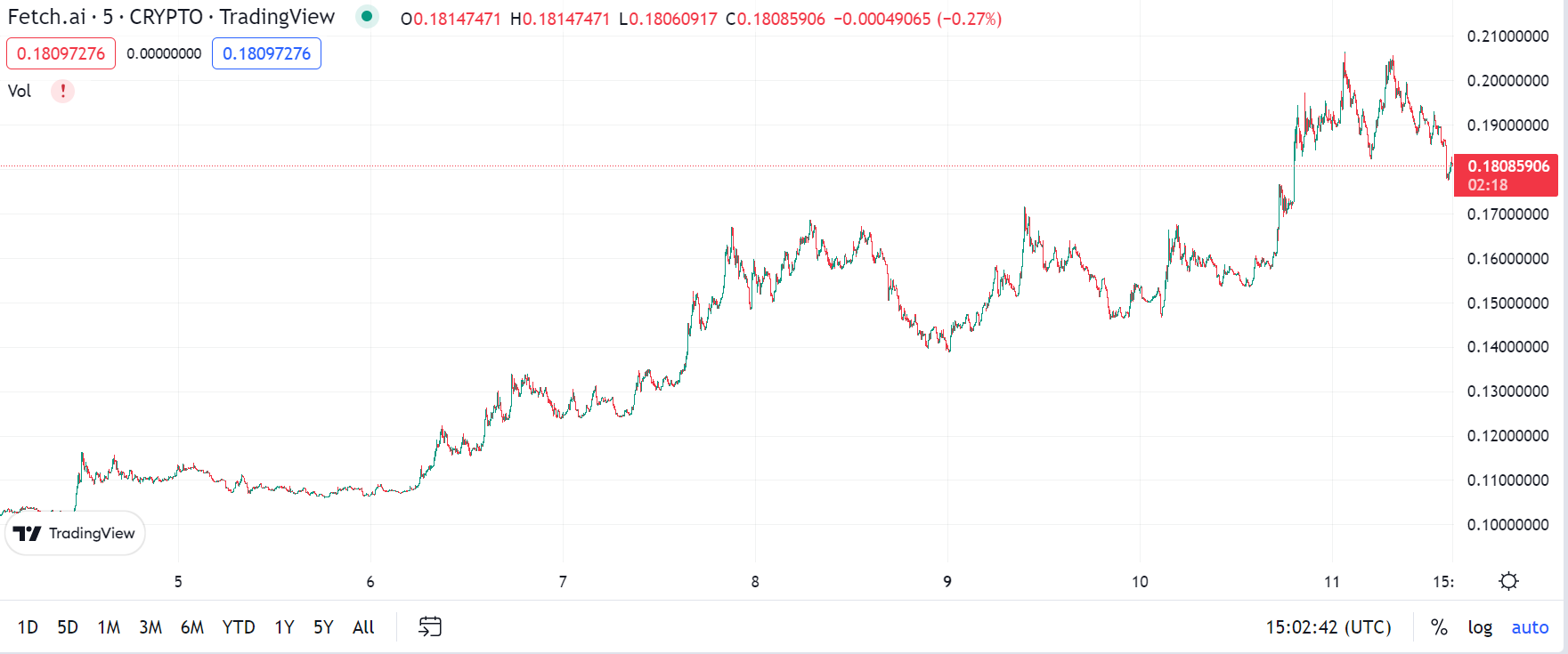 One thing to note here is that Fetch.ai released several updates this year. Can the price rise be a result of these updates? Does this mean that the users favor the FET coin after the update? This certainly gives the developers a hint that they are going in the right direction. 
The 0.6.2 wallet update includes some utilitarian features acting as the vital reinforcement behind the surge! The spike in the value of the FET coin was over 59% after the release after hitting rock bottom price of the day on 6th January. 
The new update features:
Facility to enable and disable read receipts.

Better privacy while messaging.

Uplifted performance and bug fixes.
On top of the wallet update, Fetch also unleashed the Jenesis 0.6.0 update, which packs in many ingenious features. The command line tool of Fetch.ai now has a full autocomplete feature and new contract templates. The new Jenesis updates include revised docker task management tools and back-end updates.
What's The Future Scope of Rising FET Coin Value?
As the value of crypto hits the highest of the day, the bullish market becomes stronger. The recent spike in the value of FET coin has aligned investors with selling the crypto and making profits. However, this has also led to the fear of a falling market in the minds of many others.
As the FET coin hit the $0.206 value on January 11, 2023, the Overbought RSI of the crypto bypassed 70. It clocked at 79.66, which is a sell signal for the investors.
The Overbought RSI is a value that indicates whether one should buy or sell the asset. If it is below 30, it is safe to buy, and if it is over 70, selling is the best option, as the asset may experience a dip in value.
Most investors sell at this point (over 70) as they fear the resurrection of the bearish market.
If the FET coin keeps attracting investors' investments, the value can jack up to around $0.22 or even to $0.264 before it declines. In contrast, if the bearish market prevails and investors sell the crypto, the value might dip to $0.158. CoinCodex analytics predicts (as of 11th January) a bullish market sentiment for the FET Coin. So, keep up with the updates related to the FET coin.
Featured image from iStock, Chart from TradingView.com.