Markets have regained a little today, Bitcoin Cash is pumping, HyperCash is dumping.
A couple of days of bearish pressure has relented and crypto markets are heading back upwards during Asian trading today. There has been a 5 billion dollar bounce led largely by altcoins as markets head back over $215 billion once again.
Bitcoin has inched up a little on the day to trade half a percent higher at $6,480. However, BTC dominance has dropped back to just over 52% spelling a better day for altcoins. Ethereum has clawed back 1.3% to $216 however real recovery seems a long way off and XRP is still snapping at its heels for second place.
The top ten is all green according to Coinmarketcap with Bitcoin Cash pumping 19% to $525 at the time of writing. The big spike came yesterday when BCH jumped from $445 to $540 in about an hour. The Bitmain IPO has been cited as the determining factor in the current performance of Bitcoin Cash. Trade volume has jumped to over $1 billion and market cap is now over $9 billion.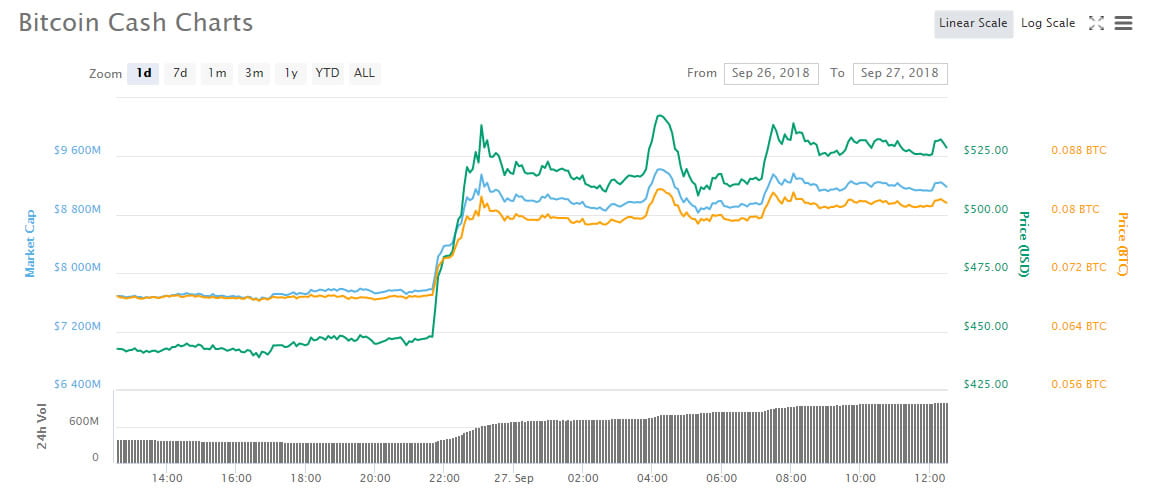 EOS is also doing well at the moment with a 4% climb to $5.60 while the rest of the top ten are just a percent or two up on yesterday's prices. Further down the list the picture is similar with Zcash making 2% and the rest are pretty static. Tezos and Dash have actually fallen back a little, losing 1.5% on the day.
While Bitcoin Cash is having a big surge it is not the top performer in the top one hundred. That accolade goes to Eternal Token which is up 40% right now. Electroneum is also having a good day with a 20% pump and Steem and Chainlink are both up 6-7 percent on the day. At the red end of the table is HyperCash dumping 20% from yesterday's spike. Metaverse ETP has also lost 8% on the day.
Total crypto market capitalization has regained almost 2% on the day to just below $215 billion. Over the past seven days markets have gained 7.5% from $200 billion this time last Thursday however they are still very low and no real upward momentum has been seen yet. The 3-4 day rise followed by the one day dump has been cycling now for the past two months and markets are struggling to drag themselves off the bottom.
FOMO Moments is a section that takes a daily look at the top 20 altcoins during the current trading session and analyses the best performing ones, looking for trends and possible fundamentals.