The IMPT presale recently reached the $1 million milestone in just 5-days, making the 1st phase of its presale 10% complete. The environmentally positive carbon credit ecosystem is quickly gaining momentum as investors rush to the presale to pick up some tokens at what is most likely to be one of the lowest prices available.
??IT'S OFFICIAL #IMPT CREW ??

?$1 Million USD Raised In The FIRST 3 DAYS ?

WE ARE SELLING OUT FAST!! ??

Tag Your Friends And Get Involved Before Stage 1 Sells Out! ⏰⏰
? https://t.co/OqP59jXBbe#environment #sustainability #blockchain #presale #climatechange pic.twitter.com/IyBxhf2YCk

— IMPT.io (@IMPT_token) October 6, 2022
Environmentally Conscious Investors Rushing to Buy IMPT
The cryptocurrency industry seems to be heeding climate activists' warnings and is beginning to change its ways to ensure a more sustainable future. IMPT is designed to help individuals and businesses participate in the convoluted carbon credit market, helping to reduce their carbon footprints. As a result, environmentally conscious investors are quickly rushing to join the IMPT presale, which will take place over three consecutive phases throughout the coming weeks.
⭐️ Attention #IMPT Crew! ⭐️

The IMPT Presale is now LIVE on our official website!

Don't miss out on this early opportunity!

Buy Now
? https://t.co/2ievFdJyZl pic.twitter.com/JAzWTSb7tL

— IMPT.io (@IMPT_token) October 3, 2022
The first phase of the presale, which is already 10% complete, is offering 600 million IMPT tokens for $0.018. Following this, the second phase will offer 660 million tokens for $0.023, and the third phase will offer 540 million tokens for $0.028. Each phase will occur consecutively once the previous phase is sold out.
The "Early Adopter" phase sold 90 million tokens in a few short weeks, but it seems that the public presale is quickly gaining momentum and will likely sell out sooner than expected.
IMPT Changing the Future Direction of Crypto for the Better
The fact that the environmentally-focused platform managed to raise $1 million in 5-days is an incredible testimony to the direction the cryptocurrency industry is heading. Debates continue on whether Bitcoin and Ethereum should be boycotted due to the sheer amount of energy they use, pushing enormous volumes of unwanted carbon dioxide emissions into the atmosphere.
Very recently, Ethereum changed course and shifted from an energy-intensive proof-of-work algorithm to a more environmentally-friendly proof-of-stake mechanism, which reduced carbon emissions by up to 99.95%. The shift to PoS for Ethereum has led IMPT to choose the blockchain to launch its carbon credit ecosystem, taking advantage of its long track record, top-tier security, efficiency, and ability to scale to mass adoption.
Tokenized Carbon Credits Removes Fraud and Scams
Join a vast ecosystem that links socially responsible brands with businesses and individuals looking to minimize their carbon impact.

♻️ Start Making An Impact Today!

? https://t.co/Iwe6yawRbD pic.twitter.com/f8ckdqkxOj

— IMPT.io (@IMPT_token) October 5, 2022
The flagship product from IMPT is its Carbon Marketplace, which allows businesses and individuals to easily buy, sell, and retire carbon credits. The great thing about the platform is that all the carbon credits are tokenized as NFTs. When a carbon credit is retired, the NFT is sent to a burn address, removing it from circulation.
Taking things one step further, users will receive collectible NFTs once they retire a carbon credit – which could spark an environmentally conscious NFT trend of its own.
Tokenizing NFTs helps to reduce carbon credit fraud and double counting as the credits are publicly traceable on the blockchain and cannot be tampered with. Additionally, tokenized carbon credits help businesses and individuals be sure that their carbon credits are genuine.
Alongside the Carbon Marketplace, IMPT will launch a Social Platform that will provide the first global score to help individuals and businesses measure their positive impact on the environment through the ecosystem.
Helping People Reduce Carbon Footprints While Shopping Regularly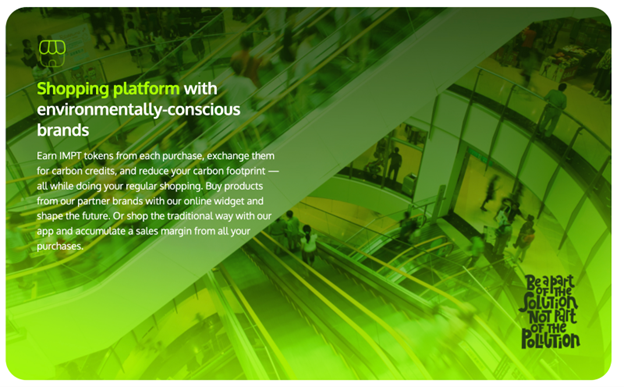 IMPT gives shoppers cashback in the form of carbon credits
Another great product from IMPT is its Shopping Platform, which allows users to earn carbon credits while conducting their regular everyday shopping online. IMPT has partnered with top-tier global brands and retailers, ready to allocate a specific percentage of sales margin for environmental projects.
When a user purchases a product on the platform, the sales margin is held in their account in IMPT tokens until they have enough tokens to buy a carbon credit.
IMPT is Literally a Breath of Fresh Air
Overall, the IMPT carbon credit system will help individuals and businesses help remove carbon dioxide from the atmosphere – literally bringing a breath of fresh air to the industry.
The NFT world has helped spark many social trends through charitable donations. IMPT is now set to create a new movement that will help people make a positive impact on the environment.