Bitcoin bull Anthony Pompliano recently took part in the Bill Bert Podcast, hosted by comedians Bill Burr and Bert Kreischer.
The hour and a half long episode had Pompliano selling the merits of Bitcoin, while at the same time, dispelling myths that had previously held the pair back from investing.
As a result, both Burr and Kreischer became enthusiastic converts during the episode. So much so that, at one point, Burr responds in his trademark brash and unapologetic style by saying:
"I'm getting Bitcoin, f*ck this sh*t."
I'm calling it now. On July 1, 2020 @billburr and @bertkreischer kicked off a historic 18 month Bitcoin bull market ? pic.twitter.com/hjhWiZ2cFd

— Pomp ? (@APompliano) July 1, 2020
Lebanon is a Prime Example of What Can Happen
During the episode, the trio discussed fragilities within the fiat system, which when considering the benefits of holding Bitcoin, was enough to paint the number one cryptocurrency in a new light.
Pompliano mentioned the on-going currency crisis in Lebanon, which has seen the Lebanese pound crash 50% in 10 days against the dollar.
Once an outlier in the Middle East due to its glamorous lifestyle and political stability, Lebanon today is a country in crisis. The collapse of the Lebanese pound, which started in October 2019, has seen inflationary spikes in the price of essential goods and services.
A shopkeeper in Beruit described the situation as frightening. Continual price rises have seen the value of money whittle away, few can now afford to feed themselves.
"If you go to the supermarket you will start crying. Everyone I know is depressed."
The problems have been building for many years, but economists attribute the unfolding crisis to a number of factors including an overreliance on debt and money printing, political corruption, and the country being a net importer.
No-one Can Print More Bitcoin
In selling the benefits of Bitcoin, Pompliano described it as a peaceful protest in which people now have the option to step outside of the madness of fiat monetary policy.
"The United States can't print more, China can't print more, Russia can't print more… if there's a set amount, 21 million that will ever get created, basically, you're protected from all of that inflation…"
But what really spooked Burr and Kreischer was the exponential growth of BTC's value. When talking about the most expensive things ever purchased using BTC, the hosts were in disbelief that planes and houses have been bought using BTC.
Pompliano stated that as long as both parties in a transaction believe BTC has value, then it has value, and will trade hands for even the most lavish of items.
"Here's the crazy part, Bitcoin used to be worth, one Bitcoin, 0.3 cents. Less than one penny, today it is worth $9k… the only way it grows is because demand increases…"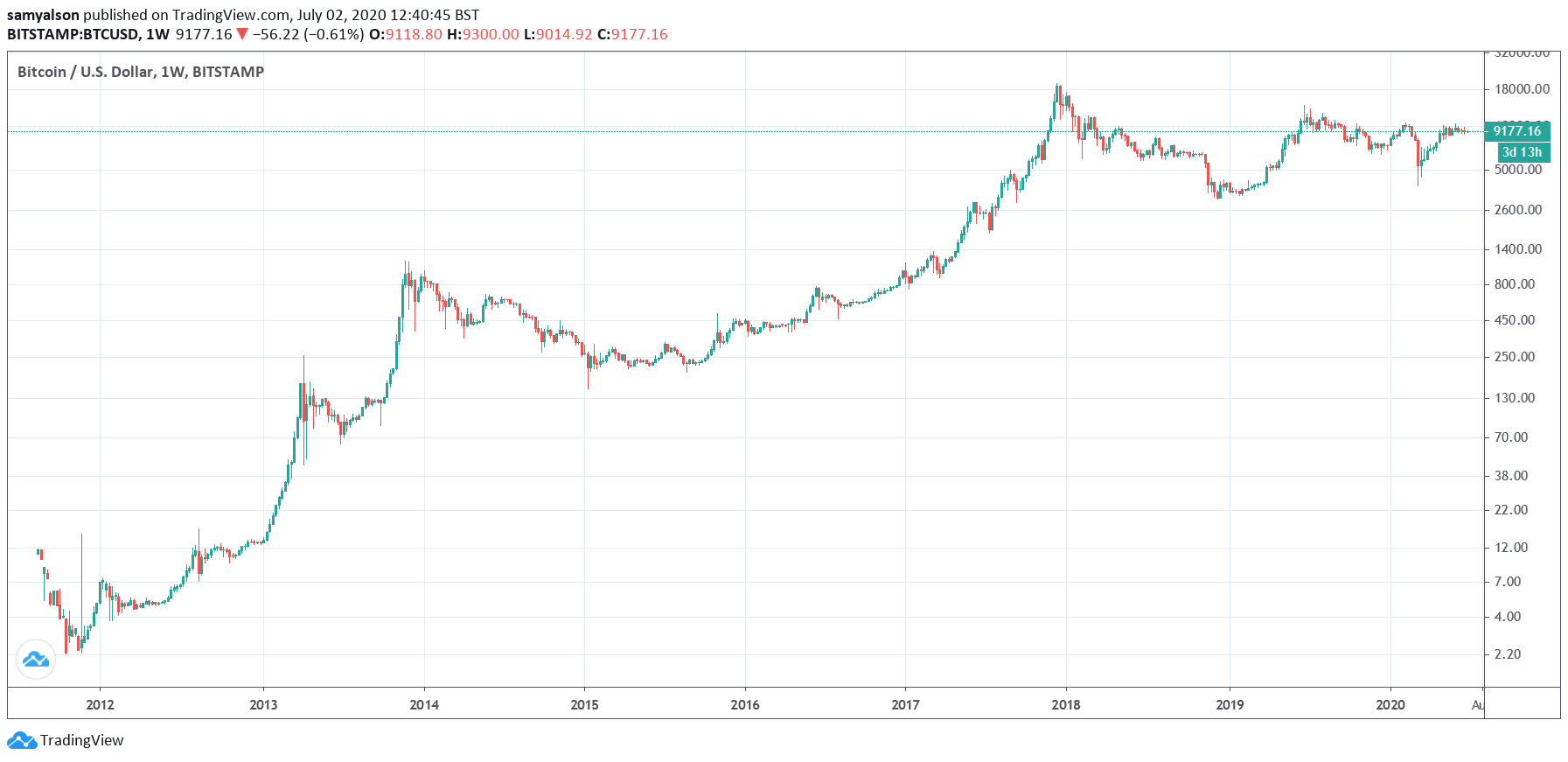 Source: tradingview.com
Changing Tide of Sentiment
With that, the podcast marked a turning point in the sentiment of no-coiners.
Bitcoin, and cryptocurrency in general, suffer from being seen by the broader public as overly complicated. The resultant disinterest is a major stumbling block for adoption and acceptance.
In this respect, Pompliano deserves much credit for explaining concepts in a simple manner. What's more, his ability to vibe with Burr and Kreischer made this podcast fun and entertaining to watch.