Russia stands out as the global leader in Bitcoin volume, according to CryptoDiffer. The research firm compiled data from LocalBitcoins, a widely-utilized peer-to-peer cryptocurrency exchange.
BITCOIN INTEREST BY GEOGRAPHY IN APRIL

We took a look at the #Bitcoin $BTC #BTC trading volume by countries on @LocalBitcoins in April.

Data by @Coin_Dance pic.twitter.com/KzTTmPcnqX

— CryptoDiffer (@CryptoDiffer) May 3, 2020
Russia Tops LocalBitcoin For BTC Volume, But How Meaningful is the Data?
Of the 17,825 BTC traded on the platform last month, Russia accounts for almost a quarter of transactions at 22%. This is followed by Venezuela at 13%, with the USA taking third place at 11%.
However, in recent times, Finland-based LocalBitcoins has lost much of its standing as an influential force. While the likes of Binance reported an average daily trading volume of $2,852,591,354 in 2019, LocalBitcoins has suffered a decline in trading activity over the same period.
The chart below shows the total volume on LocalBitcoins.com going back to March 2016. For the 30-day period to December, 14th 2019, the total volume was around $40million. This equates to an average daily of $1.33 million, a fraction of what Binance turns over.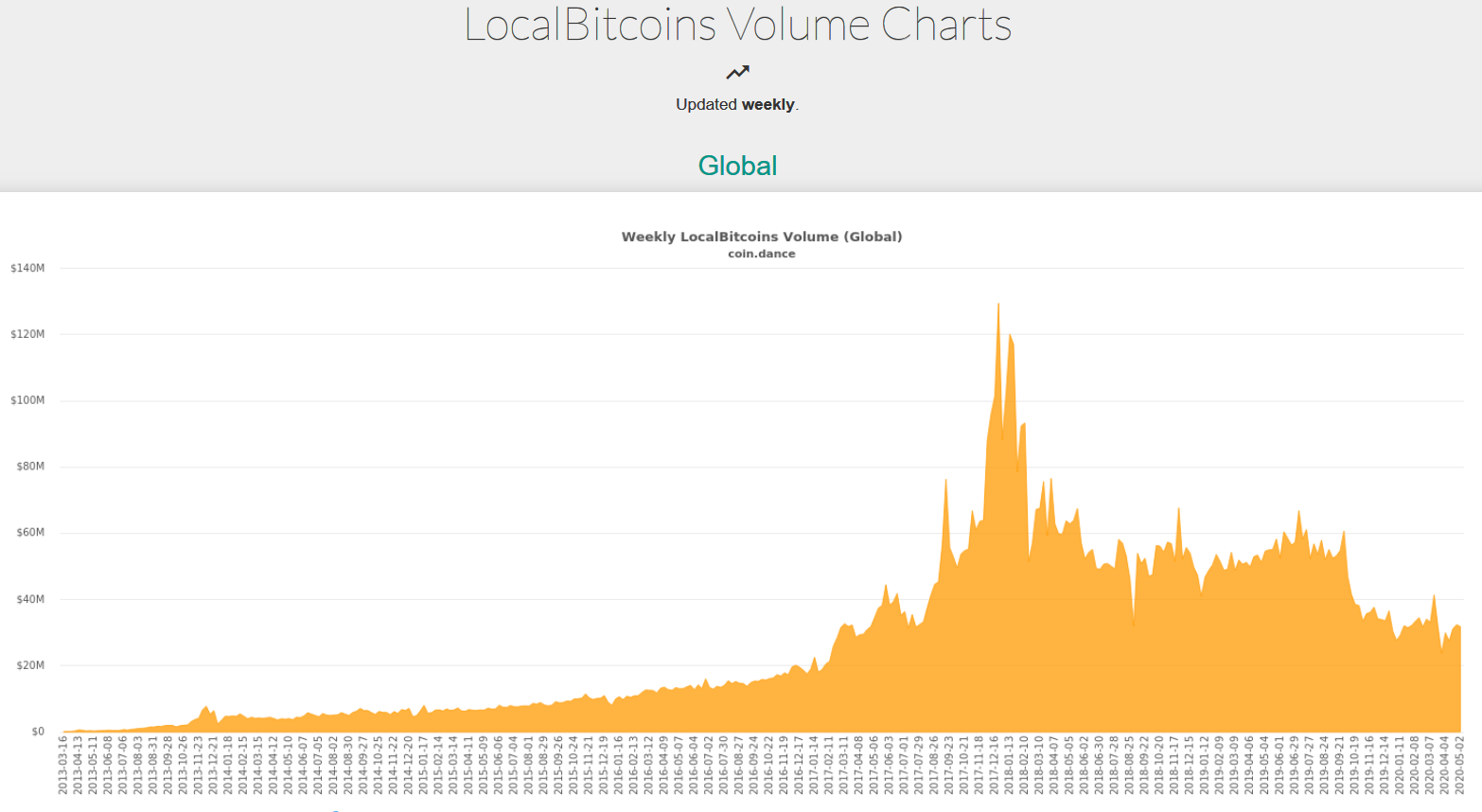 Some attribute the decline of LocalBitcoins to the platform losing its unique selling point – as a relatively anonymous way to buy and sell Bitcoin. But EU KYC requirements meant users now have to identify themselves, effectively ending this practice.
Russian Officials Remain Frosty Towards Bitcoin
Russia remains an uncertain territory for Bitcoin. As recently as last month, Russia's central bank announced a digital assets bill that will restrict the issuance and selling of cryptocurrencies.
The move is the result of concerns, by government officials, that the rouble should remain Russia's only legal payment method. Alexey Guznov, the Russian Central Bank Head of Legal justified the position on the grounds of protecting investors.
"We believe there are big risks of legalizing the operations with the cryptocurrencies, from the standpoint of financial stability, money laundering prevention and consumer protection."
Guznov conceded that Russia cannot enforce a ban on Bitcoin and other cryptocurrencies. He added that people are free to trade in jurisdictions that allow for that. Moreover, no punishment will come with respect to possessing cryptocurrencies.
Putin Drops Cryptocurrency Knowledge
Commentators believe Russia's digital assets bill intends to facilitate a new era of state-controlled digital currency. Above all, one with minimal private-sector competition, especially from the likes of Bitcoin.
If this video is real, it highlights just how well understood Bitcoin is by the world's most powerful people.

The next reserve currency won't be controlled by a nation state. pic.twitter.com/hsay8EhhZV

— Pomp ? (@APompliano) April 28, 2020
In a TV interview from 2018, Putin stated that any state-controlled digital currency is by definition not a cryptocurrency.
"Just as it is impossible for any other country to have their own cryptocurrency because if we are talking about cryptocurrency, it is something beyond national borders."
Rumors of a gold-backed Russian digital currency have been doing the rounds for over a year now. And while Russia has openly shunned Bitcoin, a recent tweet from Anthony Pompliano shows that President Putin is clued in on the value proposition offered by Bitcoin.