Today, markets are green, with most of the top 100 posting gains. At the time of writing Bitcoin is up to $8,962 on the daily. Having peaked 4% to just below $9,150 earlier on in the day.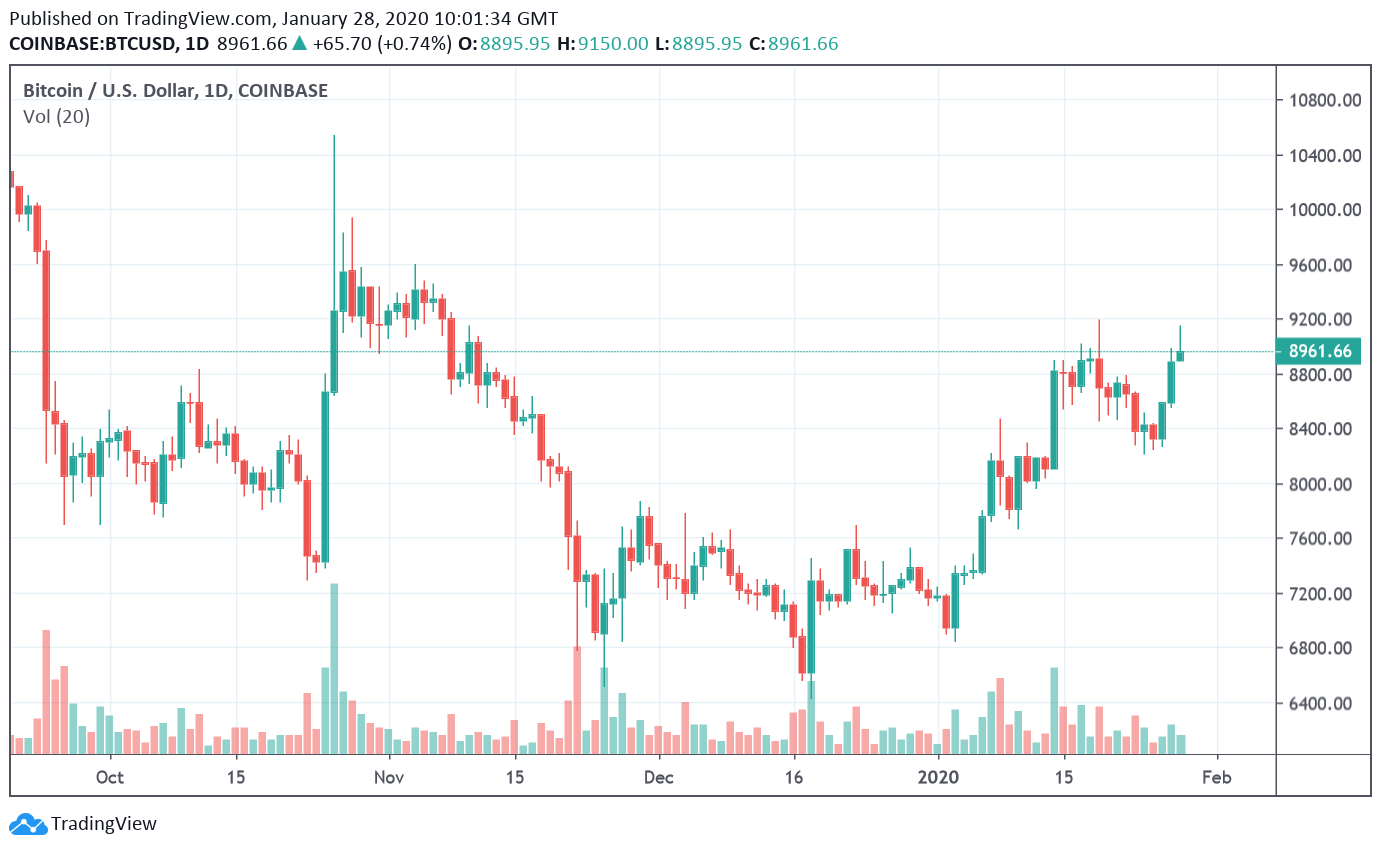 Analyst, Mati Greenspan attributes this run of form to US fiscal factors, including the ever-booming stock market. While discounting any notion of the heightening coronavirus pandemic being a factor.
As such, at the present time, Greenspan sees Bitcoin behaving more like a risk asset, rather than a safe haven.
Scientists Believe The Coronavirus Originated In Animals
The outbreak of coronavirus began making headlines at the turn of the year. Reports centered around cases of pneumonia-like symptoms from a virus that did not match other known viruses. Symptoms include tiredness, trouble breathing, high temperature, and a sore throat.
Research shows that the coronavirus is similar in structure to Severe Acute Respiratory Syndrome (SARS). And much like SARS, it's airborne, with touching infected people and objects also thought to transmit the disease.
The onset of the virus has been pinned on the central city of Wuhan, Hubei province, which is approximately 500 miles west of Shanghai.
Scientists believe coronavirus originated in animals, before mutating to the extent that it can survive in a human host. As such, wet markets in Wuhan, which are known for selling exotic animals for food, including bats, have been blamed as the source of the outbreak.
The Coronavirus Pandemic Is Worse Than Reported
Official figures claim that 4,500 have been infected, and 106 have died. With the virus spreading to at least 16 countries worldwide.
Moreover, health services in China are being stretched to breaking point. With healthcare professionals voicing a lack of manpower and resources in fighting the disease. One video on YouTube shows a doctor collapsing from exhaustion after a busy shift.
But more alarmingly, there are fears that China is underreporting the severity of the outbreak. A chilling leaked video shows a nurse from Wuhan sharing her story of the outbreak.
Her heart-wrenching account criticizes the Chinese government for censoring the story while downplaying the true extent of the crisis.
"I'm in the area where the coronavirus started. I'm here to tell the truth. At this moment, Hubei province, including Wuhan area, even China, 90,000 people have been infected by coronavirus."
Bitcoin
All the same, few, including analyst Mati Greenspan, believe Bitcoin's upward trend is the result of the worsening coronavirus pandemic.
Is $BTC rising because of #coronavirus?

Perhaps a few are buying on this narrative but what seems more likely to me is that upward pressure is a result of Fed printing & additional liquidity in capital markets.

In this case, it's acting more like a risk asset than a safe haven.

— Mati Greenspan (tweets are not trading advice) (@MatiGreenspan) January 27, 2020
Following the outbreak, Chinese stock markets posted massive falls. So much so that trading ceased on January, 23rd, with authorities recommending that they resume on the 3rd, February.
But investors did not flee to traditional safe havens, namely gold, and part of the reason why comes down to booming US stocks, which have been immune to fears over the coronavirus so far.
The S&P 500 is down 1.6% today but continues to keep most of January's gains.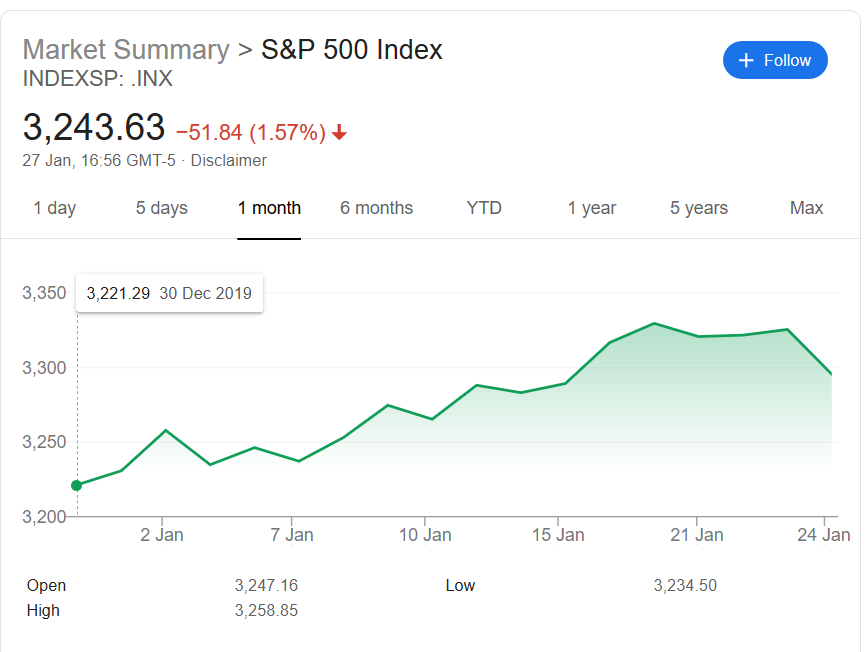 As such, with US stocks performing well, on the back of repo money, investors have little motivation to jump to Bitcoin. And it makes sense that Bitcoin's 30% gains, since the start of the year, have little to do with the outbreak.