Data shows that the crypto market has continued to remain greedy, despite the recent downtrend in Bitcoin's price.
The Fear And Greed Index Says The Bitcoin Market Is Still Greedy
As per the latest weekly report from Arcane Research, the fear and greed index has been pointing towards greed since almost a month now.
The "fear and greed index" is an indicator that shows what the general sentiment is among investors in the Bitcoin market.
The metric uses a numeric scale that goes from zero to hundred, with values below fifty signaling a fear sentiment, while values above 50 implying a greedy sentiment in the market.
Values close to the extremities, that is, below 25 and above 75, indicate extreme fear and extreme greed, respectively.
Usually, fear values are seen when the Bitcoin price is showing a declining trend, while greed values are seen during upwards movement.
The extreme values imply investors are either overly bearish (in case of extreme fear) or overly bullish (for extreme greed) about the crypto's future. Such points can therefore lead to a reversal in the price.
For this reason, some traders tend to consider periods of extreme fear as good buying points, and that of extreme greed as selling points.
Related Reading | Bitcoin SOPR Suggests Current Market Activity Resembles Early Bull Run Behavior
Here is where the current fear and greed needle points at: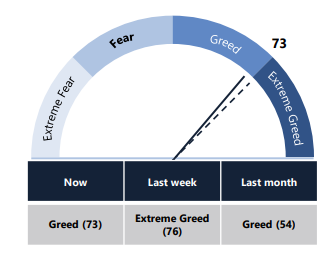 The Bitcoin market seems to be greedy at the moment | Source: The Arcane Research Weekly Update - Week 43
As the above meter shows, current value of the indicator is 73, meaning the market shares a greedy sentiment right now.
Related Reading | Traders Taking Profit? Why Bitcoin Needs To Overcome $64,000 For The Next Leg Up
Values of last week and last month are also given below the meter, and looks like the sentiment has been greedy during those periods as well.
Now, below is a chart that shows the change in the sentiment of the Bitcoin market over the last year.
The BTC market has been greedy for almost a month | Source: The Arcane Research Weekly Update - Week 43
The indicator's value has slightly declined recently after hitting extreme greed values last week and the reason for that is the latest dip in Bitcoin's price.
But the indicator still points at greed nonetheless. The index is calculated by taking various components into account and volatility is one of them. Since BTC hasn't shown that much volatility in the past week, the fear and greed values remain high despite the price of the crypto decreasing.
Here is a chart that shows this trend in Bitcoin's price over the last five days:
BTC shows some recovery in the past couple of weeks | Source: BTCUSD on TradingVIew
Featured image from Unsplash.com, charts from TradingView.com, Arcane Research