After rallying as high as $10,400 earlier this week, Bitcoin plunged by nearly $2,000 in 24 hours on BitMEX. It was a move that liquidated over one hundred million worth of derivatives positions.
Analysts were quick to respond to the move with expectations of downside in the crypto market. One trader shared that BTC's price action is suggestive of a return to the $6,000s or $7,000s. Others echoed this.
But according to a macro indicator last seen at the start of 2019's bull run, bulls remain in control of the cryptocurrency market's trend.
Bitcoin Prints Macro Reversal Indicator
From the $3,700 lows seen in March, BTC has mounted a steep reversal in step with the stock market. Even after the aforementioned rejection, the cryptocurrency is still trading over 150% higher than those March lows.
The reversal has allowed Bitcoin's trend to flip bullish on a macro time frame for the first time since early-2019, according to a trader.
He shared the chart below to illustrate this point. It shows BTC's macro price action along with a custom "momentum" indicator built by him and two other traders.
According to the indicator, Bitcoin just saw a positive monthly momentum cross in response to the recent rally.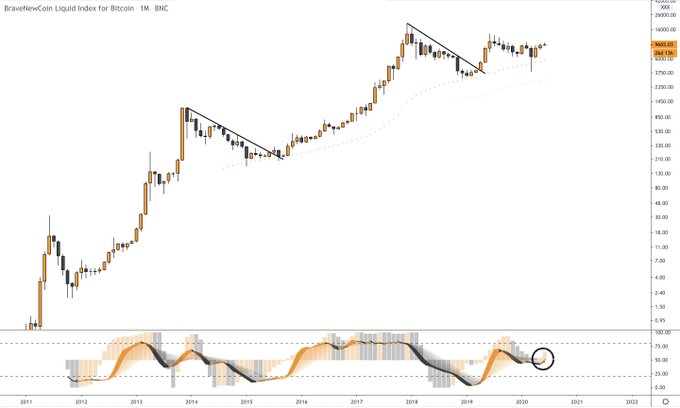 This is notable as the last time such a cross was seen was in January-February of 2019. The indicator crossing preceded a rally from the ~$3,500 lows to $14,000 in the span of five months — a rally of exactly 300%.
Bitcoin's momentum also flipped bullish, according to the indicator, in February of 2015, when the asset bottomed around $200 before rallying to $20,000 in the two and a half years that followed.
This confirmation that BTC's macro trend is bullish has been corroborated by another trader, who noted early last month that their custom indicator is also leaning bullish.
$10,500 Needs to Clear
Despite the strong macro trend forming, what lies above Bitcoin is the $10,500 resistance.
Over the past year, that sole level has rejected BTC rallies on three key occasions: once during October 2019's "Xi Pump," when BTC rallied to $10,500 in February, and just this week.
The fact that BTC remains below it shows some uncertainty amongst traders, analysts have suggested.
One commentator argued that with the latest rejection, there is a chance "there is a triple top in play," which may lead to a retracement to the $8,000s and maybe even lower.
But if that level breaks, that's where the fun really begins.
Featured Image from Shutterstock
Price tags: xbtusd, btcusd, btcusdt
Bitcoin Rallied 300% Last Time This Signal Appeared. It Just Happened Again