The past few days haven't been too kind to Bitcoin, to say the least; the leading cryptocurrency has retraced (some have called it more of a crash) from $10,000 to as low as $8,520 in a dramatic fashion, liquidating millions of dollars worth of BitMEX positions. 
Despite this, analysts remain optimistic. In fact, one top analyst, who has been calling the recent twists and turns of digital asset prices rather well, recently suggested BTC could be on the verge of a "new parabolic advance."
The catch? Bitcoin will need to hold a key level.
Bitcoin Needs to Hold This Key Level to Confirm Parabolic Rally
While Bitcoin seemingly moves without rhyme or reason, the cryptocurrency has long-term trends it seemingly confirms time and time again. One such trend is BTC holding the 21-week exponential moving average — a popular moving average used by analysts to determine an asset's directionality.
According to CryptoWolf, Bitcoin holding this level (currently at $8,750) in the coming weeks will be crucial for the asset moving forward: "Bitcoin holding the 21WEMA, or this EMA ribbon if you prefer, would mean the start of a new parabolic advance."
Indeed, he shared the below chart, indicating that the previous bull run that took BTC from $1,000 to $20,000 was punctuated by consistent bounces off the 21-week EMA.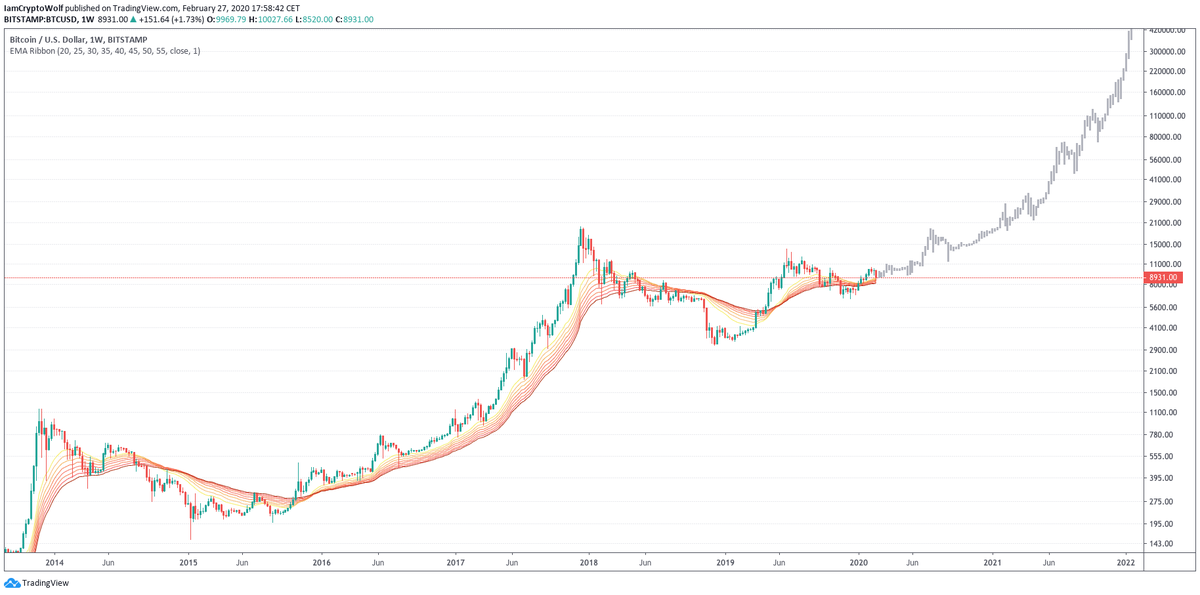 There are reasons to believe Bitcoin will hold $8,750 and wherever the moving average moves to in the coming weeks.
One such reason is the below analysis from this writer, which shows that when the VIX (the CBOE's volatility index derived from S&P 500 options data) passes 30, BTC has found itself near a bottom (both local and macro bottom) on at least three occasions.
.@CarpeNoctom suggested spikes in the VIX correlate (spurious?) with Bitcoin bottoms. He's not kidding.

Times the VIX passed 30 in the past 5 years:

Dec 23, 2018: a week after BTC fell to $3,150
Feb 3, 2018: when BTC bottomed at $6,500
Aug 22, 2015: when BTC bottomed at ~$220 pic.twitter.com/vS7E60rNJp

— Nick Chong (@_Nick_Chong) February 27, 2020
Where Will the Crypto Market Trend To?
While the jury is still out on where exactly the next parabolic bull run will take BTC, the consensus is a fresh all-time high of at least $50,000.
The stock-to-flow model, created by an institutional quantitative analyst, equates Bitcoin's scarcity, derived from the above-ground supply divided by the rolling issuance of the coin, to the asset's market cap. It determined, to a 95% R squared, that after the BTC block reward reduction in May 2020, a coin will have a fair value of anywhere between $55,000 to $100,000.
GeertJancap, a Twitter user interested in disruptive technologies, noted that according to a transfer function model Bitcoin's price action, BTC's price will catch up to the fair value suggested by the model a year after the halving in the middle of 2021.
There's also been some talk of even greater prices than $50,000. For instance, Tim Draper — a legendary venture capitalist known for his bets on Bitcoin, Tesla, Coinbase, SpaceX, and other plays — recently told CNBC he expects for BTC to hit $250,000 by late-2022 or early-2023, just 36 months away.
Featured Image from Shutterstock