The crypto market just shed 3.49% over the day to $1,6 trillion. With concerns over Russia and Ukraine and rate increases by the Federal Reserve in the U.S, cryptocurrencies are tumbling. Many investors fear a crypto winter, but whether it is here or not, diversification is still vital.
James Wang, Head of Tokens at Amun, explained to NewsBTC how index tokens allow to gain instant exposure to the best-performing and most liquidity assets, diversify portfolios, and help spread the risk.
Related Reading | Ethereum Founder Vitalik Buterin Welcomes Another Crypto Winter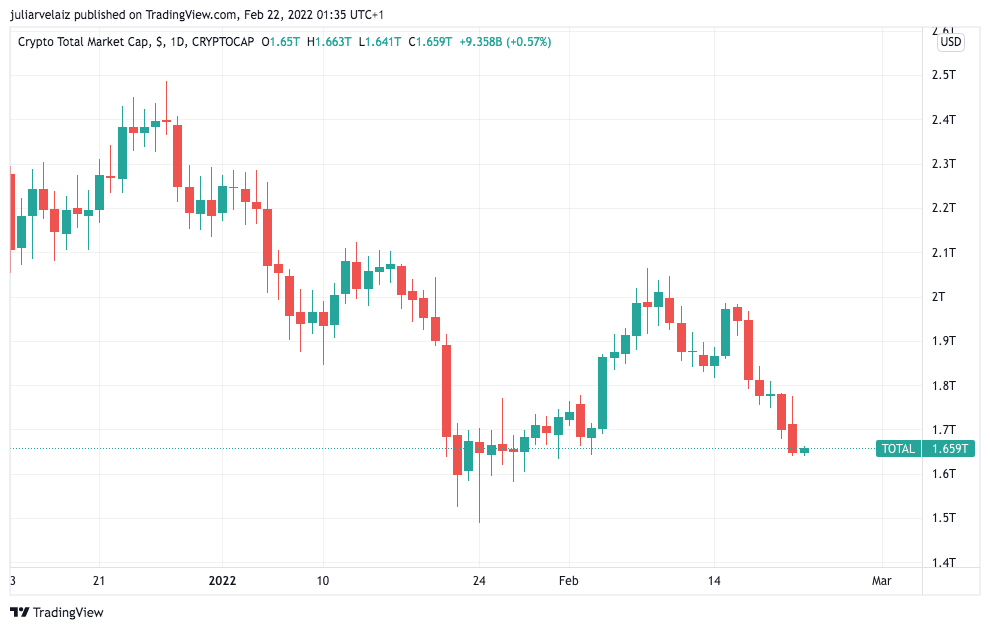 Crypto total market cap at $1,6 trillion in the daily chart | TradingView.com
Amun Limited is a technology company that simplifies the access to passive investment on crypto through index trading products, providing broad exposure to particular blockchain ecosystems and DeFi sectors.
While crypto index funds are not popular yet compared to traditional index trading, James Wang explained that index tokens are a very useful tool because users gain instant access to a diversified portfolio of assets without having to manage multiple purchases manually.
This massively simplifies the buying process and cuts out all of the transaction fees that come with buying multiple coins individually and provides an easier on-ramp for newcomers to cryptocurrency investing, he noted.
Index trading products can be a tool in times of volatility because traders can move their exposure "towards a specific market segment that might be weathering the storm better than others."
"For most investors, dollar-cost averaging is the most sensible way to allocate capital. DCA is a way of spreading out risk over time. Index investing is a way of spreading out risk over space. By employing both, investors can gain crypto exposure without the headache of deciding when or what to buy."
Wang noted that "Almost all the growth in the S&P 500 in recent years were driven by tech and biotech" and added that Amun believes "blockchains are the next chapter of the internet and having exposure in this emerging field could be as rewarding as investing during the early years of the internet."
Crypto Mass Adoption
Wang thinks that during the DeFi and NFT boom we are witnessing, "some people are probably more familiar with the NFT space than the crypto space in general."
However, he thinks that index tokens could play a bigger role in the future if they become popular for offering "a chance to invest without having to exhaustively research an entirely new industry and provide easier financial management than investing manually."
"Suppose we can get people to understand the benefits of investing in index tokens," he said. "In that case, I think it could play a role in the mass adoption of cryptocurrencies — not least through their inherent simplification and ease of use. "
Furthermore, Wang also noted that while the panorama is sure to shift, "decentralized assets being traded on decentralized exchanges are the furthest away from regulatory scrutiny at the moment."
Related Reading | Small Cap Index Lead Gains In February, But What Is Bitcoin Doing?