General Notes
IOT continues to extend gains against the USD
Monero is consolidating within a tight $20 range
LSK trending higher with $5 acting as support
DASH weakness continues and should be worse if price breaks below $275
NEO soared above $31 resistance zone signaling bull pressure.
NEOUSD TECHNICAL ANALYSIS
There was a clear break above resistance trend line and the 20 period moving average when NEO appreciated $7 closing above that resistance zone around $31 at $34. You can also notice that this NEO price surge is accompanied by a stochastic buy signal and above average buy volumes which is propelling prices higher. With this new turn of events, bull target should be above that immediate resistance level of $40 especially if price action further breach the support turned resistance trend line in the next few trading days.
DASHUSD TECHNICAL ANALYSIS
DASH prices continue to trickle down with the 20 period moving average and the resistance line marked around $325 acting as a very good ceiling preventing further price appreciation. We also note that with lower lows, a clear, diverging stochastic sell signal has been printed and most importantly it is moving down from the overbought territory. Any close above $330 signals a change of trend and a probable bull charge. However, if investors continue to demand for USD, then DASH could remain subdued in the short term. I have placed another "minor" support trend line to mark 09.10.2017, 12.10.2017 and 13.10.2017 lows around $278 and should price break strongly below $275, then bears are indeed in charge.
IOTUSD TECHNICAL ANALYSIS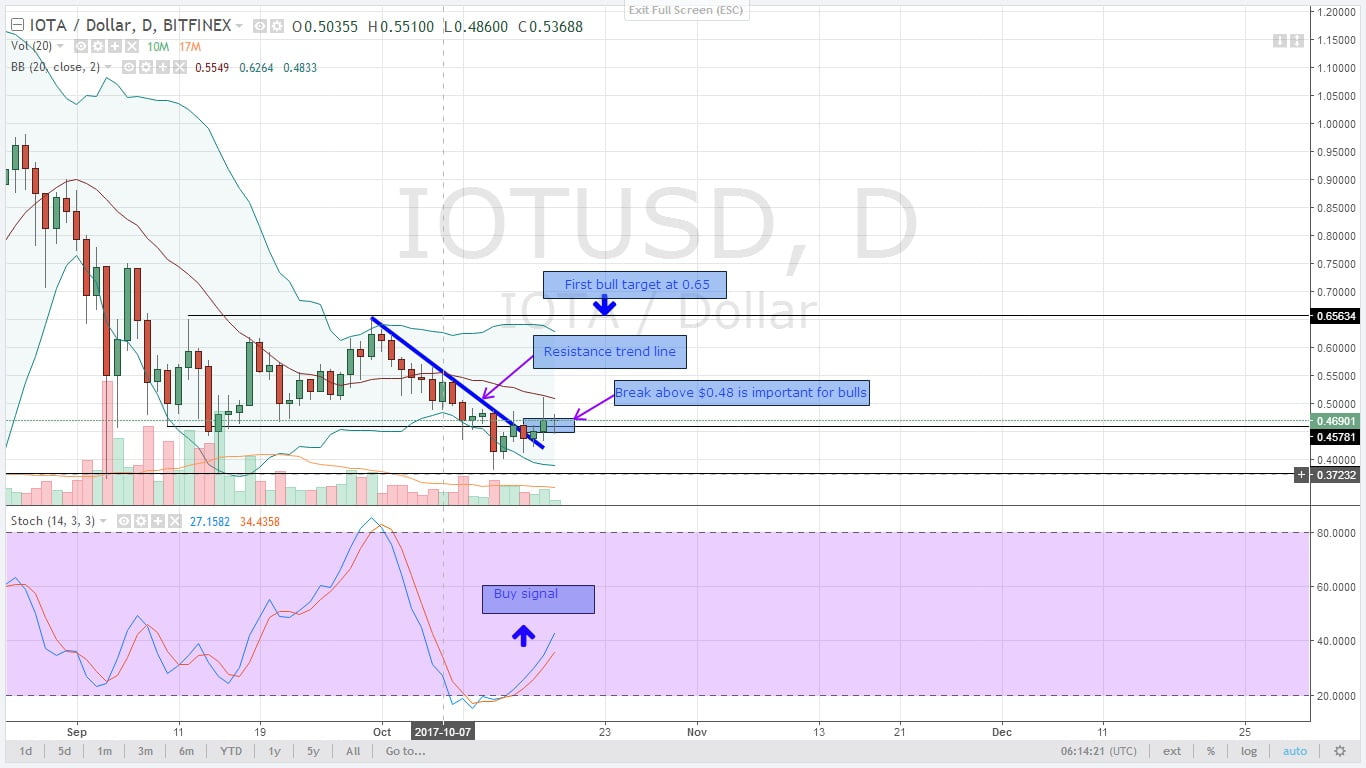 Our two levels of resistance around $0.48 was broken through yesterday after the resistance trend line was breached after 15.10.2017. It was imperative for IOT  to close above $0.50 so that a possible bull trend could be defined. So, since our bull conditions have been met, IOT buyers should enter long and aim for $0.65.
MONERO XMRUSD TECHNICAL ANALYSIS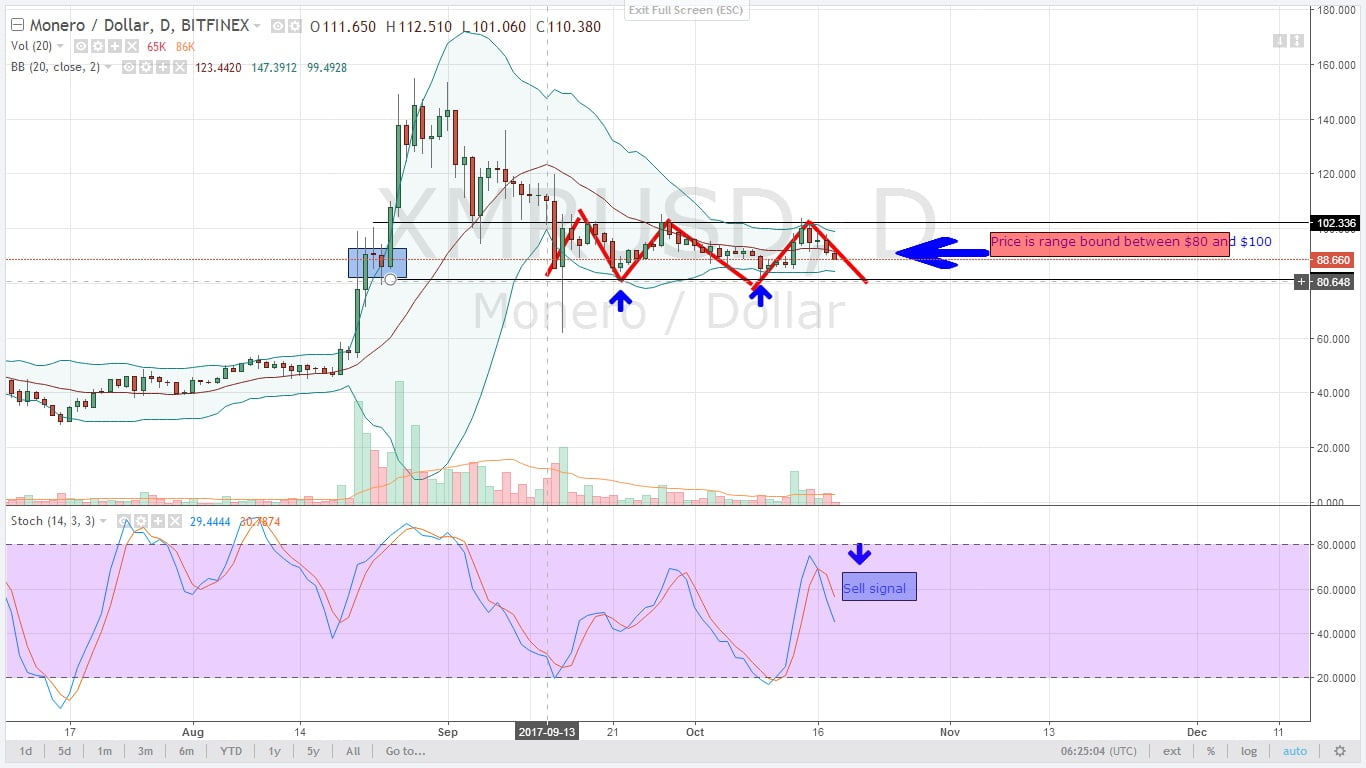 Monero is obviously range bound and consolidating between a tight channel bounded between $100 and $80 high-lows. There is a sell signal to accompany that rebound from $100 and because Monero has since moved $20, sellers can jump in and take advantage of this bear leg up to $75-$80 support line. Additionally, since bear momentum is high as shown by that stochastic sell signal and this sell leg is pushed by average bear volumes.
LSKUSD TECHNICAL ANALYSIS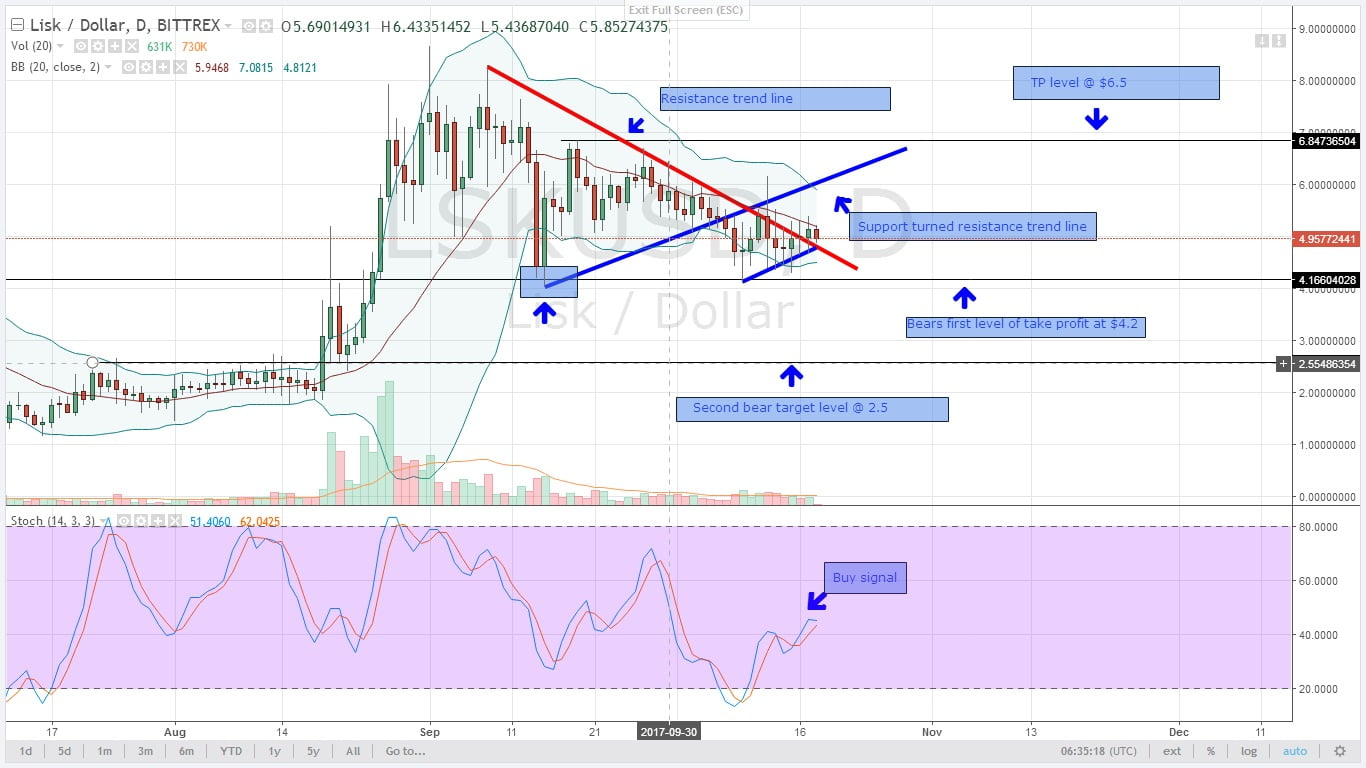 Over a 6 day period, the 20 period MA and the resistance trend line managed to keep LSK prices below $5 until yesterday. In fact LSK managed to close at a highs of $5.3 and the resistance now turned support trend line is being retested. There is a stochastic buy signal pushed by yesterday's buy volumes. As we can also see, that minor support trend line rebuffed further price depreciation below $4.5. As long as price remains above $5.0 today, then buyers should aim at $6.5.
All charts courtesy of Trading View