Over the past month, Bitcoin (BTC) has exploded higher. The leading cryptocurrency, after bottoming at $6,400 in the middle of December, has surged by nearly 50%, surging as high as $9,550 last week.
Despite this, there are some that are currently skeptical of the ongoing rally. One such (claimed) skeptic is J0e007, the most profitable trader on Bitfinex's leaderboards.
Who is J0e007?
If you've been on Crypto Twitter at all over the past few months, you likely know of "J0E007," spelled with a "zero" not with an o.
Just a few months ago, he didn't have an online presence. But ever since leading cryptocurrency exchange Bitfinex implemented a leaderboard that allows one to link their profits (or losses) to a Twitter account, he has become one of the Bitcoin space's most prominent names.
Per data from said Bitfinex leaderboard, which only contains traders that have explicitly given their consent, J0e took $14.4 million worth of profits in December 2019 and nearly $7 million in the last month alone, beating everyone else named on the Bitcoin trading leaderboard.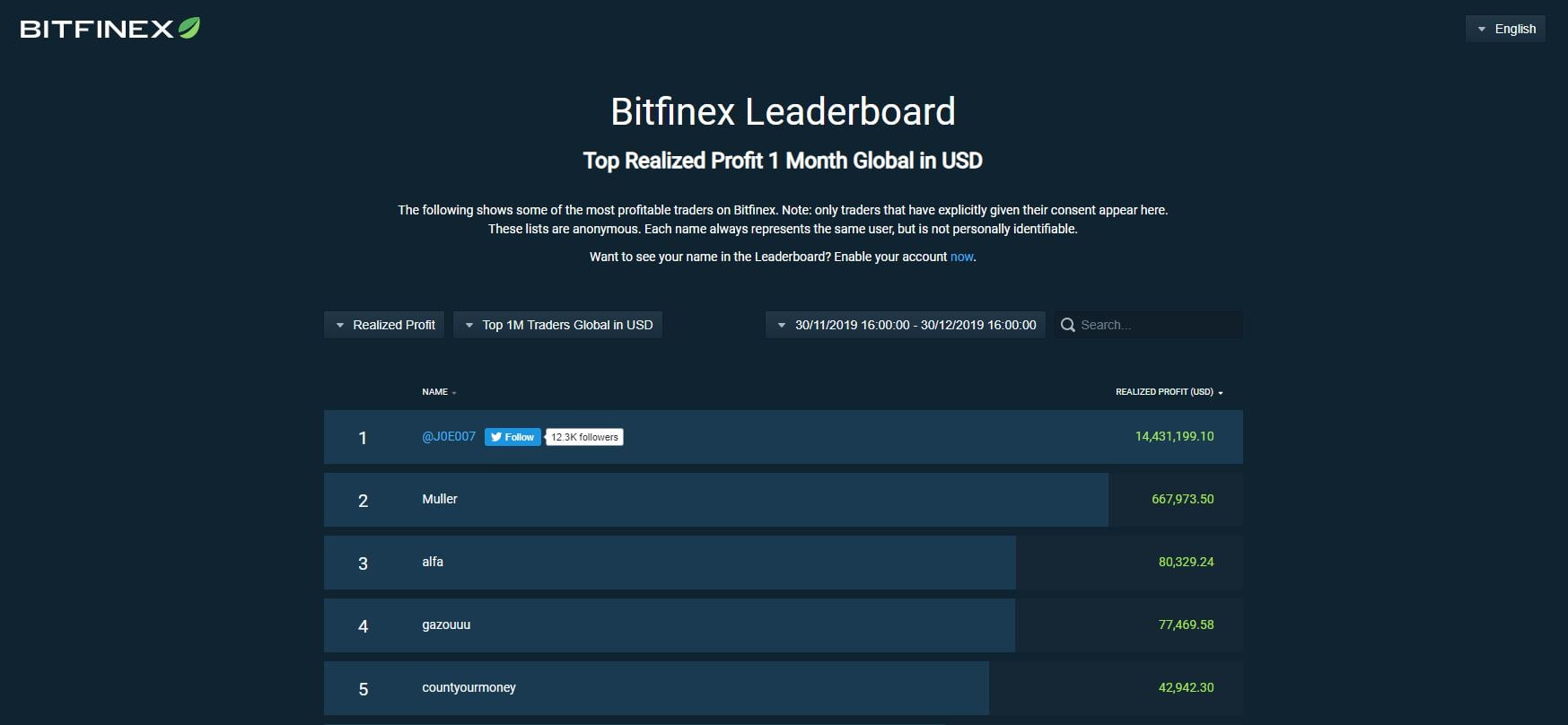 Not much is known about J0e other than his digital moniker and the fact that he makes quite a bit of money trading Bitcoin.
He Isn't Convinced Of Bitcoin's Rally to $9,000s
Unlike the top traders on Wall Street, J0e007 is quite candid about his thoughts on his investments. On Sunday, he debated one "DankCoiner22" about trends in the Bitcoin market.
When asked if he will be "one with the trend" once Bitcoin breaks out of the weekly range it is stuck in ($9,500 is arguably the top), the trader responded by stating that "trends don't magically 'happen'."
He added that trends are formed by "supply/demand imbalances and backed by fiat in/out-flows," which may give someone with the right information a look into which way a market can head in the near future.
https://twitter.com/J0E007/status/1224050877822009344
J0e007 continued in a later tweet that "I'll believe it when I see the fiat inflows," suggesting that he isn't seeing the market data to back Bitcoin's 50% rally in the past 50-odd days.
He affirmed this further down in the same Twitter thread, noting that the Tether's flatlining market capitalization is "hard to explain from a position that we're in the middle of a new bull market" and that Grayscale's inflow data doesn't convince him there is enough demand to absorb the mined supply.
https://twitter.com/J0E007/status/1224057767067037696
J0e007 is notably one of the only prominent traders bearish on Bitcoin at the moment, yet the size of his realized profits may outweigh the fact that he is in the minority.
Featured Image from Shutterstock