Like many other altcoins, Chainlink (LINK) faced a strong correction in September and October after the summer highs were set. From its summer high and all-time high of $20, set in the middle of August, LINK corrected more than 50%, bottoming around $7. As of this article's writing, Chainlink trades for $10.86, down around 4% in the past 24 hours.
Despite this local weakness, analysts remain bullish on the popular altcoin. This is for both technical and technological reasons: LINK's chart looks as though it has put in a medium-term bottom while development activity and partnerships ramp up.
Chainlink Is Poised to Rocket Higher, Analysts Say
Analysts think that Chainlink has room to extend to the upside after it managed to hold the $10 region. An analyst shared the chart below recently, showing that the cryptocurrency's ability to hold the high-$10 range suggests it will move towards $13. His chart specifies that $10 is a key level for LINK to hold as support:
"Link looks pretty bottomed out to me. Tapped daily support in grey and now working on reclaiming Monday's low. Think we head for those clean highs and blue S/R. Flip that and this thing will start really flying."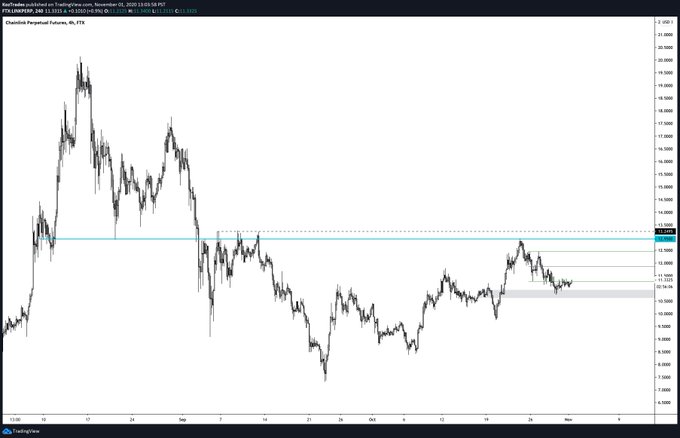 Chart of LINK's price action over the past few weeks and months with analysis by crypto trader Trader Koz (@TraderKoz on Twitter).
Source: LINKUSD from TradingView.com
Strong Fundamental Trends
There are fundamental trends that could boost the chance the cryptocurrency moves higher. Santiment, a leading blockchain analytics firm, reported that the Github activity pertaining to Chainlink has undergone an uptick over recent weeks. This is bullish in the long run as it shows that the cryptocurrency will have novel upgrades and integrations that should drive usage of LINK higher:
"The development activity of $LINK has been rising, according to the #github data we track. Generally, when projects have an increase in their team's true dev. rate as #Chainlink has, it's a positive sign for the asset's sustainability & longevity."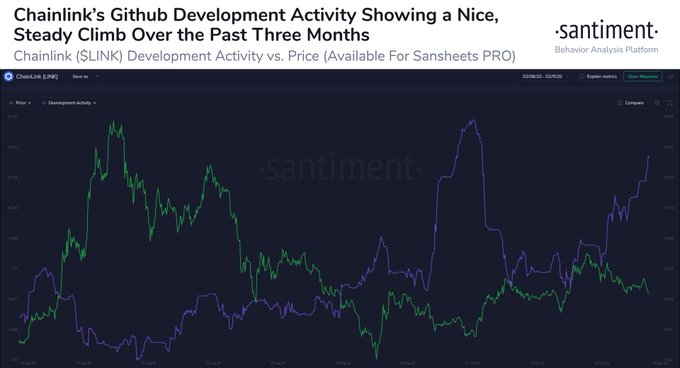 Chart of LINK's price action over the past few weeks and months with a development activity of LINK overlay from Santiment.
Featured Image from Shutterstock
Price tags: linkusd, linkbtc, linketh
Charts from TradingView.com
Analysts Think Chainlink (LINK) Is Primed to Rocket Toward $13