Bitcoin is currently flashing some signs of strength as it continues consolidating within the lower-$11,000 region.
Overnight, bears attempted to push the digital asset below $11,000, but this dip was met with significant buying pressure that subsequently allowed it to climb higher.
Analysts are widely noting that the resistance found within the mid-$11,000 region remains a crucial hurdle that the cryptocurrency may continue struggling to surmount.
Because BTC is consolidating above its support throughout the upper-$10,000 region, it does seem as though it may be well-positioned to push higher in the near-term.
Its declining volatility also indicates that it may once again be coiling up before it makes a big movement.
One indicator that just flashed is offering bulls with an incredibly positive sign for BTC's near-term outlook.
This indicator has only flashed twice in the past few years – once before the 2017 bull run and once before that seen in 2019.
Bitcoin is Coiling Up for Another Big Movement as Volatility Dives
At the time of writing, Bitcoin is trading up just over 1% at its current price of $11,250. This marks a notable surge from daily lows of $10,800 that were set yesterday.
The slight uptrend seen today came about close on the heels of that seen by Ethereum. If ETH continues showing strength as it pushes against its key resistance at $350, it may continue providing a tailwind that lifts BTC higher as well.
Despite these tempered signs of strength, it is important to keep in mind that Bitcoin remains caught within a consolidation phase between roughly $10,800 and $11,300.
This has caused its volatility to once again dive – as one analyst on Twitter observed in a recent tweet.
"Interesting how fast they crushed BTC vol; the 1 month ATM already back to levels from two weeks ago."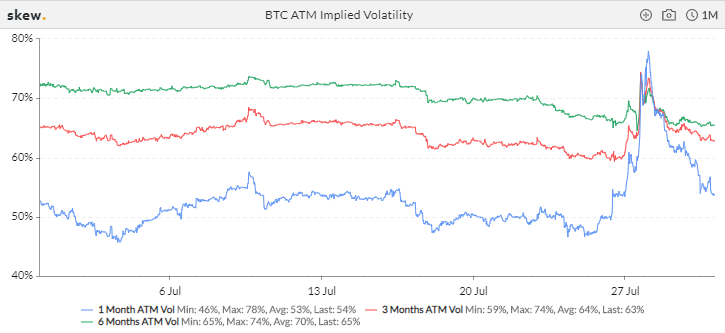 Image Courtesy of Alex Krüger.
This Indicator Suggests BTC Is About to Enter a Bull Run
One popular cryptocurrency trader explained in a tweet that an elusive indicator that has forecasted previous bull markets is now flashing again.
This indicator surfaced in late-2017 just before Bitcoin ran to highs of nearly $20,000. It also flashed last year, before the benchmark crypto ran from lows of under $4,000 to highs of $14,000.
The trader explained:
"The supertrend went green on the weekly. Probably no big deal. It's not like this indicator has marked major macro bull & bear cycles in the past."
Image Courtesy of Byzantine General. Chart via TradingView.
Bitcoin's current strength may be enough to guide it significantly higher in the days and weeks ahead.
Featured image from Unsplash.
Charts from TradingView.