Ethereum will soon transition from a proof-of-work (PoW) algorithm to proof-of-stake (PoS). The major protocol upgrade that is scheduled for Q3 2020 will transform the crypto-economic incentives around validating transactions. In fact, those holding ETH will be rewarded for their contribution to maintain the network secure.
This could be the reason why Ethereum whales have been enjoying the lackluster price action to grow their positions. Data from Santiment reveals that miners have collectively increased their balance by 15,000 ETH throughout the past couple of weeks.
Meanwhile, the number of addresses with 100,000 to 1,000,000 ETH surged by nearly 5% since the beginning of the month. Now, there are 160 addresses holding between $23 million and $230 million worth of Ethereum, which is the highest number ever recorded.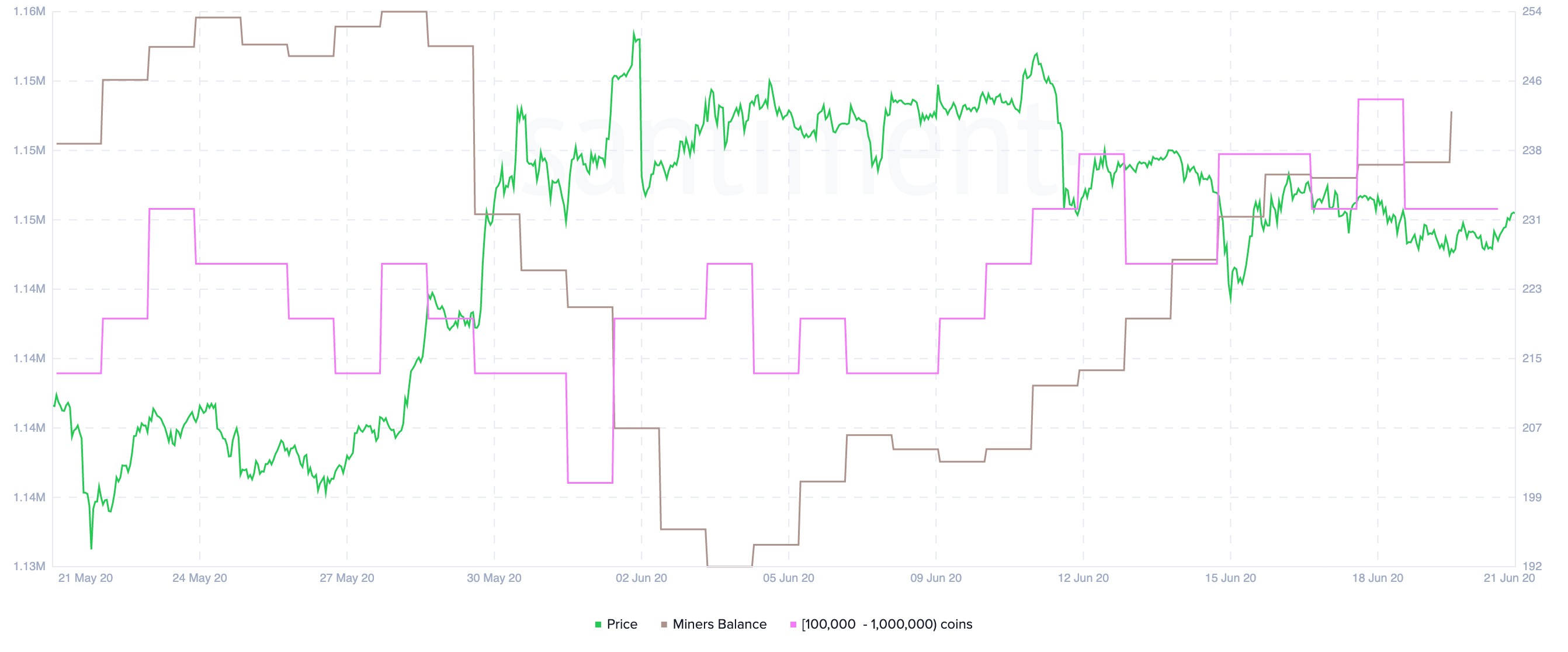 Ethereum Whales Increase Their Holdings. (Source: Santiment)
As speculation mounts around ETH 2.0, decentralized finance (DeFi) applications running on top of this protocol have stolen the spotlight of the cryptocurrency market. The substantial growth of these projects could have serious implications on the price of Ether.
Ethereum Could Double in Price
Indeed, crypto derivatives analytics provider Skew affirmed that the smart contracts giant could double in price. Under the current market conditions, especially with everything that is going on behind Ethereum, there is a 7% probability that its price will be worth $480 by the end of the year.
The firm maintains that the stablecoins and DeFi tokens running on top of Ethereum appear to have a "more sustainable" product and market fit. Compared to the initial coin offerings (ICO) of 2017, these projects may be able to add more value in the long-term to the smart contracts giant, according to Skew.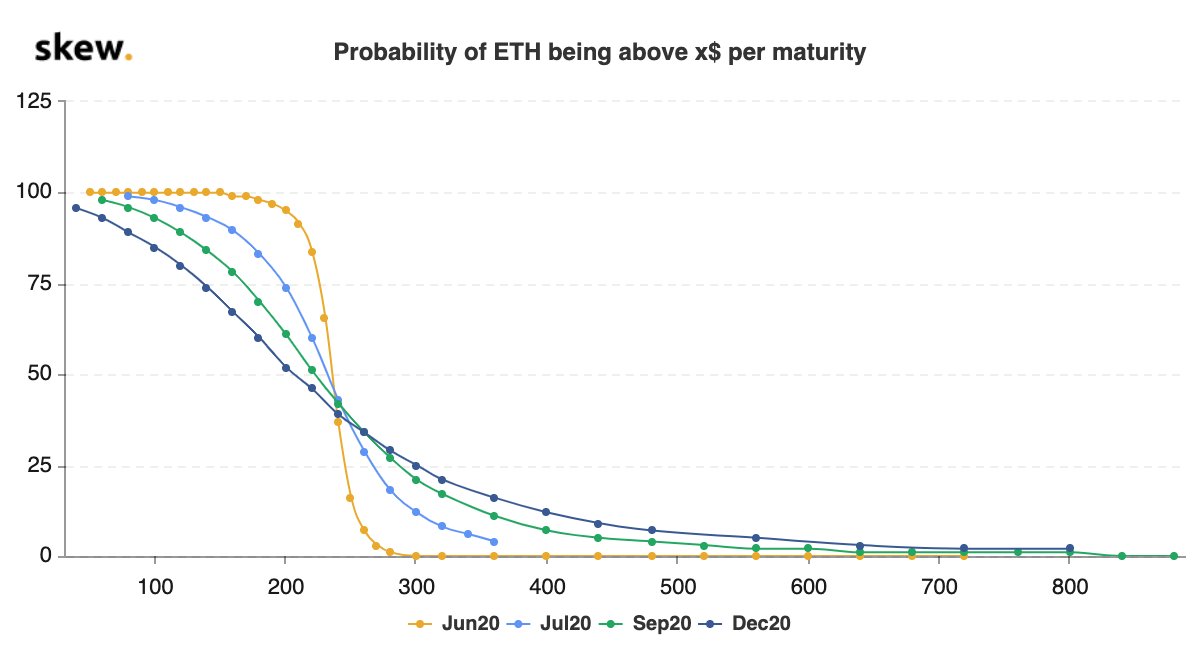 Odds For Ethereum to Rise Increase. (Source: Skew)
Along the same lines, John Todaro, head of research at TradeBlock, said that Ethereum will eventually benefit from the DeFi platforms "hitting escape velocity."
"There's a lot of excitement around new DeFi tokens. Reminder that most of that collateral locked up across those platforms is in Ethereum. As that outstanding Ether supply comes down and demand from DeFi platforms hits escape velocity, ETH will rally hard," said Todaro.
Strong Resistance Ahead
Despite the high levels of speculation around Ethereum, IntoTheBlock's "In/Out of the Money Around Price" (IOMAP) model reveals that there is a massive supply wall ahead.
Based on this on-chain metric, approximately 1.14 million addresses bought nearly 7 million ETH between $235 and $242. These price levels represent a significant barrier for the bulls to overcome since they may have the ability to absorb any upside pressure.

Ethereum Faces Massive Resistance Ahead. (Source: IntoTheBlock)
If the buying pressure behind Ether is significant enough, however, its price may be able to break above this resistance hurdle. Moving past this supply wall could see Ethereum rise towards $280 since there isn't any other significant barrier that will prevent such a move, according to the IOMAP cohorts.