The total crypto market cap climbed higher sharply and broke the key $170.0B resistance.
Litecoin (LTC) price is up more than 6% and it recently broke the $74 resistance
Bitcoin cash price surged more than 13% and surpassed the key $270 barrier.
EOS price is slowly grinding higher towards the $4.85 and $4.90 resistance levels.
Cardano (ADA) price is up more than 5% and broke the $0.0680 resistance level.
The crypto market cap cleared many hurdles, with positive moves in bitcoin (BTC) and Ethereum (ETH). Altcoins such as bitcoin cash, litecoin (LTC), ripple, EOS, tron (TRX), and ADA are gaining strength.
Bitcoin Cash Price Analysis
There was a strong upward move in bitcoin cash price above the $250 resistance level against the US Dollar. The BCH/USD pair surged more than 13% and broke the $255, $262 and $265 resistance levels. The price is currently trading above the $270 level and it may continue to rise towards the $275 or $280 level.
Conversely, if there is a downside correction, the recent resistances near $265 or $262 might act as supports and prevent a bearish break in the near term. The next main support for the bulls is near $255.
Litecoin (LTC), EOS and Stellar (XLM) Price Analysis
Litecoin price formed a decent support base near the $70 level and recently climbed higher. LTC is up more than 5% and it recently broke the $72.20 and $73.50 resistance levels. The next key resistance is near the $75.00 level, where sellers might take a stand.
EOS price started a slow and steady rise after testing the $4.50 support level. It broke the $4.60 and $4.70 resistance levels, and recently climbed above $4.80. The next key resistance is near $4.85, above which the price might test the $4.90 or $4.92 resistance levels.
Cardano price finally managed to form a support base and recovered above the $0.0650 resistance. ADA price is up around 6% and it may soon test the $0.0700 resistance level. If there is a clear break above the $0.0700 and $0.0708 resistance levels, there could be a strong upward move towards the $0.0800 level in the near term.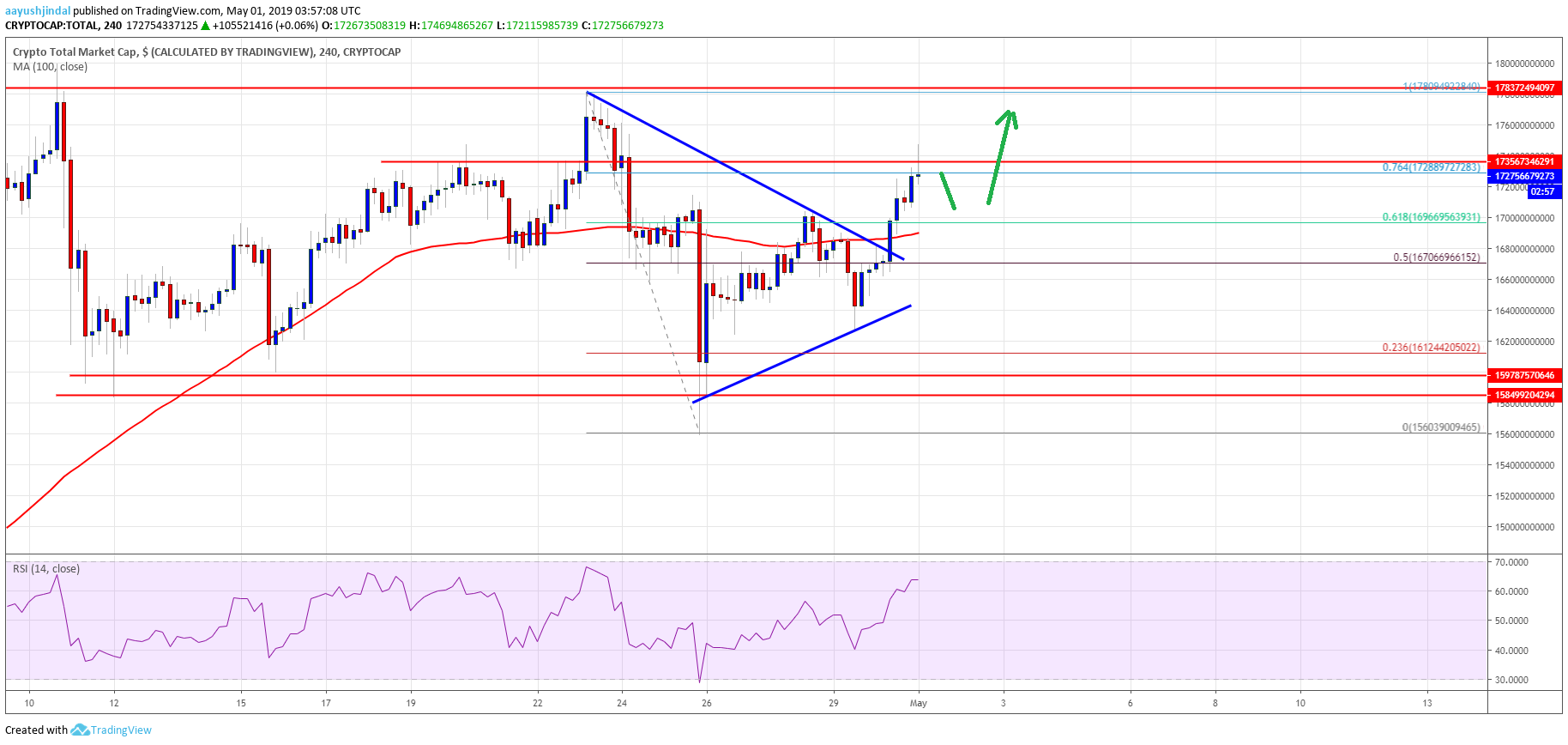 Looking at the total cryptocurrency market cap hourly chart, there was a strong upward move above the $165.0B and $167.0B levels. The market cap broke a contracting triangle with resistance near the $168.2B level. It opened the doors for more gains above the $170.0B and $172.0B levels. It tested the next key resistance at $174.0B and it is currently holding gains. If there are more upsides, the next stop could be $176.0B or $178.0B. The main resistance for a strong rally is near the $180.0B resistance. Overall, there are many positive signs for bitcoin, Ethereum, EOS, litecoin, ripple, ADA, BCH, XLM, BNB, TRX, XMR, and other altcoins.