The total crypto market cap is about to break the $136.0B resistance level for the next bullish wave.
Bitcoin cash price is back above the $160 level and it may continue to rise towards $165.
EOS price is slowly moving higher towards the key $3.80 resistance area.
Stellar (XLM) price is currently consolidating above $0.1110 and it could move towards $0.1200.
Tron (TRX) could recover and test the $0.0230 resistance level.
The crypto market seems to be positioned for an upside break, with solid gains in ONT and XTZ. Bitcoin (BTC), Ethereum (ETH), stellar (XLM), BCH, EOS, ripple and tron (TRX) are eyeing more gains.
Bitcoin Cash Price Analysis
Recently, bitcoin cash price corrected lower from the $165 resistance against the US Dollar. The BCH/USD pair tested the $158 level where buyers appeared. The price moved higher once again and broke the $160 resistance level.
The current price action is positive and it seems like there could be more gains towards the $162 or $165 level. If bitcoin accelerates higher above $4,100, it could help BCH in clearing the $165 and $170 resistances.
Stellar (XLM), EOS and Tron (TRX) Price Analysis
EOS price corrected lower recently, but the $3.65 level acted as a decent support. The price climbed higher once again and traded above $3.70 and $3.75. The next key resistance is at $3.80, above which there is a risk of more gains towards the $4.00 level.
Stellar price performed really well this week as it gained traction above the $0.1100 level. XLM price is currently consolidating gains and it seems to be setting up for more upsides above the $0.1150 and $0.1160 in the coming sessions.
Tron price is back above the $0.0220 support, but upsides might be limited. TRX price may correct higher towards $0.0230, where sellers are likely to emerge. On the downside, a break below the $0.0220 support could open the doors for a break towards $0.0200.
Ontology (ONT) price rallied recently by more than 16% and broke the $1.20 and $1.30 resistance levels. The next stop for ONT buyers seem to be near $1.50.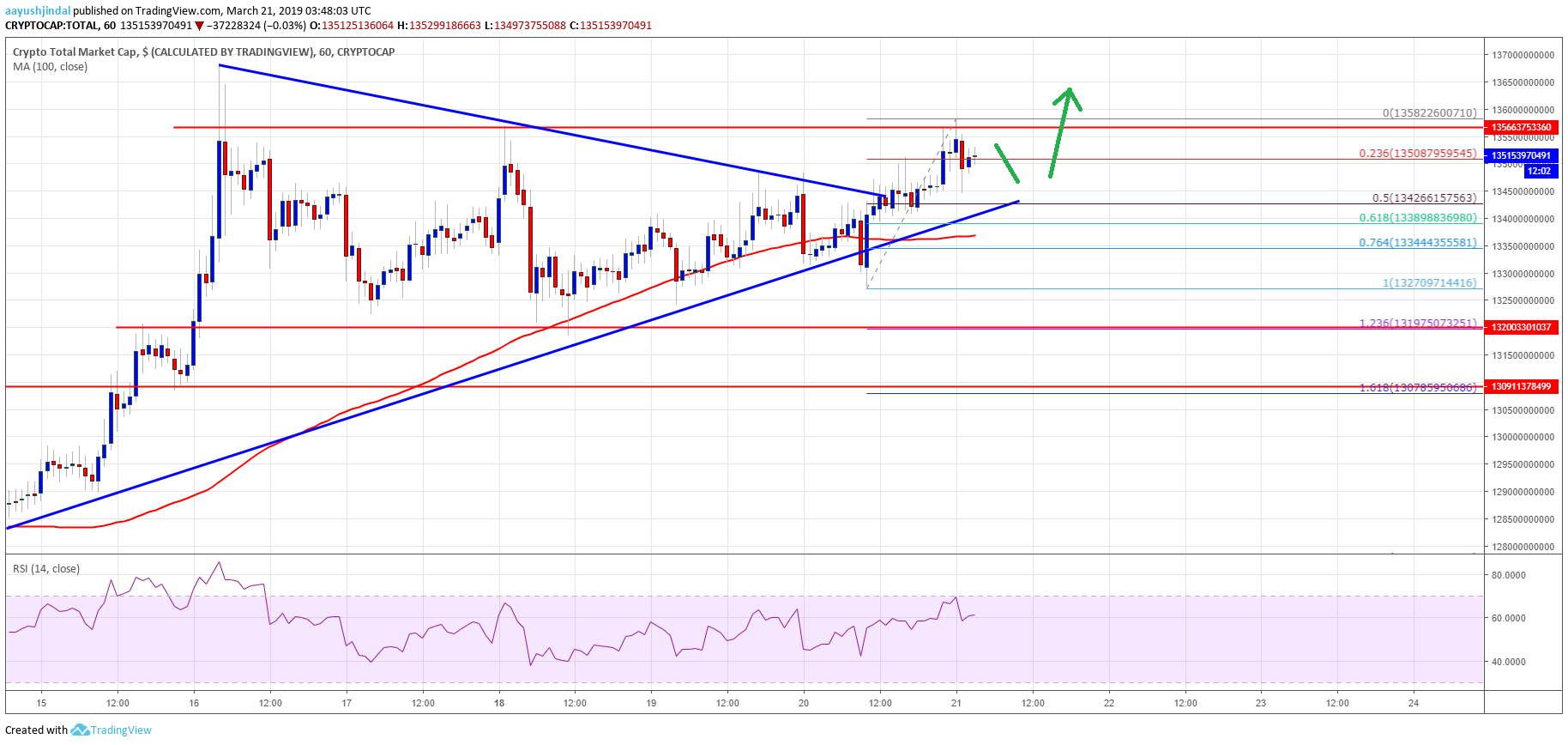 Looking at the total cryptocurrency market cap hourly chart, there was a slow and steady rise from the $130.0B support level. The market cap followed a nice uptrend and it recently moved above the $132.0B and $134.0B resistance levels. However, the $136.0B level is currently acting as a strong resistance. The current technical formation is solid and suggests that the market cap could climb above the $136.0B and $137.0B resistance levels in the near term. Therefore, there are high chances of a decent bullish wave in bitcoin, Ethereum, EOS, ripple, LTC, bitcoin cash, XLM, TRX, ONT, XTZ, and other altcoins in the near term.