Bitcoin has touched a new yearly high above the $11,300 level amidst rising geopolitical risks in the Middle East.
Iran President Hassan Rouhani in a TV speech today called the White House officials "mentally retarded" after US President Donald Trump signed an executive order to put sanctions on the office of the Supreme Leader Ayatollah Khamenei. Mr. Trump said that the additional restrictions were in response to the shooting down of a US drone last week by the Iranians. The Middle East nation, in its defense, stressed that the "US spy drone" was flying over its restricted airspace at the time of the shooting.t
Rouhani's latest statements stirred investor sentiments across the global market. The US dollar index, which measures the greenback against a basket of six major rival currencies, plunged to its lowest in three months to 95.943, now down 1.7 percent across the last five sessions. Stocks remained mostly flat.
Selling sentiment in the dollar market also accelerated after the Federal Reserve last week hinted multiple rate cuts in 2019. The dovish stance appeared amidst the ongoing trade struggle between the US and China. Investors are now waiting for the meeting between President Trump and its Chinese counterpart Xi Jinping at the G20 Summit in Osaka this week.
Bitcoin, Gold Peaking
Meanwhile, so-called haven asset Bitcoin settled a local swing high of $11,389 on Tuesday at 0618 UTC. That brought its net quarter-to-date gains close to 175 percent, one of the highest noted amidst the ongoing geopolitical and macroeconomic tensions.
Gold, Bitcoin's giant rival in terms of market capitalization, also posted a six-year high of $1,438 per ounce in choppy late trading. Naeem Aslam of Think Markets projected the yellow metal at $1,550 per ounce, believing negative yield debt (when investors lose money by holding US bonds) would be a significant catalyst.
"This makes perfect sense, of course, no one likes to have negative-yield debt," wrote Aslam. "The safer bet is the shining metal. Given the current monetary policy adopted by the European Central Bank and the Federal Reserve bank, it is likely that the gold price may actually touch $1550 in the next few months."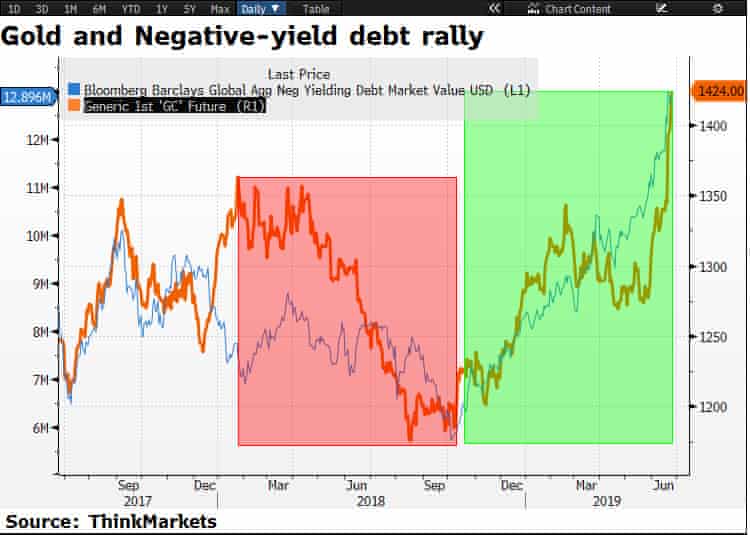 Trace Meyer, another market expert but that of cryptocurrencies, too noted a strong correlation between the US 10 year yield and bitcoin, stating that its underlying weakness is prompting both gold and bitcoin to surge higher. He added:
"With Gold and BTC rallies, perhaps look at USD's problems like yield curve, interest rate, trade wars, tariffs, etc. Plus, Chinese bank failures, negative yielding Euro debt & emerging markets getting whacked."
With $gold & $BTC rallies, perhaps look at $USD's problems like yield curve, interest rate, trade wars, tariffs, etc. Plus, Chinese bank failures, negative yielding Euro debt & emerging markets getting whacked.#Bitcoin perfectly designed for this environment. ? @TuurDemeester pic.twitter.com/sAhECZ3Hl7

— Trace Mayer (@TraceMayer) June 23, 2019
Small Outperforms Big
The spot gold market's maximum rebound from its cycle low of $1160.324 per ounce (established in August 2018) now stands at 24.04 percent, according to data provided by Oanda. At the same time, a similar evaluation of bitcoin reveals a much larger retracement of 265 percent from its December 2018 lows of $3,126.68, according to Messari.io.
#Bitcoin and #Gold extend their gains as investors flee fiat currencies due to global CenBank madness. pic.twitter.com/Nl3GLZKa4w

— Holger Zschaepitz (@Schuldensuehner) June 25, 2019
Measuring bitcoin against gold during the latter's upside movements also bring similar results. The XAU/USD instrument on Oanda had surged 12.54 percent since May 5, the day on which President Trump announced tariffs on $300 billion worth of Chinese goods. Within the same time, the BTC/USD instrument on Coinbase gained more than 102 percent.
Prominent US stockbroker and a self-proclaimed gold bull Peter Schiff, however, believes the yellow metal is a safer long-term bet, given bitcoin's history of high volatility. He said last week:
"Gold is in an early bull market. Bitcoin is a bubble that has already burst. This is a sucker's rally."