The total crypto market cap is declining and struggling near the $178.0B support.
Bitcoin price was down around 3%, but it is now recovering above $7,000.
Litecoin (LTC) price declined more than 5% and it is now trading below $40.00.
BCH price failed to stay above the $200 support and it is extending losses below $195.
EOS price is down 5% and it even broke the $2.500 support area.
Binance coin (BNB) is likely to revisit the key $13.00 support area.
Bitcoin (BTC) and the crypto market cap are gaining bearish momentum. Many altcoins such as Ethereum (ETH), binance coin (BNB), ripple, litecoin, BCH, EOS, TRX, and ADA are sliding.
Bitcoin Cash Price Analysis
After a decent upward move, bitcoin cash price found resistance near the $215 level against the US Dollar. As a result, BCH price started a fresh decline and recently broke the $205 and $200 support levels.
The price is now trading well below $200 and it seems like it could continue to decline towards the $185 support. On the upside, the price is likely to struggle near $205 and $210.
Binance Coin (BNB), Litecoin (LTC) and EOS Price Analysis
Binance coin (BNB) price failed to stay above the $13.80 support and it recently declined below the $13.50 support. BNB price is now trading close to $13.20 and it seems like there are chances of a dip towards the $13.00 level. Conversely, BNB must climb above $13.50 and $13.80 to recover losses.
Litecoin price is down around 5% and it broke many supports near $41.00 and $40.00. LTC price tested the $38.80 support and it is currently consolidating losses. An upside correction towards $40.00 and $40.50 might face sellers. On the downside, the main supports are near $38.80 and $38.50.
EOS price is also down close to 5% and it traded below the key $2.550 and $2.500 support levels. It traded close to the $2.400 level before starting an upside correction. However, the previous supports near $2.500 and $2.550 may now act as hurdles in the near term.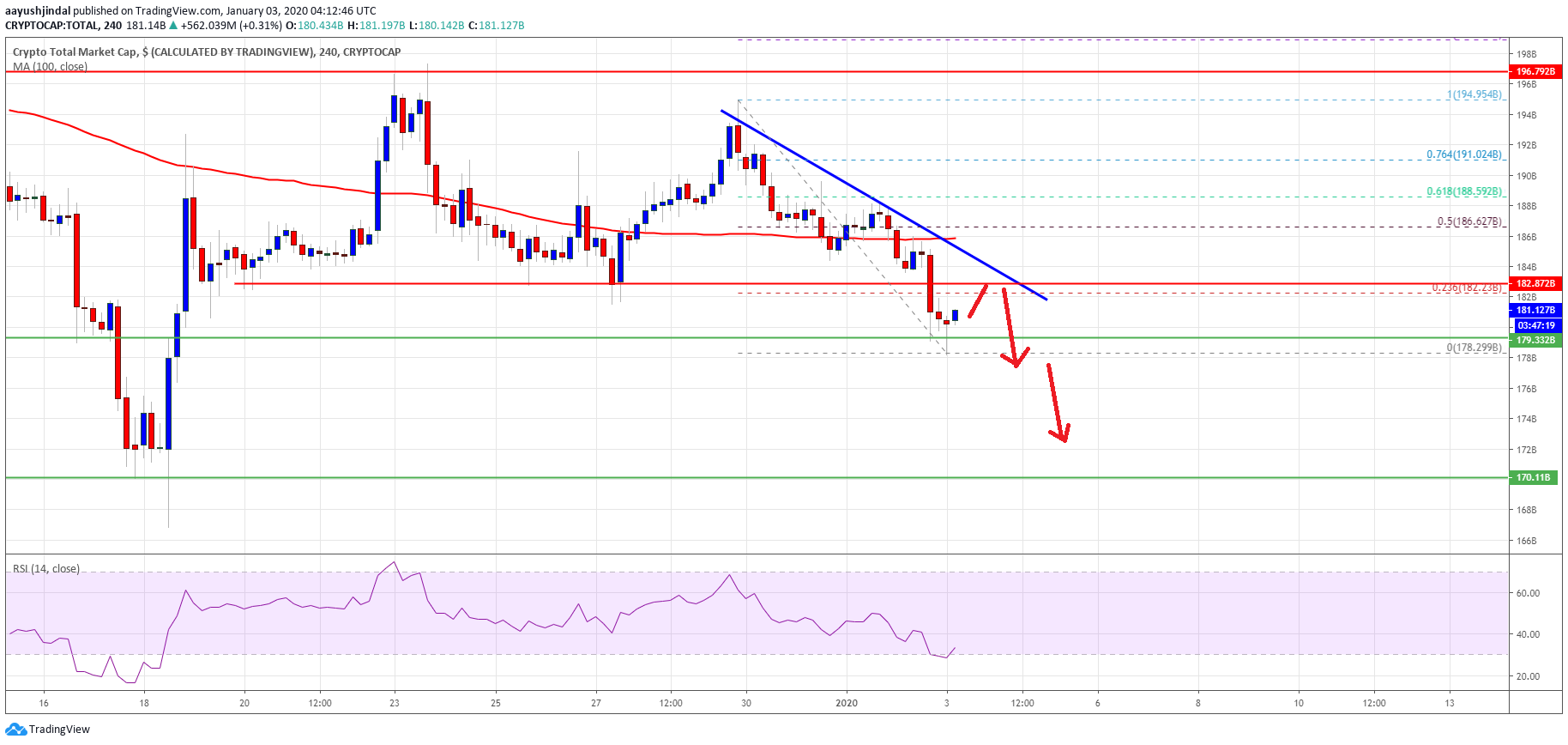 Looking at the total cryptocurrency market cap hourly chart, there was a downside extension below the $185.0B and $180.0B support levels. The crypto market cap tagged the $178.0B support and it is currently correcting higher.
However, the market cap is likely to struggle near $185.0B and it might slide further. Therefore, there are chances of more downsides in bitcoin, Ethereum, EOS, litecoin, ripple, ADA, BCH, XLM, BNB, TRX, XMR, and other altcoins in the near term.