On a weekly basis, XRP lags and is up one percent in the same time frame. This comes at the backdrop of FUDs and talk of SEC anticipated clarification of XRP. Despite all, XRP is still trading above key support lines. It is likely that weekend's price action would shape the short to medium term trajectory of this coin.
From the News
The sore, iterative and tired debate of whether XRP is a security or a utility is quickly degenerating into drivel. If anything, ordinary investors don't care about SEC position. XRP traders on the other hand are after playing the market and are always angling to clip some profits. Of course, SEC oversight on cryptocurrencies-an emergent and a complex market-is but welcomed. This is solely because of the inherent architecture and unregulated nature of cryptocurrencies in general.
Overly though, what commentators will argue is about the utility of XRP and the number of companies that are currently using the technology to improve on efficiency. That cannot be overstated and while we understand how SEC comments on the coin will always be that dark shadow, it is way better to look into the medium term and bask in the glory that BTC resurgence is tagging along with.
Anyhow, Brad Garlinghouse, the CEO of Ripple the company said the XRP-BTC coupling will probably take years before it wears off. Therefore, as long as BTC is trending, XRP shall closely follow suit.
By popular demand, we have added @Ripple trading on CoinFlux.
In order to buy/sell @Ripple via CoinFlux you'll need an active account.
And, as always, our helpful colleagues from Customer Support are online to assist you for any inquiries you might have.https://t.co/dGKU0lHeRm pic.twitter.com/UOScfVvkjQ

— CoinFlux (@CoinFlux) July 19, 2018
After all, there are numerous channels of buying or trading with XRP. Most recently, CoinFlux announced their support of XRP. Initially, this Cluj based cryptocurrency exchange focused on ETH and BTC but considering the demand, XRP had to be an addition.
XRP Technical Analysis
Weekly Chart
Regardless of the general crypto market revival, XRP sellers are determined to clip this week's gain. So far, we have this bear pin bar right at the 45 cents main support line printing despite our bullish stand.
Now, for that position to hold true then we might see rejection of lower lowers and that means XRP must print above 45 cents and ideally reverse July 18-20 losses. If not and there is a convincing close below 45 cents then next week we shall initiate shorts with targets at 15 cents.
Daily Chart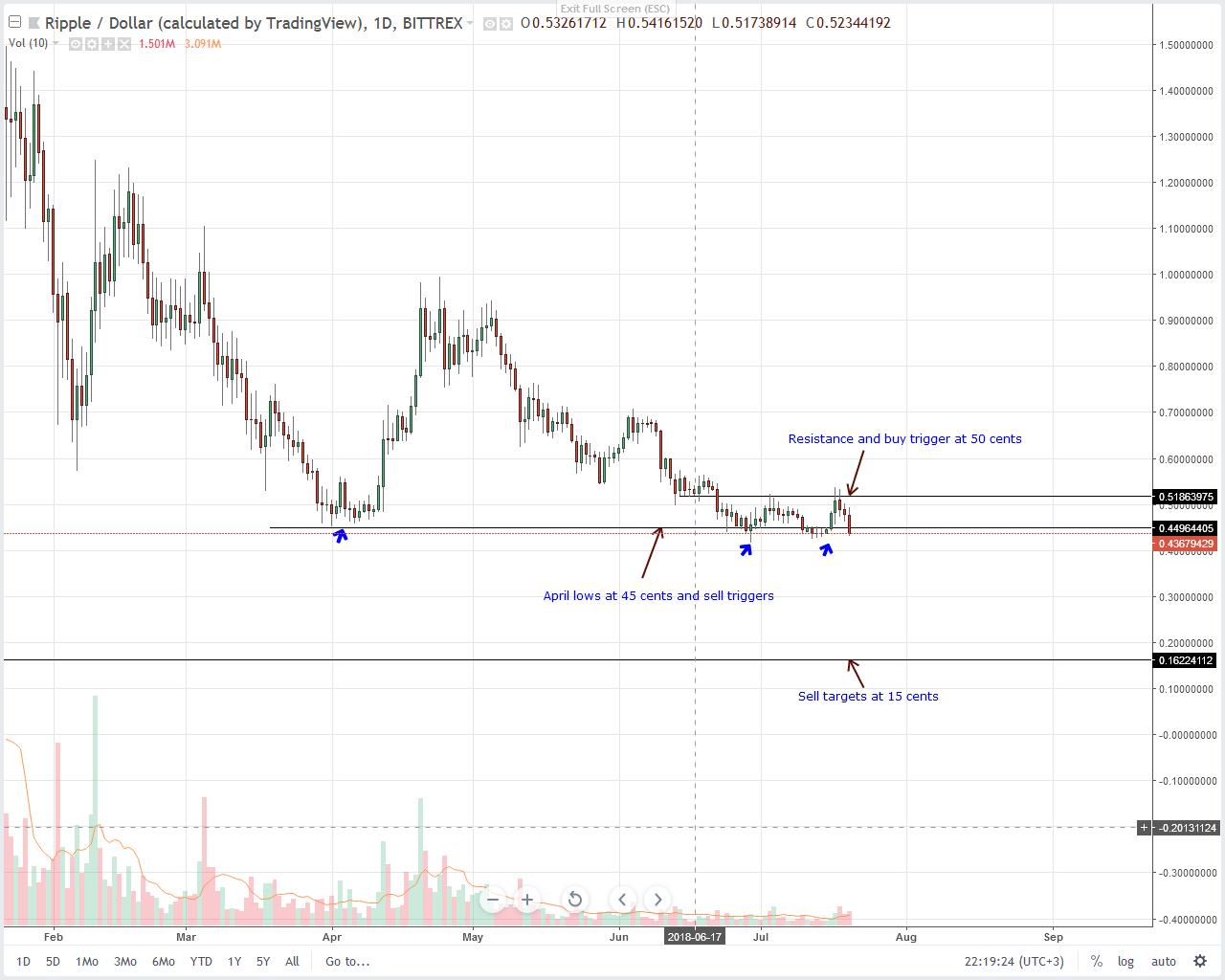 In any case, XRP is moving within a 10 cent trade range with buy triggers at 55 cents and main support at 45 cents. Because of July 16 and 17 higher highs, we remain bullish despite the low volume accompanying that thrust. As we have mentioned above, should we see sellers driving prices to 45 cents, then my suggestion is to short on pull backs with stops at 50 cents.
Disclaimer: Views and opinions expressed are those of the author and aren't investment advice. Trading of any form involves risk and so do your due diligence before making a trading decision.