In April this year, Coinbase Ventures — an investment arm of the U.S. crypto giant — endorsed a project called Matic Network, whose token sale had just been hosted by Binance Launchpad platform. Its native token — MATIC — experienced a significant 22% boost following the news.
Next month, Matic joined Binance Info's transparency initiative, becoming one of the first startups to get the "V" Label. The token surged even higher this time, gaining as much as 75% in a single day — an impressive performance for the market that has only just started to come out of hibernation. By May 21, it had gone up 700% since the first of the month.
So what is this mooning project, and why has it been co-signed by both Binance and Coinbase?
Matic is a Mumbai-based startup which was founded in November 2017, amid the research efforts of its CEO Jaynti Kanani, whose team had been looking for scaling solutions for end-user products.
Essentially, Matic seems to offer an efficient way to fix Ethereum, the world's most popular blockchain platform for decentralized applications (dApps).
Despite the major acclaim, Ethereum is known to suffer from a scalability issue: its network can only process up to 7 transactions per minute, compared to VISA's whopping 1,700 transactions per second. Of course, unlike Ethereum, VISA is a centralized company, which allows it to offer much better performance to the industry. As a result, the mass adoption of decentralized technology is hindered.
Matic, in turn, claims to have a solution that would scale Ethereum's performance up to VISA's level, but keep it decentralized.
For that purpose, the startup has developed the Matic Network, a Layer 2 scaling solution that reportedly achieves better scalability performance by utilizing side chains for off-chain computation. In the most basic sense, it allows to perform the majority of transactions off the Ethereum chain and then register them as single operations, hence significantly unloading the network.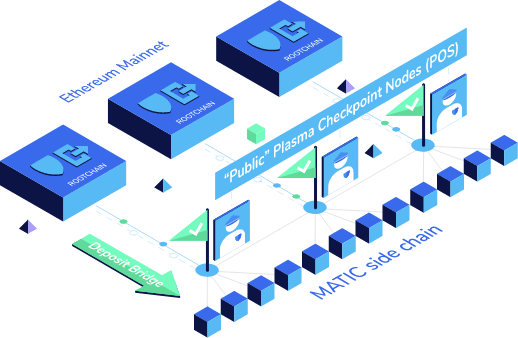 To ensure that the assets are secure on the main chain, which stays decentralized despite being scaled up — a task which has puzzled a great deal of scalability-oriented startups in the past — Matic is using the Plasma framework and a decentralized network of Proof-of-Stake (PoS) validators, according to its whitepaper.
It might come as no surprise that this project is hailing from India, one of the most important jurisdictions in the crypto space. Being the second largest country by population in the world, it hosts not only a sizeable market for digital assets but a major think tank for blockchain technology.
The local government's relationship with crypto has been somewhat complex: last year, the Reserve Bank of India's (RBI) famously banned all domestic financial firms from dealings with crypto-related businesses.
However, the situation has been gradually improving: recently, the central bank has denied that local lawmakers were working on legislation that could impose a 10-year prison sentence for anyone caught holding cryptocurrency, reassuring thousands of shocked local traders.
Indeed, it now becomes evident that for India, crypto is not a threat, but an opportunity to attract investment and grow a new generation of blockchain-savvy developers and entrepreneurs.
Last month, for instance, the government of Telangana presented a draft policy that would make this state the country's blockchain capital. Specifically, the concept of India's first 'Blockchain District' was presented as a physical area within the city of Hyderabad, which will house major blockchain companies, a large incubator and a world-class facility for promoting research, innovation and industry collaboration.
Meanwhile, the state of Maharashtra has officially endorsed World Blockchain Summit, the global tech event series for crypto professionals across the planet. In fact, more than 50% of Indian states are now involved in blockchain-related projects.
The Indian Government's Ministry of Human Resource Development has even offered a free 12-week undergraduate course on bitcoin, cryptocurrencies and blockchains entitled "Blockchain Architecture Design and Use Cases", popularizing the technology among the local population. Similarly, the International Institute of Information Technology (IIIT) in Hyderabad, one of the country's finest tech-oriented universities, has recently rolled out an executive program covering blockchain, AI, and machine learning.
The example of Matic, on the other hand, seems to confirm that there is no shortage of blockchain talent in India as it is.
Ultimately, by allowing dApps to compete with centralized applications, Matic could become the "Ethereum of India," and near the long-awaited mass adoption of blockchain. However, the startup doesn't plan to stop there — Matic will reportedly offer support for additional basechains in the future, based on community suggestions and consensus.