The leading cryptocurrency and digital asset trading platform OKEx is having a great run as it continues to provide world-class trading products for the global crypto community. The recently launched BTCUSD options trading feature on the platform is reported to have garnered volumes of around $176 million within a span of one month. The figures announced by OKEx puts it at the second place right under Derebit – the largest BTC options platform.
Announcing the statistics, the Financial Markets Director at OKEx Lennix Lai said, "We are glad to see such fierce growth in OKEx BTCUSD options trading, this indicates a positive sign to the derivatives market. Beyond trading volume that we are looking at, the market has gained an increased supply in this options trading space and created a stronger trading ecosystem." He added "Options trading is often at an advanced level handling and we have seen a nice balance between institutional and retail investors. We are happy that options trading has been added to the OKEx derivatives portfolio, and we will continue to look out to the market and listen to users' demand."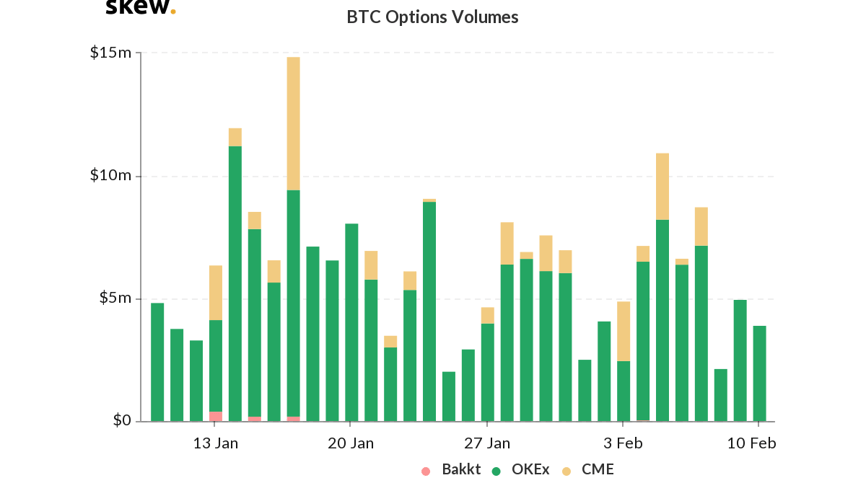 OKEx has positioned itself as a strong crypto market player by opting for a strategy that involves the creation of new trading products based on the community's demands and constant release of updates to the existing features. The OKEx BTCUSD options implements some of the industry's best infrastructure for smooth and safe trading. Other benefits of OKEx options trading include:
Transparent price discovery, mirrored futures, swap with underlying spot market, diversified trading strategies
Mark price at settlement time as settlement price, settlements in crypto to overcome geographical limitations
Robust anti-manipulation system to handle market crashes
Round the clock API-supported trading with non-stop profit-making opportunity.
The company has implemented a sophisticated risk management system with mark price, daily settlement and short qualification rules. It is also expected to launch portfolio margin products in the coming days, aimed at further improving capital efficiency for traders.
When it comes to crypto derivatives trading, OKEx is leading the pack. According to CryptoCompare's December 2019 Exchange Report, it was one among the 4 exchanges handling 96% of the volumes. The platform exhibited an 11% month-on-month growth at $99.6 billion in trade volumes during the last month of 2019. In the context, outlining the company's future CEO Jay Hao said,
"Derivatives is a core market of OKEx. Moving forward, we will continue to work closely with the product team in expanding further, especially to the DeFi space."
The company's foray into the DeFi space is marked by the launch of its first application OKEx DEx on OKChain which is now available on testnet.
Image by ar130405 from Pixabay