After yesterday's spark in bear pressure, allegation of EOSIO dumping ETH took center stage. Hawk eyed traders and observers saw this sell off happening at BitFinex and chances are it is likely to drag other alt coins with it. Mind you, EOS and Tron mainnet launches is happening over the weekend and before then bear pressure might taper. This is sole reason why I recommend checking the 4HR chart for EOS or Tron bullish signals before trading.
EOS Price Analysis
It's no doubt that EOS continues to draw the attention of investors, speculators and haters in equal measure. The thing is long term benefits of any coin and their user case is what ultimately draws value and that's paramount for investors. Now, while Binance was increasing the number of EOS tradable pairs, there is a strong rumor going on that the EOS team was busy unloading Ethereum hence the flash crash. You see, all this boils down to the nature of blockchain's transparency.
Observers could see this dump happening at BitFinex. Now, whether this is a climactic ending of a short term ETH bear move or not we are not sure. What we know for sure is that EOS floats on positive vibes and that might be an advantage in the next three or four days.
Price wise, there are no major changes. EOS prices are still oscillating inside May 24 bullish candlesticks and that's impressive. The longer the consolidation, the better the momentum for buyers keen on buying at a discount. Currently, what I recommend is staying put and trading according to yesterday's trade plan.
Litecoin (LTC) Price Analysis
Whenever there is a worthy mention of Bitcoin, expect Litecoin's name to pop up. In Japan, six more cryptocurrency exchanges operating through Tokyo Stock Exchange listed companies are ready to list the top three cryptocurrencies and Litecoin. Remember, this is exclusive of the nine cryptocurrency exchanges that are currently licensed by the FSA. Indeed, this is but a big boost for Charlie Lee's Litecoin because with every addition, there is capital injection drawing liquidity which in turn stabilizes coin prices.
After yesterday's bear candlestick, prices are back to $110. This is a strong support zone. Taking into account current technical development, we should be waiting to see if there would be a break below $110 or if Litecoin buyers will reject lower lows. Either way, today's candlestick influences medium term trend regardless of whether there is a break below or bounce off $110. Yes, while there is a long lower wick following yesterday's bear candlestick indicating pockets of buy pressure, technicals don't favor buying at the moment.
Stellar Lumens (XLM) Price Analysis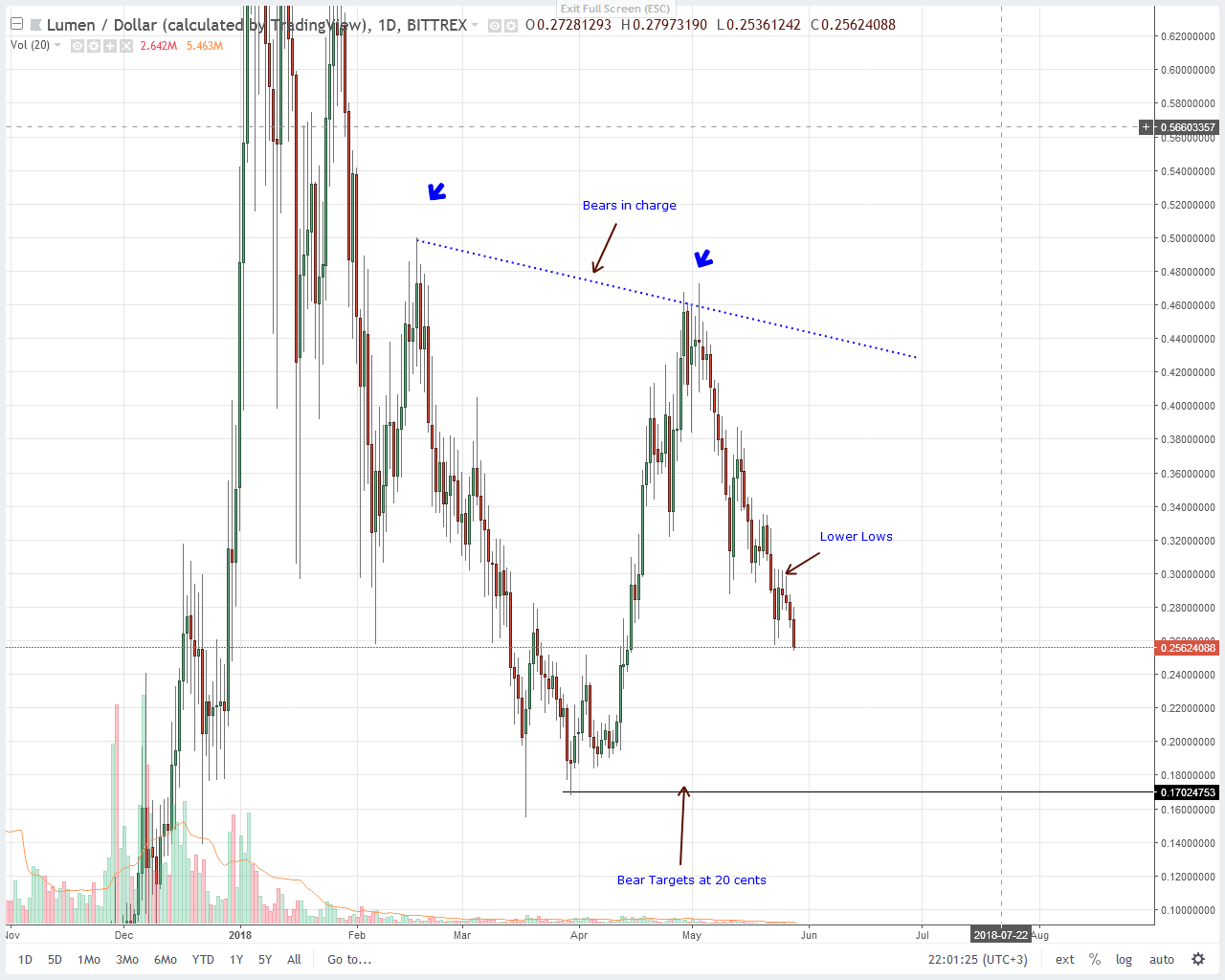 If anything, these series of lower lows tags well with yesterday's projection. As visible from the chart, prices are on a slide. In the last 24 hours, Stellar Lumens has been on a slide losing five percent meaning bears have been successful in pushing prices below May 24 lows of 25 cents. I'm looking for sells in days to come with conservative targets at 20 cents today or tomorrow.
Tron (TRX) Price Analysis
Even in the midst of this bear run, Tron continues to draw support from various exchanges. OKex, one of the largest cryptocurrency exchanges in the world for example has announced support for the new Tron coin. Complementing this is good news that a former IBM Engineer, Taihao Fu, shall be joining Tron. As usual, Justin Sun couldn't hold his joy. With this, he hopes that his ambition of creating "A New Code of Freedom" through their mainnet launch is in motion.
#TRX $TRX @OKEx_ will support #TRON blockchain upgrade and token migration. ?https://t.co/Q77v0eKJ1Q

— Justin Sun (@justinsuntron) May 28, 2018
Technically, in light of yesterday's depreciation, I shall be looking for short term sell. Even so, caution should prevail and for protection, trade with tight stops with targets at 5.5 cents. Like EOS, I strongly believe Tron shall find support today or some few hours before their mainnet launch.
IOTA (IOT) Price Analysis
Several projects are underway inside the Tangle. One of them is Oyster, a file storage project that rides on Tangle benefits including fast settlement and scalability. All they want to do is provide an alternative channel for mobile users to store their files and earn revenue through the internet. Uniquely, Oyster isn't 100 percent blockless because their PRL (Pearl) tokens are ERC-20 but their Oyster Protocol depends on the Tangle.
OYSTER PROTOCOL: The future of website monetization and distributed storage, built on IOTA Tangle and Ethereum https://t.co/EbZrSZTlzH #PRL #SHL #IOTA #ETH

— Mark_MNLocal (@Mark_MNLocal) May 28, 2018
Despite everything, yesterday's depreciation was low in volumes. Yes, price broke below support.  But if there is a confirmation of yesterday's bear pressure in the course of the day, then chances are IOTA sellers might test $1. After all, we are in a down trend and $1 is a key psychological level.