As fundamentals and coin related news thin out, so are buyers. At current spot prices, altcoins are weak and IOTA, EOS, Tron and XLM sellers are wreaking havoc, reversing last week's gains. Overly, the bear break out pattern that is so clear in our daily charts might pan out. At the rate of this alt-coin price erosion, sellers might follow through confirming the trend resumption phase.
EOS Technical Analysis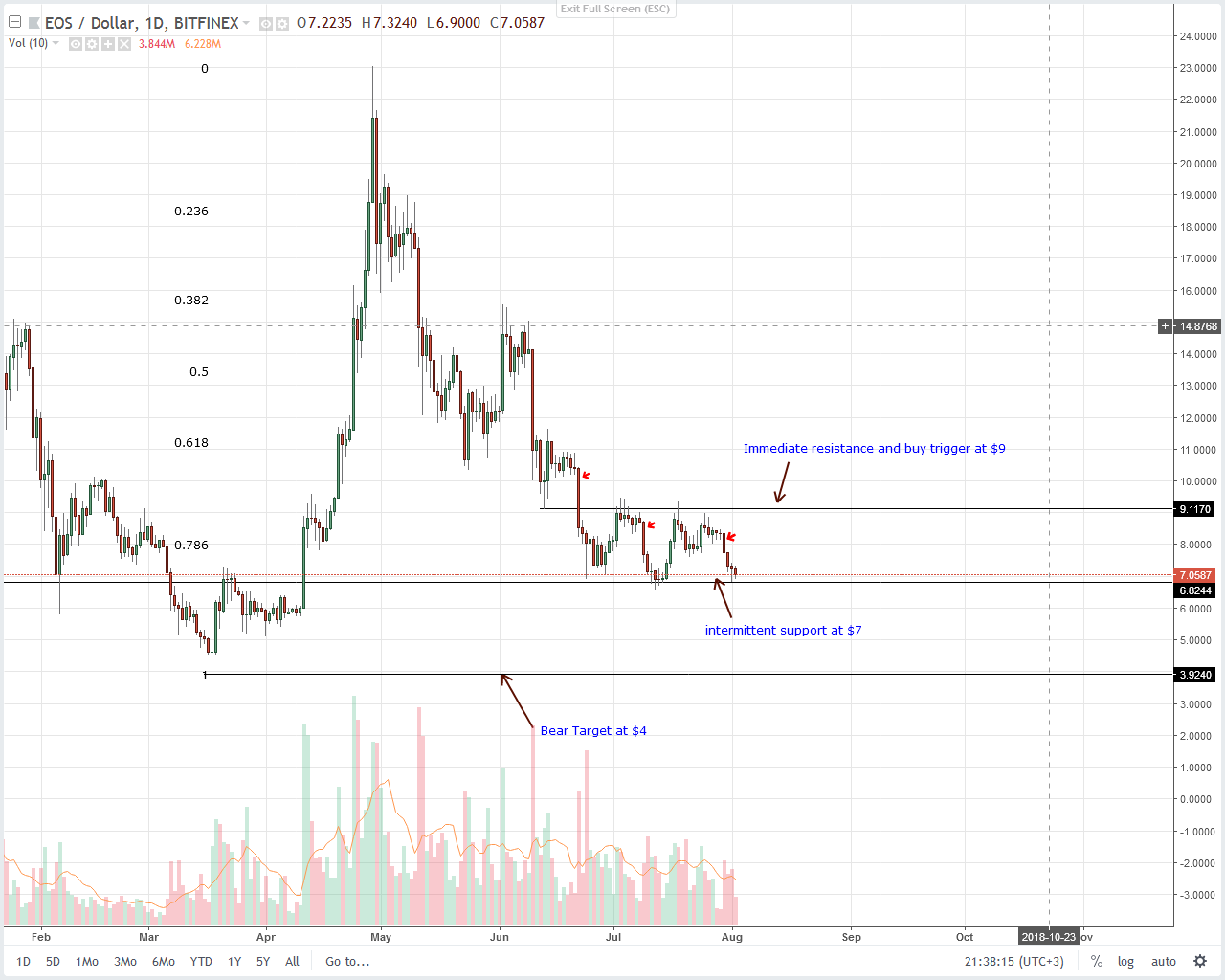 Regardless of the increasing number of exchanges listing EOS and dApps launching on EOSIO, still sellers continue to reign.
So far, EOS prices are down three percent in the last day and after yesterday's close below main support line at $7, we can begin unloading EOS on every high in line with our previous EOS trade plans.
In that case, safe stops would be at $8 with first targets at $4.
Litecoin (LTC) Technical Analysis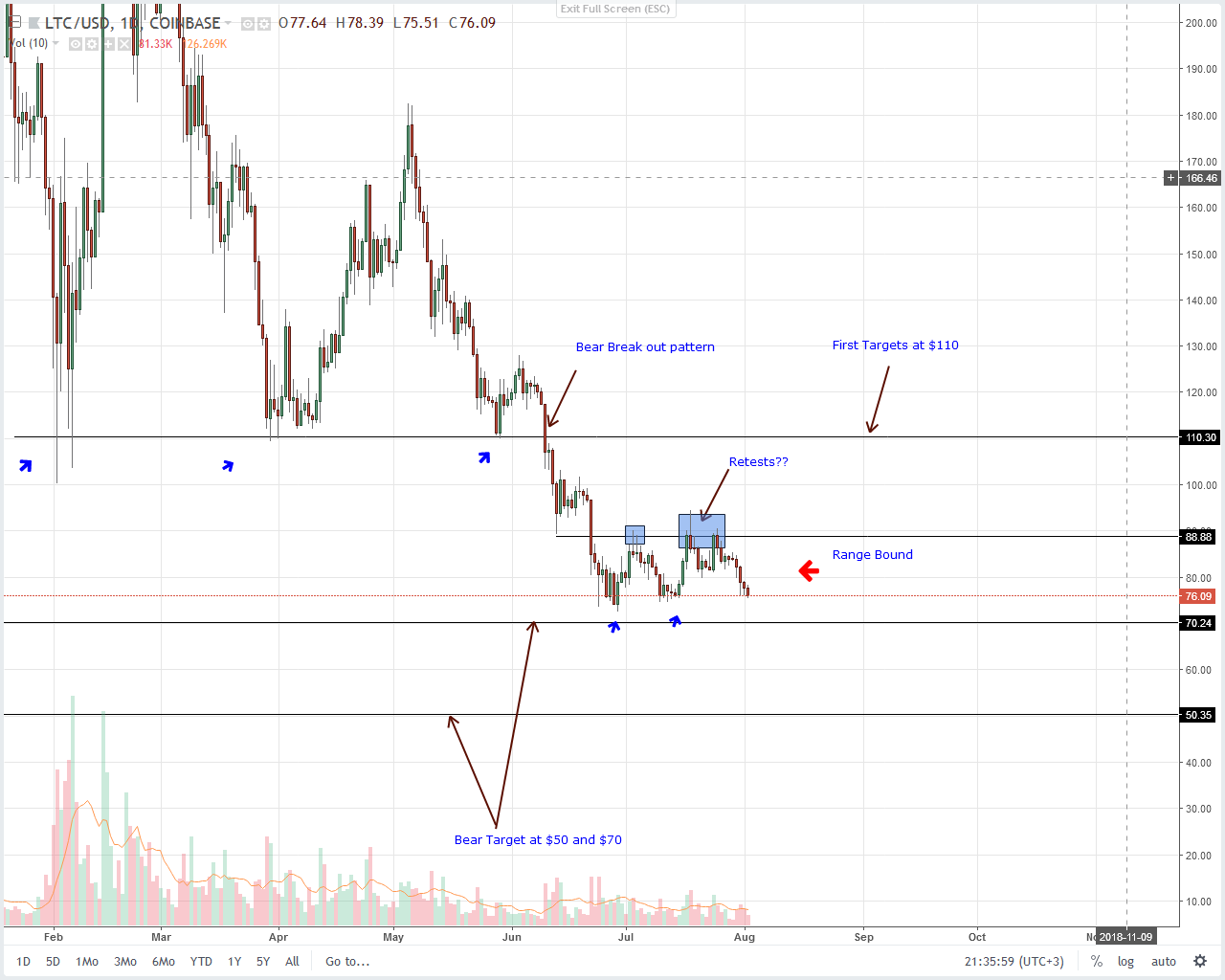 The recent turn of events cements our view that indeed Litecoin is trading within a bear break out pattern and failure of Litecoin (LTC) bulls to close above $90 between July 17 and 24 completed a the second leg of that trade pattern—the retest.
Now, because of these lower lowers which has seen Litecoin shed three percent in the last day, odds are we are in the trend resumption phase.
However, for confirmation, sellers must close below $70 and thereafter, we can begin shorting LTC on every high with first targets at $50 according to our last Litecoin (LTC) technical analysis.
Stellar Lumens (XLM) Technical Analysis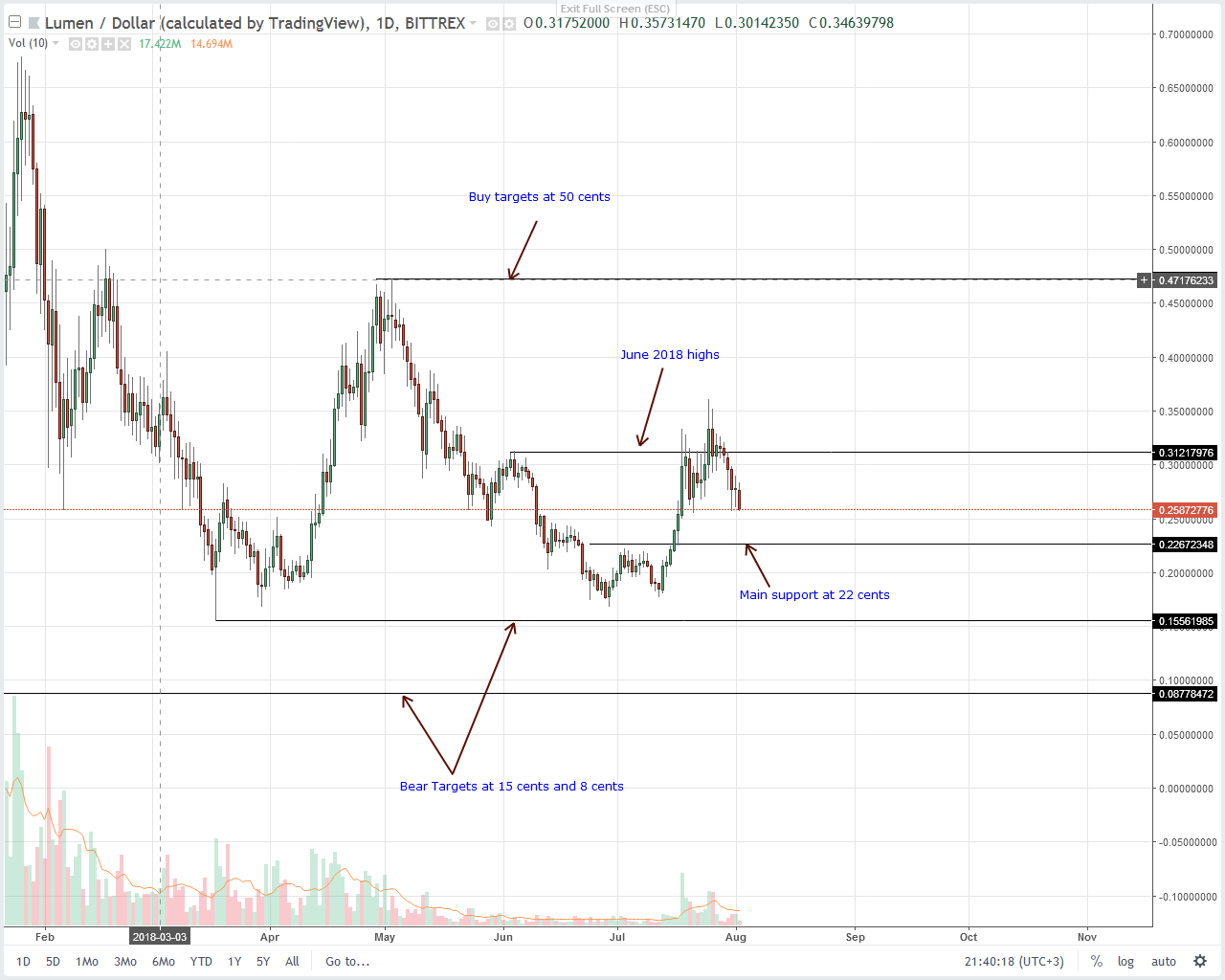 Syncing with Bitcoin slide is Stellar Lumens which is down five percent in the last day. While our initial bullish position is solid as highlighted yesterday, any breach below 22 cents invalidates our position.
Since the sentiment right now is bearish, I suggest shorting small positions of XLM with stops at 28 cents—August 1 highs and targets at 22 cents though that is counter-intuitive to our trading plan.
Remember, shorting small positions of XLM is safe because should out stops be hit as bulls jump in, then we can easily recoup that in the next bull wave with targets at 40 cents.
Tron (TRX) Technical Analysis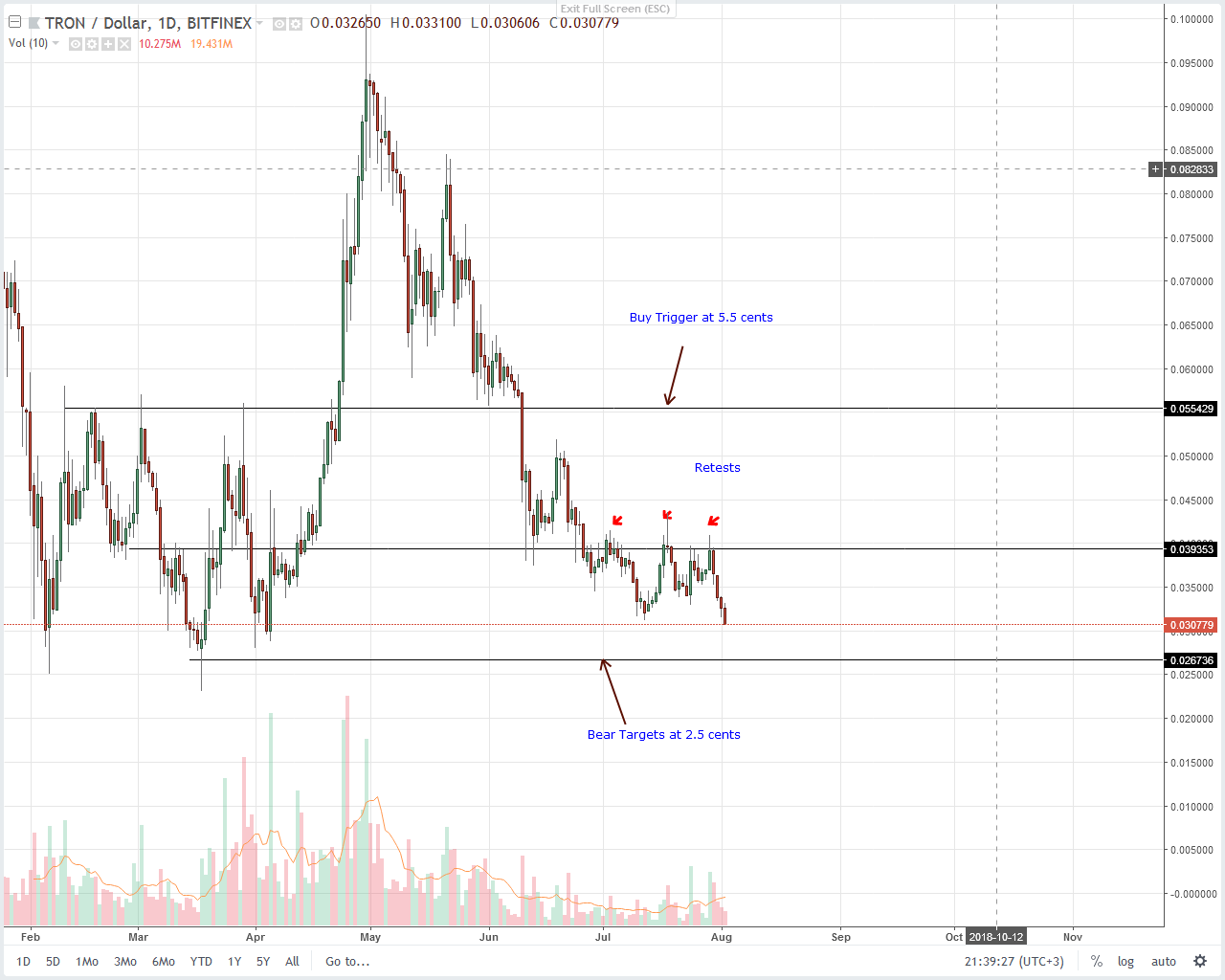 Confirming our Tron (TRX) trade plan is the seven percent drop in prices in the last 24 hours. It also means our sells are now in place since TRX is trading below 3.2 cents and as mentioned before, our ideal bear target is 2.5 cents or Q2 2017 lows.
Either way anyway, sellers are syncing and towing with the initial bear break out pattern set rolling by that bearish engulfing pattern of June 10.
IOTA (IOT) Technical Analysis
From the News
Dave De Fijter is the new IOTA Foundation member. He has been part of the IOTA community since Nov 2017 and helped move the IOTA community from Slack to Discord when "it grew too big for Slack". Dave will be involved in Online Community Liaison at the IOTA Foundation.
Technical Analysis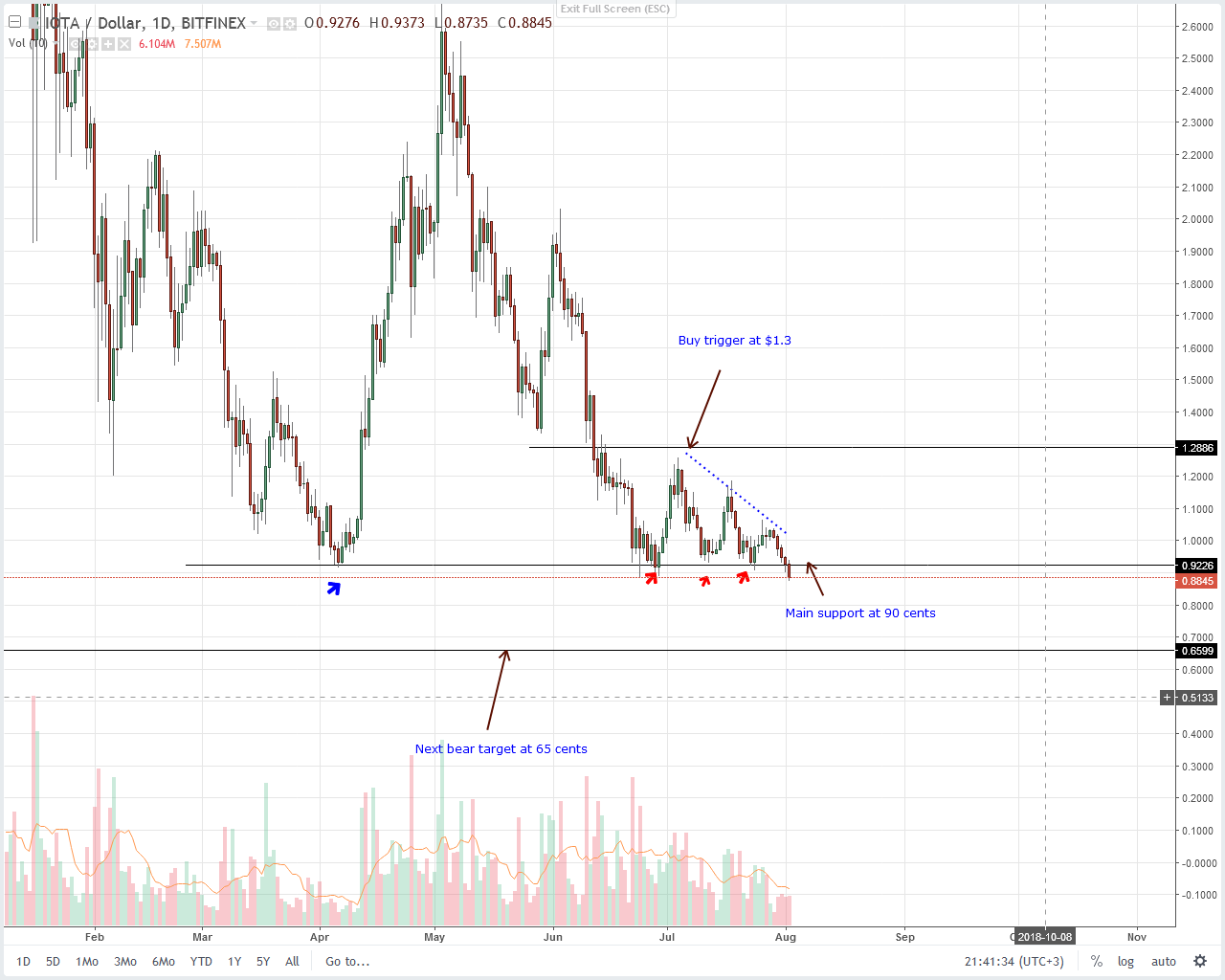 By losing five percent yesterday, it meant IOTA prices below 90 cents, our main support line. However, if we check our technical, it is very likely that IOTA sellers might follow through today and in that case, IOTA shall be the focus of the day.
Considering prior IOTA trade plans and analysis, we can begin unloading IOTA on every high. Sell targets should be at 65 cents and stops at Aug 1 highs at 95 cents.
Disclaimer: Views and opinions expressed are those of the author and aren't investment advice. Trading of any form involves risk and so do your due diligence before making a trading decision.