Latest Bitcoin News
At spot prices, Bitcoin and the altcoin market need a catalyst, something that investors have been waiting for. And from the look of things, the SEC approving any of the nine Bitcoin ETF proposals mean indirect regulation of the space and the automatic entry of institutions as well as other high net-worth investors desirous of regulation.
That may be a long short and a possibility that might rub Bitcoin and crypto maximalist the wrong way but according to Hester Peirce—while talking in a recent podcast, a SEC commissioner who recent dissented the SEC decision to bin Winklevoss Bitcoin Trust, a Bitcoin ETF proposal, said a Bitcoin ETF is a possibility though she was unwilling to further divulge on whether it was inevitable.
Read: France's Regulators Issues Warning over Purchasing Bitcoin from Tobacconists
All in all, Hester said SEC has invited specialist to advise them on crypto and the prospects of Bitcoin ETFs and this has made them take a cautious stand. According to her, the commission should not disregard the rules that have been in place for years just because the recent application is "crypto".
Also Read: Bitcoin Cyber Monday: Deals, Shopping Tips, and Discounts
Hester completely disagrees with the SEC assessment that Bitcoin is not ripe, regulated and respectable enough for the commissions oversight. She feels that the SEC is overstepping their mandate and acting as interventionist. This is dangerous as it could stifle innovation.
Apparently, bitcoin is not ripe enough, respectable enough, or regulated enough to be worthy of our markets. I dissent: https://t.co/gH5zXaKtmj

— Hester Peirce (@HesterPeirce) July 26, 2018
BTC/USD Price Analysis
Weekly Chart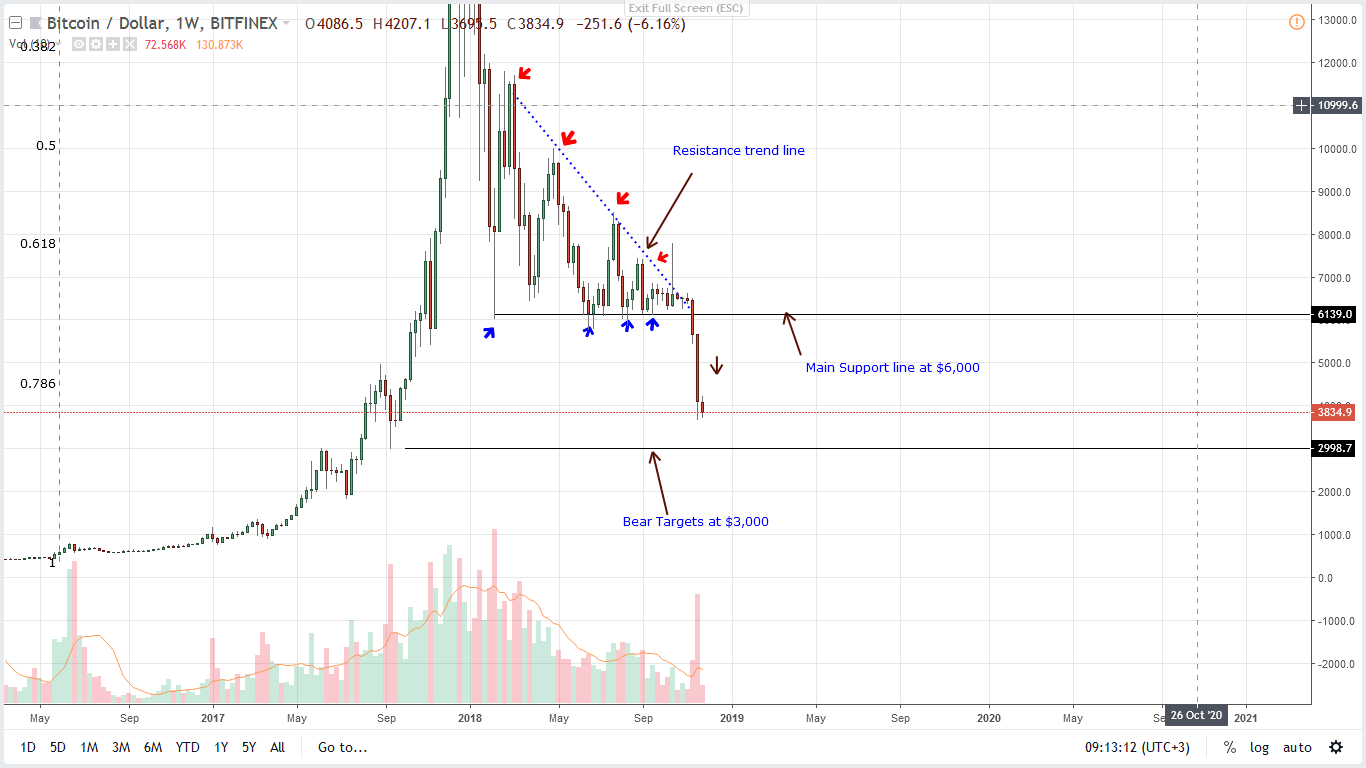 Obviously, the path of least resistance is southwards and as long as BTC prices are trading below the minor resistance zone of $4,500 and $4,700 then we might as well see further declines in days to come.
At spot rates, BTC/USD is down 22 percent in the last week and with new lows, the bear breakout pattern of the last two weeks is clear and valid.
If anything, it would be ideal for short sellers to enter on every pullback towards $4,500 in lower time frames as laid out in previous BTC/USD trade plans. However, losses below last week's lows at $3,700 would trigger another wave of sell pressure towards $3,000—our first bear target.
Daily Chart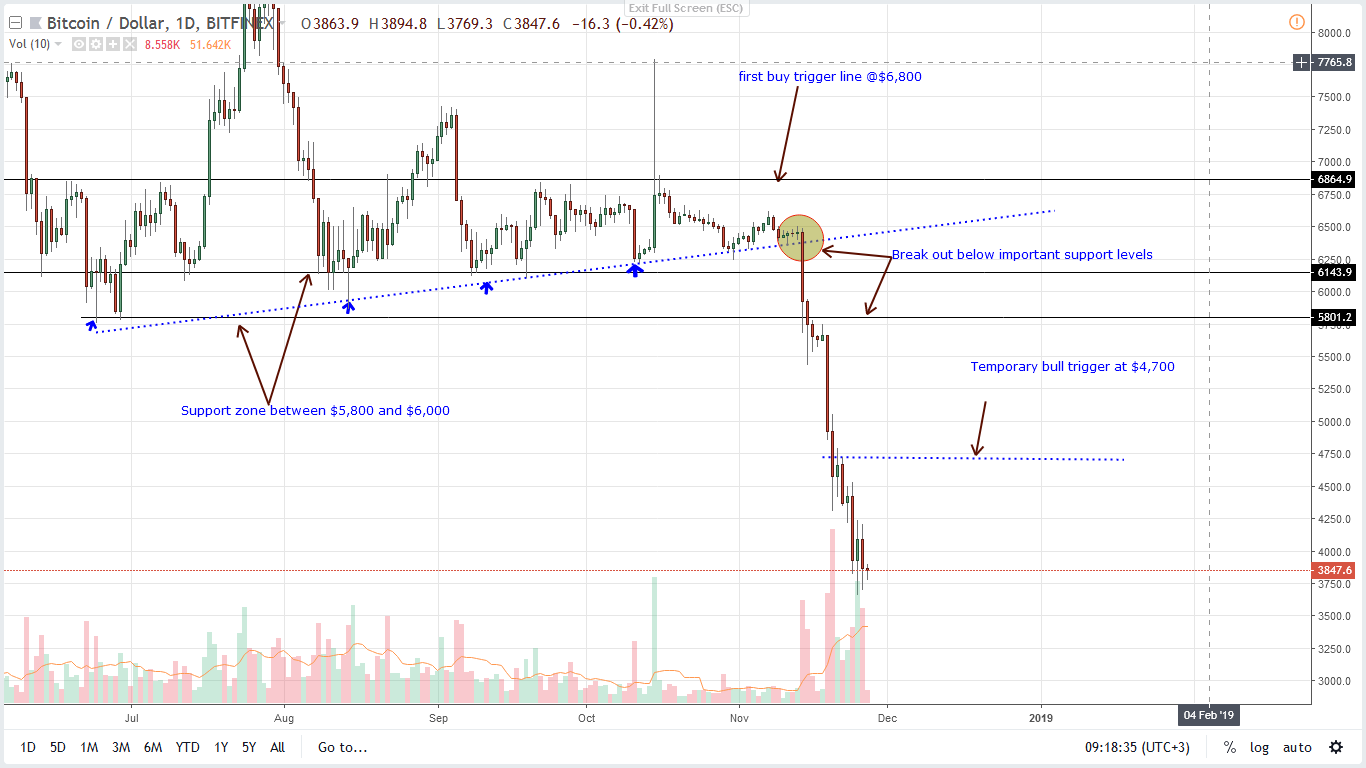 This is the 13th day of bears that has so far wiped off $1,500 after Nov 14 sharp drops. And bears are not showing signs of slowing down. If anything, we anticipate further declines as aforementioned with the first logical bear target being the support line of $3,000.
Ideally, what we would like to see out of this minor consolidation is a retracement fading the slump as buyers temporarily test $4,500–$4,700 zone.
It's a tall order for buyers to pull such a feat. However it will be invalidated if there are drops below $3,700. This way, prices could dip towards $3,000 in line with our previous BTC/USD trade plan.
All Charts Courtesy of Trading View
Disclaimer: Views and opinions expressed are those of the author and aren't investment advice. Trading of any form involves risk and so do your due diligence before making a trading decision.